Bible and Science: Summary
Bible, Galileo and Controversy
According to the Bible's quotations of the article of Wikipedia concerning Galileo's controversy over heliocentrism, we may think, wrongly, that the earth doesn't move around the sun. I think that's a misinterpretation: those quotations of the Bible deserve to be explained. The problem is that the translations of the Bible are not always good and the Clergy has/had normally NOT a strong scientific background... Please check it with a reliable old Bible, dated before 1966, as asked by Our Lady and Jesus in New York, but this is not so easy anymore... Here, I'll use some quotes from the Bible of Jerusalem or the Bible of the Vatican, although some passages may be translated with little differences...
Example 1: the Earth Can Not Move???
In Wikipedia, it is said that Psalms 93:2, 96:10 and 1 Chronicles 16:30 say that:
"the Lord set the earth on its foundations; it can never be moved."
Indeed, if we take the Bible of Jerusalem, we find what I think is the correct interpretation:
"The world is indeed set firm, it can never be shaken;"
Thus, replacing "earth" by "world" and "moved" with "shaken" may be subtil, but changes a lot the sense of the sentence. It means that the galaxies are firmly fixed/suspended in the universe and thus not falling into an abyss (and/or disappearing)... it is thus not relevant here if the earth moves around the sun and so on...
With the correct interpretation, there was even no need of a conflict with Galileo! The Bible is thus reliable even in scientific domains, but we must be very careful with translations and interpretations. A Bible before 1966 contains this correct translation... but even so, the Church misinterpreted it in the past...
Example 2: The Sun Rises, Sets and Returns Back to its Place.
Ecclesiastes 1:5 says that:
"And the sun rises and sets and returns to its place"
Here the different Bible versions tell more or less the same. A flagrant contradiction with science and Galileo? No, because it refers to the apparent movement of the sun, in a common sense language. Even in physics we study these kind of phenomena. Did you still remember the relative movements and speeds? Yes, indeed it is science, but we have to change the referential, setting the earth as referential, which we often forget to do...
Please don't forget that the first goal of the Bible is not to give scientific precision, but to reinforce the true Faith/Religion, thus, the language may be adapted to people with no scientific background, in order to be understood by everybody.
Example 3: the Earth Has Pillars?
Job 9:6 says that:
"He shakes the earth out of its place, and the pillars beneath it tremble."
According to my Bible of Jerusalem, the pillars are not supporting the planet earth in the vacuum, but they are rather the magma pillars that sustain the earth's surface... yes, we have to be very careful with interpretations, when science and bible apparently oppose, because bad interpretations may lead us, believers, to fall easily in the ridiculous...
The Earth In the Center of the Universe?
The planet Earth may even be the center of the Universe for God: not necessarily that the earth be located geographically in the center of the universe (and/or all universe turn around the earth), but surely in a non literal sense: the only inhabited planet in the universe is the earth, and as consequence, the only one which is the center of all attentions for God. Please note that (Pure Biological) Extra terrestrials do not exist, (they're instead a kind of demons with physical bodies), said Our Lady and Jesus in New York.
Curiosities
Earth Flat or Round? 4 Corners?
Example 1: the Earth Has Four Corners?
The earth has indeed four corners, while being approximately spherical: Alaska, Eastern Siberia (in the Bering's Strait), and, Southwards, the Tierra del Fuego and New Zealand. There's, thus, no contradiction. The 4 corners, in the sense of the 4 extremities of the Earth, are mentioned, for instance, in Rev 20:8 or Job 38:13...
Please take into account that this notion of "4 corners" can be easily misunderstood: ideas of flat/rectangular Earth, as it happened in the past...
Example 2: the Vault or the Circle of the Earth?
If we take a good interpretation of Isaiah 40:22, this time through the Bible of the Vatican, we could have discovered more than 2.000 years ago that the earth is approximately spherical:
"He sits enthroned above the vault of the earth, and its inhabitants are like grasshoppers."
But be careful, other Bibles say:
"He who sits enthroned above the circle of the earth, the inhabitants of which are like grasshoppers"
A vault/sphere contains necessarily circles on its surface, but this evil interpretation leads easily to misinterpretations, contradictions, flat earths etc. A good old Bible before 1966 contains the correct word: "globe" in the sense vault, sphere, and, thus, not the sense of a "flat" earth...
Israel, the Navel of the Earth?
According to Ez 38:12, Israel is located in the Navel (~center) of the Earth, by the time of the war of Gog and Magog:
Ez 38:12: "You will come to plunder and loot and turn your might against the ruins they live in, against this people gathered back from the nations, these stock-breeders and traders who live at the Navel of the World."
We assume Jerusalem, the holy city, as reference. If we take the 4 diagonals from the 4 corners of the world (please refer to previous section, concerning the 4 corners of the world), with the good scale, indeed they cross not far from the region of Israel/Jerusalem, giving already an idea of the geographical center of the world... the best procedure shall be to compute the massa/geographical center at the good scale, but it is difficult to compute... Ezekiel knew that Jerusalem was the navel/center of the earth already about 2600 years ago...
Atlantis & Ice Age Theory... Moses across Red Sea, Pyramids Freemason Witchcraft, Y Haplogroups, Mu, Phillistines ... (11/7/2022)
Image below gives a 1st idea over what it goes... further research needed, but if history check confirms it, it explains lots of things over Bible Science and History from ancient times...
Atlantis, Y Haplogroups & Ice Age Theory: Introduction (updated: 08/01/2022)
Origins of the Atlantis christianideas.eu Theory: the Y Haplogroup migration map.
Explanation: DNA near the Celtic Basque is found in the native indians from North America from the East coast (New York city region in a broad region which includes USA and Canada (great lakes...). This makes to think ancient Basques in Biscay region crossed the Atlantic and settled in East coast of North America.
The logic is: science like Islam try to be rigorous and true in maximum subjects possible, the only lies existing contradict the Bible in parts hard to believe and to proof. Science attacks the Genesis creation recite and dates, hard to proof and to believe, while Islam attacks the Trinity concept hard to proof and complicated to believe. But in all the rest the quality is normally excellent. This is enough to confuse many people over the rigor and truth of the Bible...
As such, I assume (better to do a cross check e. g. multidisciplinary when possible), most of Y haplogroup migration map is correct, with the normal excellent scientific qualities in domains outside Genesis Adam recite and dates. This is the case of the Basque migration to North America. The only errors to be found in the Y Haplogroup migration maps shall be thus the contradictions with the Genesis: the African Adam location and the fake dates, non proofed of course: it's impossible to proof that... it's possible to make them credible and to believe in it...that's something else...
Fake scientific dates are contradicted by multidisplinary cross check analysis: History + demographics show earth was almost empty 4.000 years ago at times of Babylon tower, aka Babel tower, empire of Akkad, after the great Flood... followed by division of earth and emerging of 1st civilizations in India Mohenjo-daro (african cushite propriety, Peleg division), China, Middle East, Mediterranean...
Heaven +- serious speaks over the antediluvian period e. g. at old web site apparitionsmariales.org (web: Vincent de Tarlé sauvegardes and web sites: apparitions mariales, in French) that hominids were the product of men bestiality with near species style of Neanderthal (I think in hybridization beginning with Neandertal, followed with further specie purification/selection and spread in order to get further hominids more differentiated from original man, up to Australopithecus near the times of the great Flood...).
It's relatively quick to create an hybrid like liger (no million of years needed to make grow a tree or create an hybrid like a liger!) and history demographics + some facts tend to confirm Genesis recite literally, even if some parts of Genesis are now hard to believe...
However, I don't know much over the antediluvian period and this map could mix all human (non hominid) Y Haplogroup migration since Adam.
Because the Bible + Heaven +- serious speaks that Adam was born in Eden (source of Tigre river is Kurdistan and not Cameroon), I concluded that pure cushites fleeing islam in latest 1300 years could the cause of the african Adam incoherency in arrows (an inversion of sense is enough to explain this migration).
At least half of these migrations happened after the greater Flood and an historic analysis explains most of it. It could have happened that pure people as now could have been a lot less and the great majority evolved into hominids between ~6.164 and ~4.500 years ago... if that is the case, the antediluvian contribution would be negligible compared to the period after the flood. The Nordics should be an important element in the beginning, because Adam's family in beginning was Nordic, according to heaven +- serious... while African black people should not immediately existed in the first years after creation... but the I Y Haplogroup is not so important anymore... The Nordics (I eventually with N + J + G with Nordic features) should still have been some 40 % of the people in the ark, at time of the flood... but they're not so important anymore at present times...
Also because of Siberian* winters, most men above latitude 38 should be nomads (compare to Siberia Canada) today, before great flood, mass people in subtropical regions also...
*- please refer to Archimedes force considerations, further below in this chapter, when considering sink of Atlantis, to try to explain Siberian winters...
I shall mainly consider for this analysis the after Flood period. If some before Flood contribution may appear, this section shall be corrected accordingly when possible... but most facts may already be explained, only with History analysis after the great Flood...
Before the Flood, we had an period of some 1656 years time, taking Bible creationism literally. After the Flood we have some 4520 years time... even discarding hominids, taking homogenously the demographic charge, post diluvian period should count for 2/3 of migration analysis. This is not so rigorous, but it gives a 1st idea, why attention should focus after Flood period (from ~2500 BC to 0 we have 250 million people => thus, in 1st ~1656 years we have some ~1 billion people (at Flood time: maybe ladies lived more, less menopauses... => ~6 times more people estimated, maybe...). Thus 1 billion / 8 billion (now) => antediluvian demographic simulation contributes only with 12.5% in that map (the other 10 billion before the Flood being already hominids...). They give a contribution yes, but not "so" important... corrections to be added if noticed...
The Y Haplogroup migration map suggests ancient Celt Basques migrated to North America in ancient times... but how?
1. By boat
2. Crossing Atlantis, before and after the Flood
3. With Vikings and Nordics from New Foundland.
By boat it's possible, but complicated. The Viking road of Greenland is not the most easy for people Pyrenees region. That would favor rather Scottish and Scandinavian people... but genetics are closer to Basques and not not people from north of Europe...
That's why the hypothesis of crossing Atlantis explains this migration in a spontaneous way. Would Atlantis existed, this migration happens spontaneously... other hypothesis seem a bit forced... original map has hard to explain it also...
Because most of people before the Flood was killed and map refers also to present genotypes, explanations using history after the Flood become simply spontaneously.
Because of this Celt Basque migration, I assume Atlantis indeed existed since Adam until an unknown period after the Flood. I'm going to take existing historic Atlantis recites as references, namely Plato (wikipedia). Ideally I should read more literature, Plato's book, but time is not enough, maybe in future...
Some other documentation is already available in the internet, namely this interesting maps of Atlantis or this web documentation in Portuguese (Brazil) over Atlantis
Assuming Plato's spoke the truth (at least a part of it...), Atlantis existed and had advanced civilization. At a time, evil increased there, and they decided to conquer the world... they enter successfully the Mediterranean sea and declare war to Athens (Greece / Javan).
The sources mention that this war happened at ~9500 BC, but that it's not possible, taking Genesis dates literally. Greeks appear only after the great Flood, and according to Noah's genealogy, Greeks descend from Noah via his son Japhet and his grand son Javan (Javan family) => after the Flood => after ~2100 BC. I assume thus a date error, which is common in scientific Darwinist literature.
Because Atlantis declared war to Greece, Atlantis sinks after the great Flood. But when?
In Plato's recite, he speaks over the defeat of the Atlantes. At time of the war against Athens, not only Atlantis sinks (=>God was against Atlantes), but also a series of volcano eruptions, floods and earthquaques happen. Despite technological superiority, the Atlantes were destroyed and Atlantis sinks.
It could be that these events happen simultaneously, because creationists genealogies may date Moses exodus at ~ -4164 + 2666= 1500 BC. Errors possible, even in creationist calculus (genealogies...), we may assume ~1600 BC. Volcano (Santorini) Earthquakes Floods catastrophes, sink of Atlantis (+ Mu) could cause an important rise of waters also at red sea region, eventually being the cause of the defeat of Egyptian army against the Jews.
Sahara seemed to be green long time ago, and that should be more evident in West Africa, because at time of Moses, the regions around Sinai were already desert => Jews in desert before arriving to Israel...
Chronology mentions also sea peoples invasions after this period Exodus from Egypt and or Santorini eruptions.
There are however some ambiguities in chronology. Moses exodus is mentioned sometimes around 1250 BC, being immediately followed by sea peoples invasions...
The Philistines were known to Moses, were in contact with Abraham (e. g. Abimelech)... at time of his succeeder, Joshua, the Philistines controlled already an area of Israel/Palestine (near to present Gaza, Joshua 13:3). After the return of Moses, conflicts with Philistines became frequent. I concluded that these migrations could have place immediately after the exodus, either after 1600 BC or either after 1250 BC... this is possible because official dates available are not completely coherent. Afterwards, they remain there and caused troubles (different interests...)...
All what I mention here in this theory is not new, but it is dispersed and confuse over the available literature, eventual symptoms of the traditional war good x evil, where evil tries to disconnect the events to confuse... we have now a parallel with the fake news, Covid and disinformation... however further analysis may be indeed required and eventual corrections may be required.
Over Santorini, indeed there are theories linking it with Philistines, with climate change, with sea peoples, with Atlantis sink and with the Exodus (Red sea). Creationist scientists over an ice age after the great Flood exists already in the internet. I try rather to explain it in my way it and link with Y haplogroups migration maps, maybe I add something new to the existing ideas. It seems rather that all this is known (e. g., historical description details...), but remains discreet, to confuse... evil remains strong, and money helps... (?)
Thus, because after Flood human presence is more accurate concerning present Y haplogroup migration map, I assume, that Basques migrated to Canada in ancient times, but after the Flood via Atlantis. Because the sink of Atlantis coincides with defeat of Atlantes in Greece and was accompanied with great catastrophes (volcanic, floods, rains...), it seems to be simultaneous to Santorini eruptions. The sink of continents as Atlantis (eventually Mu at same time ) triggers a rise of water levels(letting melt 2 ice cubes inside a glass of water is enough to observe it...) and could make Egyptian army to die in Red Sea, while before the sink effect, Red sea had less water and Sinai land mass should be greater.
The Sink of Atlantis could trigger a climate change and catastrophes, and sea peoples could travel further south fearing melting of ices of the mountains, e. g. in south Turkey and Greece. In North Africa, such defrost could have created a great lake for a period of time, before desertification.
How does lost Atlantis and Mu could affect world's climate and temperatures?
According to news from heaven +- serious e. g. Blessed ~Catherine Emmerich (old site apparitionsmariales. org => web sites Vincent de Tarlé) Before the Great Flood id didn't rain. After the Noah's flood yes, it rained.
First evidence is: if those continents sink, global water level rises (test of stone in glass water...), like now, with increase of temperatures (green house effect). A rise of water level attacks coasts and existent continents loose surface...
We know that temperatures vary quicker in continents than oceans... this means that at summer time, temperatures are higher in continents than oceans (warm regions) and lower than oceans in cold regions (winter period)...
Analysing the world map simulating the presence of Mu and Atlantis, a person with some knowledge of Geography, may deduce that Mu could have neutral effect in temperatures relative to surrounding oceans and the same for Atlantis => temperatures higher in the summer but colder in the winter periods.
When the (West) Sahara was green...
Water level effects and influences over neighbor continents may however be different. Atlantis could carry polar air from New York region and Quebec to Sahara, with some humidity, having a cooling effect over West Sahara in the winter. Proximity to New Foundsland could inversely have an warming effect, speccially at summer (this warming should be reversed however by lower level of acean waters, caused by presence of 2 extra continents, further details a bit below) .
This warming effect should however be weaker over Canada than the cooling effect over West Sahara (geographic form + winds could help to understand this). North America has already warm temperatures in the summer and polar temperatures in the winter. Quebec region escapes continental warmer temperatures at summer time, because of geographical form and latitude.
Atlantis would work as a transition between north African temperatures and Newfoundland temperatures, but moderated by the Atlantic ocean humidity. Atlantis presence could thus have an important climate effect in Newfoundland up to West Sahara. This effect would be however less important in rest from North America and East Sahara => it was already desert in Egypt and near Sinai at Moses time ...
According to available literature (mentioned above), Atlantis had somewhat Mediterranean climate: colder humid in the winter and warmer and dry at summer time, a bit maybe like Spain and Italy... but, because of the ice age effect, this should have happened in the southern regions of Atlantis... I expect thus, this features to influence the climate in NewFoundland and West Sahara... but with colder temperatures (-6 °C, on average) because of the second effect, the Ice Age, which I try to explain better a bit below...
I used as reference for the temperatures in North America, the Mapped Planet web site, which gives also further details, e. g. legends, in extra web pages...
Once observed the expected effect of Atlantis over Sahara and NewFound land, I try now to explain why the presence of Atlantis and Mu would be linked with 2 ice ages, one without rain, before the the great Flood (~4164 BC => ~2500 BC, and another with rain after the Flood (~2500 BC => ~1600 BC).
The present Effects of the Oceans on temperatures in North America and Sahara...
If we compare the average temperature inside a continent with the average year's temperature inside an ocean near, we can have already a 1st idea of how they contribute to cool or warm effect. The center of mass of continents is Jerusalem with latitude 31.5 °C and not 0° (equator) as one "could" expect... Please observe again world map to see that most of land mass is situated a bit North to Ecuador...
In case of Atlantis continent and influences up to Sahara, we could 1st analyze temperatures inside North America, e. g. Minneapolis (44.5° latitude N), with an year's average temperature of 8.3 °C and average year's inner ocean surface water temperatures of ~13.5°C for this latitude. The ocean contributes at this latitude for a warm of temperatures. Also Atlantis could transport cold air, from time to time, from North America to Sahara region in the winter, pushing cold air (and a bit humid, across the ocean, near the Sahara) further down in West Africa. Faya, in Tchad, inside North Africa, latitude of 17.5° N, has an average year's temperature of 28,3° C, while average ocean temperature at this latitude is already a bit colder, near 26 °C.
Regganne, in Algeria (latitude 26.5° N) has also an average year's temperature of 28.3 °C, while year average ocean temperatures at this latitude are near 25°C.
In the USA, Albuquerque (latitude: 35° N) has an year's average temperature of 14.4°C and average ocean temperatures near 19° C.
We could observe that the sea has a cooling effect North Africa, but a warming effect in North America (inside the continents, I mean).
Atlantis could thus have a cool effect transport cold air from the East North American Coast to West Sahara in the winter, with some humidity. In the summer both regions have hot temperatures, North America also, thus, it wouldn't change a lot.
I assume, even without considering the decreasing of water levels that Atlantis could have a cooling effect specially in the winter up to the Sahara. The Mu continent, situated in latitudes between 10° South and 30° North, should have a near neutral effect, sometimes warmer than the ocean waters, sometimes colder... the difference should be more at level of increase or decrease of sea water's level. We can simulate this with Australia or South America.
Porto Velho, 15.4° latitude South, Brazil, has an average year's temperature of 26 °C and an average ocean surface temperature at this latitude of 26 °C. Thus, at this level, Mu wouldn't change temperatures significantly, but Atlantis could contribute for a decrease of temperature of few degrees.
I based this analysis on this Nasa's map of year's average surface water ocean temperatures.
How does the variation of water level affects Temperatures, (based on continent rise/sink)?
The second effect is the water level effect. A sink of the continents would cause necessarily a rise of water levels, and we should see geography of 4 rivers of Eden in this way: the red sea should be narrow than now and Sinai much bigger.
Before the fall of Atlantis & Mu, the sea water level's were lower (because: if a stone sinks inside a recipient, the water level rises). Atlantis could have played cooling effect and Mu being neutral on world's temperatures. Coasts around the continents were larger, including important continental surfaces nearer to the poles, namely Antarctica, North America , Europa and Asia, increasing cold temperatures in these regions. This could lead to greater glaciers and further sea level decrease. During the Ice Age, before Santorini eruption, we could estimate some 6 degree's the difference of temperatures compared to present times (green house pollution effect being here ignored in this analysis.
If previous analysis is correct, the sink of Mu and Atlantis would have precisely the opposite effect. Eventually, Atlantis & Mu sank at the time Moses and the Jews crossed the red sea... the extra natural catastrophes, volcano's, meteorites, earthquakes, storms , winds, could help to dry the already narrower Red Sea to completely dry at time Moses was there, and, abruptly be filled with waters in order to destroy the Pharaoh's army. Afterwards, with the rise of temperatures, because of the rise of sea levels, the glaciers near the mountains could also melt=> risk of melt floods, not to speak about the invasion of the coasts by sea water etc. The sea peoples could have traveled further south to try to search some climate stability.
ATLANTES AMAZONS ISIS FREEMASON style WITCHCRAFT AND PYRAMIDS
Atlantes had a superior civilization. According to the sources mentioned above, there was a blond elite, but the amazons were also there, and possibly native Americans... they were also present in West Africa, show some maps available, e. g. from the time of classical Greece.
The genetic structure of the society of Atlantis could be similar of that now in North America, e. g. Canada: natives, and a majority of people of European origin, Celt (brun eyes/hair) and Nordic. Amazon ladies seemed to be of Celt Slavic origin, Gomer family, but they could also be of Magog origin (original native Finns, Hungarians, Mongols, Turks) or of nordic origin (Tiras /Thracian, Germanic). Warriors, sometimes beautiful, they practiced also witchcraft.
Atlantes were superior in knowledge civilization, but not necessarily pro God, and at end when they decided to conquer Greece, they were pro evil. The presence of pyramids near Atlantis regions under the oceans, in central America and in Egypt, show only this: they used the powerful old Egyptian Freemason witchcraft, still very active in our days, but discretely. Probably the Nordic old religion used also these witchcraft, and the contact of Atlantes with ancient Egypt could have spread this witchcraft in one or another direction. Further analysis of available literature required, but i'm also disgusted reading texts over false/evil religion.
Evil Witchcraft goddess Isis as a mokkery of blessed virgin Mary claims also that was always virgin. Probably Satan had access to prophecies and news from heaven over blessed Virgin Mary and decides to mock from her. The mysteries of those pyramids is void. It's the same as for old Egypt and secret societies still use this powerful witchcraft described in the book of Exodus.
ATLANTE EMPIRE, SUPERIOR IN TECHNOLOGY, LOOSE AGAINST ATHENS. Why?
Atlantes seemed to be a bit like Canada today, with the force of the U.S.A., technologically superior, but pro evil. According to available documentation, Plato, references mentioned here above, they were pro evil, practiced witchcraft like present Freemason Illuminati voodoo witchcraft, powerful as the mages of the pharaoh => pyramids pro evil civilizations. At a time, God was fed up, those continents were there to help people to spread all over the world, and if example is poor, despite superior technology, they may be destroyed.
Another reason seems to be similar to that of Spanish Armada: no, it's not the whole world for evil Atlante empire. There was a split of earth and a (temporary) right to property. Greece was for Javan (Greeks) and not for Atlantes, superior in civilization or not. Spain could eventually possess England, but in another way, more Habsburg: through marriages and not imposed by force, even if UK was not true faith Catholic anymore.
OK, Greece was not for Atlantes but for Greeks. What about Turks, Ottoman Empire "love stories"?
It's not the same. Orthodox Constantinople rivaling with Rome in non apocalyptic times doesn't interest... Balkan region should choose between Islamic sect or true faith catholic conservative non naive. At apocalyptic times, the crescent moon => Islam is under the feet of the woman, the true church (~ true church in ~ Italy ...) ... and true faith weakens at planetary level using the ruse Muslim Arab/ Ottoman Empire formulas: tolerance for true faith with advantage for the sect and afterwards apocalyptic persecutions... of course ottoman expansion in the Balkans do not the game of orthodoxy... but rest of the world profits... Italy feel the threat and is motivated to reinforce true faith... the same for Austria Hungary, to try to counter Ottoman Muslim threat... in times evil increase, evil communist red dragon spread instead, and if Turkey dares to expand in the Balkan, they risk severe defeat and damage...
My God, thanks for this ("ugly") turkey... Excellent meal e. g. at Christmas... but in orthodox Greece, not really...
There's not a solution for Greece non ottoman and not dangerous for the world like now?
They could become catholic conservative non naive, byzantine rite in place of remaining orthodox... in practice, it doesn't happen...and Russia, more or less the same... chapter Russia & WW3 ... the subject doesn't concern Bible and science anymore... PS this is analysis, like weather forecast, if errors found, further corrections shall be done, if God helps.
Nordics move to Sweden/Gotland island near 900 Years (Guta Saga) after Great Flood.
Why not immediately after the Flood?
Further analysis needed, but one explanation could be the ice age and the time to let defrost, to let forests grow and animals spread... If great Flood happened ~1656 years after 4164 BC (some sources available, Bible self establish chronologies of this style...), it should have happened by 2500 BC, and it could have been than at 1600 BC and not 1200 BC (taking flood at ~2100 BC) ... still some incoherences, but the basic idea is already there... Gotland as an island is warmer in the winter and climate is a lot better than in continental Sweden specially in cold periods (near ice age etc)... 2000 years ago, Swedish Gotland island was much more powerful than now... eventually Atlantis could have sunk before 1500 Bc, e.g 1650 BC, some datations give Santorini volcano eruptions before 1500 BC, and the defrost could have happened before and decoupled from Red Sea exodus recite and from sea peoples... some of this information could also not be 100 % accurate... also Moses depart from Red Sea could eventually have happened at same time e. g. 1650 BC a further control rigor dates would be needed + to have the time for that... 1t idea appears already here in this chapter and same important events may be connected. I'm not the 1st to mention that => wikipedia...
Atlantis & Ice Age Theory... Simulation of fall of Atlantis & Mu.
Estimated a 123 m => 130 m Water rise e. g. at Time Pharaon army at Red Sea (Exodus) ... (14/11/2021)
Image below gives a 1st idea of the reasoning (a summary image is displayed also further below at end of this section...). Reasoning based on info available via Google + Wikipedia. The calculus is strongly simplified, thus, it can also be understood by teenagers... sorry, some of it is draft handwritten, too much work to put further work the image... maybe in future, if opportunity appears... but it's enough to give a 1st idea/simulation...
Atlantis Theory: simulation of sea level variation due to fall of Mu and Atlantis

Image above: Aquarium Simulation with total Mass + Volume constant.
Nota: All calculus details (, e.g., over ➀ )follow further below.
Left: present situation. Right: At time of Atlantis...
Assume:
There's a continental mass (Volume also) which remains stable, before and after the fall of Atlantis + Mu + coastal regions (rests...)
There's a Oceanic mass (Volume also) which remains stable. For these purposes we do not consider that glaciers were much bigger before...
The Total Surface of Planet Remains the Same...
- The Total Mass (Volume also) in this big Aquarium remains the same and equals: Volume oceans + Volume present Continents + Volume Mu + Atlantis + rests (rests = ancient coasts now under water)...
Assume as the data for this simulation:
Average present Ocean depth: 3.8 km


Average present land altitude : 0.7 km
(continents surface now ~700 m high )


Average surface before at Atlantis time from...
... Mu + Atlantis + rests (coasts now disappeared...) : 50 million Km2
(18 million Atlantis + 23 million Mu + 9 million rests...


Average present Continental Surface: 125 x 106 Km2 (~28% of total).


Average present Ocean Surface: 335 x 106 (~72% of total).


Total Planet Surface: 460 x 106 Km2.


With this data we can compute the Volume of oceans now. For theses purposes, we include the volume ice glaciers in the component rests: Mu + Atlantis + coasts disappeared + glaciers disappeared, in order to have the other elements stable...


Volume of ocean (now)= 335 x 106 x 3.8 Km3.
Thus, Volume total of oceans (now)= ~ 1273x 106 Km3.
The glacier mass was bigger, but we ignore, for the moment, this (small) decrease in Volume ocean estimated before.
Working with aquariums, and making all elements with elementary forms as rectangles and parallelepipeds, all calculus becomes easy to compute in this simulation... that's also the goal...
complications not needed, the important is to have a 1st idea...
Please not that the surfaces now, can be estimated as (implicit: in 106 Km2):
125 (continents) + 335 (oceans) = 460 (total Earth surface).
The surface vanished with destruction Mu + Atlantis (+ coasts/rests) estimated as 50 x 106 Km2, influences total surfaces before:
Total surface continents (before) as 125 + 50 = 175.
Total surface oceans (before) as 335 - 50 = 285.
Thus, at Atlantis times, we simulate Surfaces distribution equation as:
175 (continents) + 285(oceans) = 460 (total Earth surface, the same).
We can thus compute the total height of Volume of oceans before, given simply by:
Heightoceans ice age= Voceans ice age / Surfaceoceans ice age
Thus,
Heightoceans ice age= 1273 x 106 Km3/285 x 106 Km2.
Heightoceans ice age= 4.467 Km.
Please note that, when Mu + Atlantis sink, there's a part of continent mass (Volume also) which remains stable...
Also the rests (part disappeared or variable of this model), tend to go to bottom of oceans (at least disappeared land mass), while variable water glaciers we can also add to block Mu + Atlantis + rests...
Figures below try to show that...
in practice, we could use buoyancy effect (~Archimedes principle) in this simplified model, e.g., to count the squares with (stable) water.../p>

Atlantis Theory: simulation of sea level variation due to fall of Mu and Atlantis

Given that in an Aquarium, Volume now=Volumebefore,
... we can make a Volume equation for the periods before and after the sink of Atlantis...
Vol now=Volbefore => ( x 106 implicit!)
Please refer to 1st image (above), to compute distances, areas and volumes...


335 (3.8 + x) + 125 (4.5 + x) = (125 + 50 )(4.5 + x) + 285 * 4.467 (1)


335*3.8 + 335*x + 125 (4.5 + x) = 125(4.5 + x) + 50(4.5 + x) + 285 * 4.467 . (2)


At the equation here above, (2) The 1st product (left) and 6th product (right) of this equation are equal and refer the fixed (stable) part of Volume of oceans now and at Atlantis time. Since they're equal, they may simply disappear from this equation.
The term (product) given by 125*(4.5 + x) , which refers to fixed continental mass visible before and now, appears at both sides of the equation and may also be removed to simplify.
Equation (2) simply becomes:


335*x = 50(4.5 + x) (3)


This equation describes the Volume of variable part (Mu + Atlantis + other rests) now and before...
It's easy to compute variable x...
(335-50)*x = 50(4 + 0.5) (3)
x = 225/285 = 0.7895 Km = 789,5 m. (4)
From 1st figure of for this calculus, we know, average continental height is 700m higher than sea level oceans (which are 3.8 diep in average). Variable x gives the variable height given to effect sink Atlantis + ...
the total height of the continents now from the absolute bottom of this aquarium model is given by x + 3.8 + 0.7.
Because x ~ 0.790 km, the total continental height in this model is
Total average Continent Heightnow = 0.79+ 3.8 + 0.7 km = 4.5 + 0.79 km = 5.29 Km.
This part is fixed and is also identical before, at Atlantis times (for the fixed part of continental mass).
The difference of water levels at ice age could be estimated , looking for 1st image (at right side), computing the difference between total average height of mass continental mass before (+ rests) and the computed total stable oceanic height before (from absolute bottom of Aquarium model). This is given by:


Height average continental mass at ice Ages = 4.5 + x - 4.467 (5)


Height land at ice Ages = 5.2895 - 4.467 = 0.823 km (6)


This implies, waters have rised ~123 m because of sink of Atlantis + Mu (+ rests)
This is enough to inundate coast regions, cause much trouble, to destroy pharaoh army crossing the Red sea etc.
Image below contains a summary of this reasoning...
Atlantis Theory: simulation of sea level variation due to fall of Mu and Atlantis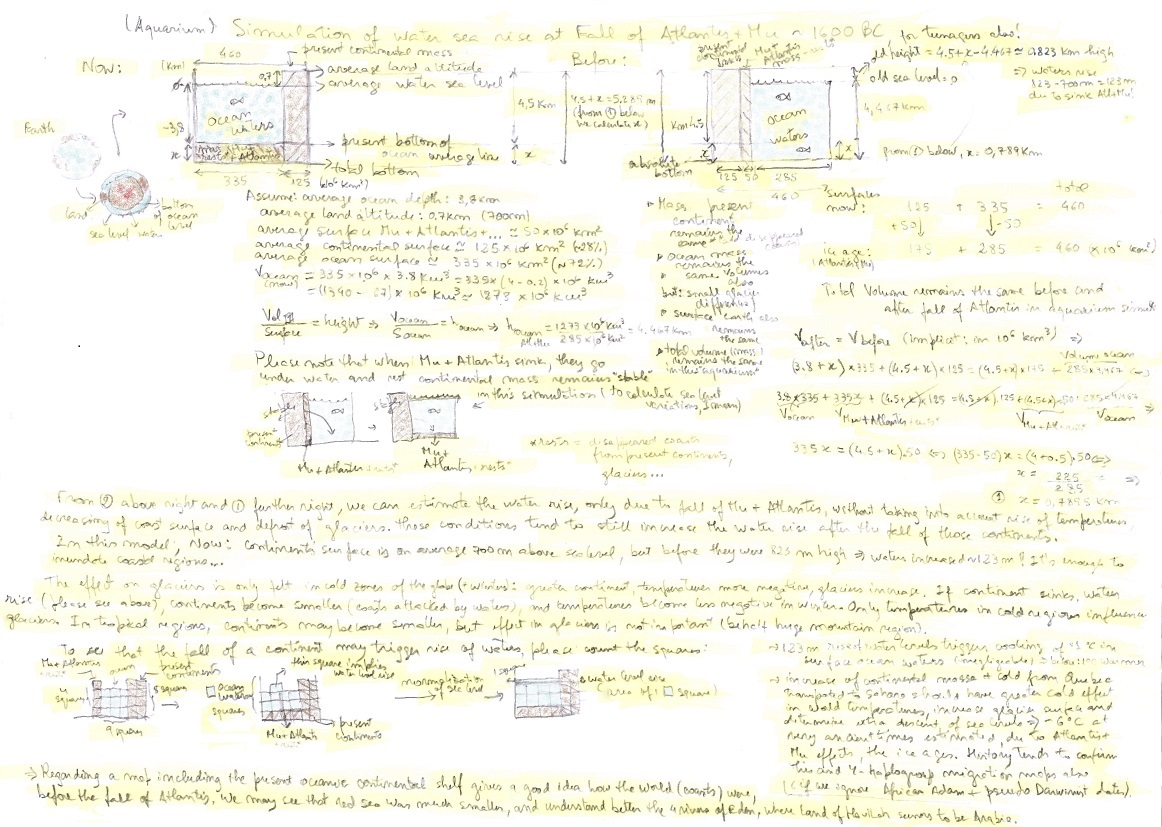 Picture above gives the reasoning explaining how it's possible to the waters to rise some 123 m after the fall of Atlantis. this is only a simulation and values may vary slightly... There was an effect greater cold in colder regions (Siberia connected to Canada; British Islands connected to Scandinavia...) would trigger extra glaciers in colder regions... This effect should be enough to cool whole planet from some 6°C and to compensate a the little ~1°C warming of surface temperatures before (which is neutral: waters at this level now (130m depth) remain with that temperature => no changes...). Further below, some links / maps give idea of how present continents looked like at ice age times...




Adding some Rigor to Previous Reasoning, factor Glaciers...

Calculus presented before are simplified; they give already a 1st idea of rise of sea water levels because of effect fall of Atlantis...

Calculus can become more rigorous, adding in a more rigorous way factor glaciers...

Based on data from http://www.antarcticglaciers.org/, I could estimate some (more doubling) 45 million km3 extra ice above surfaces (existing + coasts disappeared) because of ice age (Atlantis) effect, before Moses (presently glacier volume is +- 35 million km3) , based on sources available . Average glacier depth now is estimated in 2.1 km.

Consequences in previous reasoning

From total volume oceans presently and assuming waters ocean ~3.8km depth up to present ocean bottom (rests continental mass sunk Atlantis ignored), we should remove this variable water mass, in order to have fixed water and land amounts in model, before and after ice ages ( + Atlantis fall). Total fixed Volume ocean waters becomes 1273 - ~45 = 1220 *10 6 km3.

The fixed ocean height would be now of 1220 / 335 = 3.64 km height, the remaining 3.8 - 3.64 should be included in variable x (total height of variable volume before and after ice ages: Atlantis, glaciers, Mu, lost coasts...)

Anyhow, that wouldn't change the present sea level height and present average continental height, measured from absolute bottom in aquarium model... an ice layer should however be considered over fixed continental mass at Atlantis times, to give some more rigor to these calculus...

In 1st image to calculate the present average continental height we would have then:

Average height land presently from absolute bottom = 3.64+0.7+ x= 4.34 + x

(in place of 3.8 + 0.7 + x)

At Atlantis time, this fixed water would give as average fixed waters depth,

Height = Vol fixed ocean waters/Surfacefixed ocean waters= 1230 /285 , in km

Height = 4.316 km (in place of previous 4.467 km)

We're considering Surfaces model the same as before in previous calculus...

Considering that disappeared coasts + present polar regions would consume most of variable glacier mass and volume, we could distributed uniformly the ice glacier difference in order to have the average glacier contribution in continent average height . This is needed to simplify calculus.

Thus, 45 * 10 6 km3/ 175* 10 6 km3=45/175 = ~1/4 = ~0.257 Km

extra height before at continents because of some extra glaciers = ~ 0.257 Km.

We're now in conditions to repeat equation (1), but with more rigorous data:

335 (3.64 + x) + 125(4.34 + x) = (125 + 50 )(4.34 + x + 0.257) + 285 * 4.316 (1b)



335*3.64 + 335x + 125(4.34 + x) = (125 + 50 )(4.34 + x + 0.257) + 285 * 4.316 (2b)



Factors 335*3.64 and 285*4.316 can be removed: they give total fixed ocean volume waters...

Equation 2b becomes:

335x + 125(4.34 + x) = 125(4.34 + x) + 125*0.257+ 50 (4.34 + x + 0.257) (2c)



Factors 125 (4.34 + x) may be removed from both sides of equation (total fixed continental mass before and after...)

335x = 125*0.257+ 50 (4.34 + x + 0.257) (2d)



285x = 175*0.257+ 50 *4.34 (2e)



x = (44.975+ 217)/285=261.975/285=0.919 km (2f)



Thus, variable initial height, volume variable ices (old glacier water) estimated in 919 m and it's added to determine a common absolute bottom of aquarium model (with reasoning a bit improved now).

Final calculus for estimation average water level variation, because of fall of Atlantis:

Absolute average continental height (now)= x + 3.64 + 0.7 = ~0.92 + 3.64 + 0.7 =3.64 + 1.62 =5.26 km ,

with sea level 700m below => average height land mass now as ~700m.

At Atlantis time, we had that fixed (stable) continental mass has same height in aquarium model, added by some contribution of old ice glaciers uniformly distributed, and estimated here as 0.257 km.

Thus average continental mass, at Atlantis times should be 5.26 + 0.26 = ~ 5.52 km from absolute aquarium bottom

while average fixed ocean waters would depart from absolute bottom (in this aquarium model) and should not included this variable glacier ices. This height was estimated here as 4.316 km.

Thus, 4.316 km depth from surface should be the line from previous average seas water level before.

Thus the difference between average high land and sea level should be:

5.52 - 4.316 km = 1.2 Km =>

Before (continental) land was on average 1200 m high. Now land is on average 700 m high.

This means waters rose some 500m and not only 123 m as estimated before... Effect amplified some 4 times...

This still analysis contains some errors in rigor but it's enough to give 1st idea...

I think it's reasonable to think waters rose some 300 m as consequence of fall of Atlantis...

https://databayou.com/ocean/depth.html

How the present Continent Coasts looked like at Atlantis time?
Thus, based on previous simulations, I estimate a water rise effect of some ~300 m, because of sink of Atlantis + Mu continents. This means waters advanced afterwards against coast zones and present continents became smaller, specially near the coasts. The land mass at regions of Red Sea region and Sinai should be much bigger before... We can have an idea of the coasts before the sink of these continents, regarding to the not depth ocean coastal zones, via a cartographic map, those who show the ocean continental shelf...
Please note these ~300 m water level rise, since the fall of Atlantis + Mu + rests (rest = coasts of present continents who now are under water), includes all present (ocean) continental shelf, the non depth waters up to 130 m ( 400 feet) near the coasts (and more!)... Thus, the light blue water regions near the coasts gives a good idea of how broad were present continents* at ice ages...
* - Exception: coast south of Arabia (land of Havilah). According to the book of Genesis, one of the 4 Rivers of Eden would cross all land of Havilah (which seems to be present Arabia peninsula). The format of River at Red Sea given by the bathymetric maps (light blue color) would probably be extended to southern coast of Arabia => a lot greater horn of Africa (present Somalia coast) accompanying the river near Southern coast of Arabia... it also would be expected the river to enter the Hormuz strait direction present Kuwait... some possible differences, but most seems to be OK...
With this map, the light blue regions (up to 1000 feet => 300 m depth), we can have a better idea of how were the present continents, at time of Atlantis (behalf horn of Africa + Persian golf river exceptions to better match the Eden river)... Africa Asia North America linked etc. much bigger siberian winters... => an ice age. Moses would eventually have lived all this, before and after and in conditions to write the Genesis book, before those things were forgotten.
It becomes clear that it was much easier to cross by foot many regions in the beginning (here: add red regions also), the only problem would be the permanent ice, if we assume an ice age existed because of the presence of Atlantis + Mu.
It explains also the Y Haplogroups trajects to Hawaii and to New York city coast from North Spain (Bascs), how easy was to arrive to Indonesia by foot...
the 4 rivers of Eden geography becomes also a lot clear... it was so easy before to cross Sinai from Kurdistan in order to go to Ethiopian + Sudanese lands... The Red Sea seemed indeed a huge river but not so broad as a Sea... land of Havilah mentioned in Genesis creation recite seems to be present Arabia peninsula...
...many things become more clearer if we take Genesis literally and assume also that Atlantis existed before...
... a bit of the geographical form of Atlantis can be noticed, e. g. near New Foundland, Canada and it was possible to go by foot to North America in that region...
All become much clear... we can cross much more data, do multidisciplinary analysis,...
... but also evil increases discreetly there's much more discrete control and also danger of Apocalypse...
... maybe a mandatory new vaccine Covid with nanotechnology payment 666 incorporated? It seems it exists already this kind of thing... I don't need it...
... + details daily 'protections against evil' sections, a summary at 'about' section... dangers remain, sorry...
---


Jesus Divine Mercy: Those who honor Jesus, with full trust, through this picture (above), shall be saved





I try to pray for protection to all pro God of planet until 00:00h, to try to disinfest, but it's better to complement it with 24h protective prayer, e.g. attentive rosary or (easier/shorter) 7 sorrows (here further below).

http://www.christianideas.eu/#about tries to help...
Over Web site of Ideas from Catholic Russia Converted,
made in Belgium, E.U.,
www.christianideas.eu:
DISCERNMENT Criteria, e.g.

true faith catho conservative non naive

:

risk of sect new age in Rome=> the Apocalypse...

=>

better to be in state of grace go to confession to catholic priest asap, after Benedict XVI

Risk of Great Famine

=> news from heaven +- serious to e.g. Enoch, G Lomax, L de Maria, J Leary...



Ideas (pro God) to (try) to resist Great Famine

:
- St Onofre with a Crumb of Bread,
- Blessed grapes L Maria + S Damiano...

MODERN LIES unmasked
(Lies of Darwinism, Fake Dates...)



History + demographics since 2000BC unmask fake dates. Hominids were hybrids which existed before great Flood

, confirms Jesus at from old web site from V De Tarlé apparitionsmariales.org …



Proactive Darwinism: ~mouse evolves=> bat => vampire, thus ancestor man/whale etc goes to=> Batman => Dracula...

within same ~million years…



Y haplogroups DNA migrations tend to proof Atlantis sank => Ice ages before Moses crossed the Red Sea? Science & Bible theory



DANGER OF APOC after Benedict XVI => St Malachy prophecy:





CHIP 666 IN BODY, WW3, risk vaccines Pest Grippe with 666 smart particles /changing DNA RNA , throw virus (by plane) to kill vaccinated, "good" apocalyptic new age sect, THE GLOBAL EMPIRE SOCIALIST COMMUNIST OF ANTICHRIST... => lots of apocalyptic prophecy at www.tldm.org (for scenario Russia not converted)




ICON OF AUTOMATIC Eternal SALVATION
(also here above)
PROTECTIONS against EVIL, but some suffering needed, sorry! (a summary a bit further below)

IMMORTALITY SUGGESTION:


TO PRAY GOD for ETERNAL SALVATION for THOSE WHO NEEED IT MOST, CALMS 'only' DANGERS for LIFE.
(you have nothing to loose, if you feel dying, even if formula is limited …


after: begin discreet fast + attentive daily prayer(as rosary) until it calms/improves

=> ~30 days for diabetes,


ok not so easy, but it's better than cancer operations

,

(1-3 days should calm grippe…)

)


GLBT + Modern Sex BEHAVIOURS: Unhealthy, even KILL...


It attracts pests…
it's possible to attack underconscious, e.g., via discrete sorcery… => Nero case study...


IDEAS AGAINST AGING & GRIPPE/PEST /Evil

Dangers of Vaccins: e.g. 666 etc.
BETTER ALTERNATIVES + Pro God:

Fast & prayer (good against evil => Medjugorje) until it calms... (discreet fast & prayer or in solidarity group, prayer style (attentive daily) rosary or 7 sorrows...

some food may help: avoid white sugars (fruits honey better if sweet food needed), but 1/8 glass whiskey or vodka (=> let it disinfect (few minutes) at the throat…), 1/6 glass vinegar, 2 cloves raw good garlic mixed e.g. in salad to help counter pest... + immortality suggestion in dramatic cases to calm a bit and in place of dying win forces to pray a rosary /7sorrows... + details links above below



VACCINATED RISK TO DIE before time WITHOUT FORMULAS PRO GOD

(see above; formulas from news from heaven maybe work against vaccines… Exorcism water? miraculous medal, faithful see light cross in sky after great warning, Oils?... ?? )



IDEAS FOR A BETTER LOOK (Ladies & Veil)

How FAKE PUBS BRUNETTE & Erotica ARE KILLING CATHOLIC MARRIAGE FOR LIFE: Sarah x Agar…

(because of unhappy husband: too few beautiful ladies to choose… SOS Aesthetics...

correlations 30 years to detect trends:

... lady educating children in micro appart feels so happy as Husband with lady with not cared aesthetics... eats white sugared stuff=> brunette Scheherazade look puts husbands away...)

Aesthethic care is to have heart for husband

. Comparative Tables at section 'Our Lady of Fatima deserves better look'



MODERN WOMAN IDEOLOGY UNMASKED:
Demographic fall in West (+ Russia)…
stats (1950 or) 1970-2019: Germany x India…


Censured on

Twitter: @_ChristianIdeas

Possible:
T shirts Posters "Songs" Christian Ideas and/or Russia Converted Catholic ('made in Belgium')...

School
(e.g. Maths, Computer Science: exercises, complements to Wikipedia…)

Christian Ideas at Linkedin
(https://be.linkedin.com/in/christian-ideas-104ba893)

If You Want to Defend Good,

PROTECTIONS against EVIL + Take Cross Recommended

(IMMORTALITY SUGGESTION at 1st Sign of Danger,

CONTRACT WITH GOD (ICON AUTOMATIC SALVATION THROUGH DIVINE MERCY), (home page or below), + Daily (better, Attentive):

Rosary, and / or

7 Sorrows, and / or

Crusade Prayer 33,

Crusade Prayer 140 (to speak without fears),

to be in state or go to confession catholic priest asap ...

+ details at christianideas.eu
I try to pray for protection all pro God of planet until 00:00h, to try to disinfest, but it's better to complement it, with 24h protective prayer, e.g., attentive rosary or (easier/shorter) 7 Sorrows prayer.
Satan demanded to God 75-100 years to destroy Vatican + money + power => www.tldm.org. Satan had that time, that money, that power. 150 years later, despite dangers + evil, Vatican still resists. Let us see evolution... ??? apocalyptic? reversal pro God (again)???
Note: www.christianideas.eu began in ~2009 and keeps growing. IT REMAINS INCOMPLETE + NOT PERFECT.
Because IT IS NOT FINISHED, NO FINAL VERSION (.pdf) EXISTS. IT KEEPS GROWING/IMPROVING and there's still many changes to do (and few time, resources...). A complete review of the web site should be done, but it's already better than nothing...
If God helps, I'll try to improve and/or correct eventual detected errors, contents + design, little by little. A backup .zip exists (link colomn above). It contains most of the site, behalf the heavy assets.
Please feel free to print it, copy it, behalf, eventually, songs ... (contents license above left with some extra explanations, but the general goal is absolute freedom for use of text + images, in a good intentioned True Faith pro God use...)
Good intentioned Pub pro God True Faith welcome!!!
(protections from God recommended then! Evil doesn't like it...)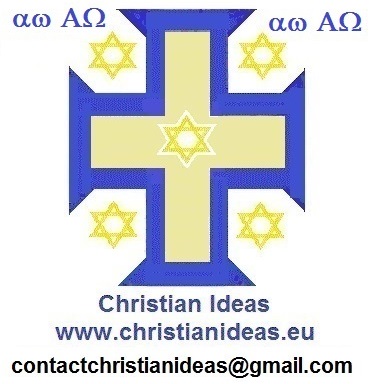 Below: Our Lady of the Roses Honored Exposed and Death doesn't Enter inside.
(source: Jesus at old web site apparitionsmariales )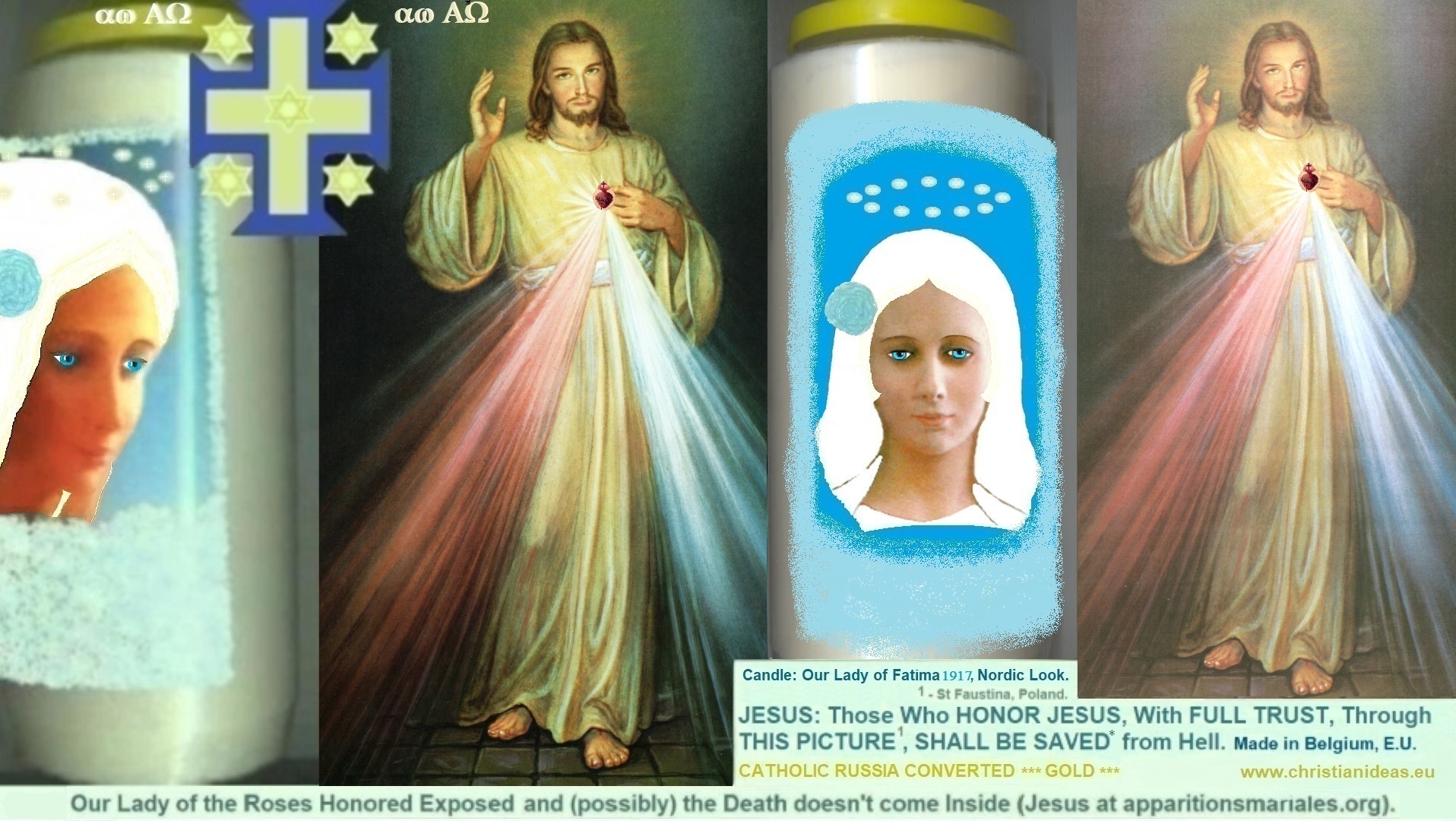 Right Click + save as to download images...