Against Terror and Terrorism: Summary
Terrorism Remains a Dramatic Problem (12/9/2023)
The Subject "Terror and Terrorism" is a bit Forgotten now in the Official News / Mass Media, but the Problem Remains Dramatic and even Increases. What Happens is that Evil Controls now most of the Official Media, and, thus, Presently, News Over Terror and Terrorism do not Appear anymore in the Official Media, confirms God.
Other Real Terror is Abortion (12/9/2023)
Please note that Other Big problem in the World, and Other Terror of the Present Times, is now, but Abortion, with ~45.000.000 Murders through Abortion every year and about 1.5 Billion Murders since ~1980. Further Information in Chapter Abortion.
The Good Solutions Against Terrorism
The Good Solutions I know are:
- God reigning on Earth...
- Russia Converted...
- some prayers against Terrorism and other Calamities (please see sections below).
Thus, the problem is complex, and, Complete Conversion of Russia to Catholicism is presently quite hard to implement...
The Other Solutions (12/9/2023)
Watch out, the Antichrist reigns before Jesus and he seems also to solve the problems of "Terrorism" and with his "microchip in the body"; he is the "Man of Peace", according to the Messages from Heaven (Book of Truth), creating thus an "Illusion of Peace", but which comes from the Evil One...
Thus, Solutions against Terrorism, they exist, but, the "Normal" ones, they're worse than the problem (e.g., to control everybody and remove privacy and freedoms, microchip in the body... and other miseries of the style...).
While not ignoring the threat of extremist movements like Islamic State or Al-Qaeda, which shall preferably be kept under control, there's an important difficulty in the problematic of Terrorism: to remove it completely, we remove completely also privacy and personal freedoms. I find it not acceptable, because the price to pay is too high. Some control and vigilance in the airports etc. seems to be legitimate, but it should be found a good compromise between security and privacy and personal freedoms without falling in "paranoia".
The problem of Terrorism actually is not so big, and the security measures shall not not be exaggerated neither... I think the security measures should take into account the "probabilities / statistics of happening a terrorist attack": if the probability/statistic is lower than a certain level, we shall not consecrate too much "energy neither money" to increase security to "paranoiac" levels...
Evil exists, we must live with it and we can not completely avoid a terrorist attack. Currently, the damages caused by Terrorist attacks are comparable to those of Abortion or to those of the Modern doctrines. Thus, without ignoring the Problem of the Terrorism, we shall also not ignore the also important Problems of the Abortion and of the Modernist False Values.
There are also some risks in involving in open war against movements style Islamic State/Al Qaeda in the Middle East. But, if those extremist movements are not under control, they could become an increasing threat to the world... We should try to minimize the number of deaths and try to protect the christian communities, but even to negotiate with the Islamic State may be dangerous and risky...(?) the USA may also risk bankrupcy, according to a Message, and the War in Syria, I don't really know the solution... Wars in the Middle East, I can not really be optimist: Syria has Key of the Peace or War in the World (!), according to the Messages from Heaven, e.g., those from www.tldm.org. Thus, complex... a hot potatoe...
Protection Against Nuclear Attack (12/9/2023)
A group of religious in Hiroshima, Japan, escape Safe to the Atomic Bomb (Japan, World War II), because they were praying the Rosary. If we pray the Rosary Non Stop (at Least 4 Times, better: attentively), we shall have Good Daily Protection, even in case of Nuclear Attack.
A Prayer Against Terrorism and Other Catastrophes (12/9/2023)
Our Lady, who wants to be referred as "Lady of all nations", also seemed to appear in Amsterdam*, around 1950. She asked the proclamation of a last Marian dogma: "Mary, mediator, co-redemptor and advocate of mankind".
By the years 50 of the last century, she was already aware of the danger that the catastrophes, terrorism-like (nuclear, biological, attacks, etc.) and others, could represent for the mankind. That's why she gave a prayer that is supposed to protect us against this type of attacks and degenerations:
LORD JESUS CHRIST,
SON OF THE FATHER,
SEND NOW YOUR SPIRIT
OVER THE EARTH.
LET THE HOLY SPIRIT LIVE
IN THE HEARTS OF ALL NATIONS,
THAT THEY MAY BE PRESERVED
FROM DEGENERATION, DISASTER AND WAR.
MAY THE LADY OF ALL NATIONS,
THE BLESSED VIRGIN MARY,
BE OUR ADVOCATE.
AMEN.
The best is to pray this prayer everyday, in order to try to protect ourselves from these type of attacks...
Don't forget neither that prayer in family/community/church (e.g. praying daily one rosary) and fast are also powerful against catastrophes and evil...
*-those Apparitions were recognized as Authentic, by the Catholic Church, for Period of Time, but they're not recognized anymore. This is Unfair, says Jesus. Because these Apparitions were Recognized as Authentic Ones by the Vatican in the Past and Are in Fact Authentic, Jesus also Said. However, Problems with the Vatican, because of this Subject, are, Naturally, to be Avoided: we Shut up and that's it... In fact, the Prayer presented above Can Be Tested and therefore Can Be Considered Efficient, said Jesus.
Divine Mercy Prayer Protects the World Against Terror
The Divine Mercy Chaplet protects the World against Terror and other (big) Calamities.
I felt it, speccially in 2013, when there were great tensions between the (Polluted) West and Not Converted Russia over the war in Syria... We can feel the difference, when we pray it or when we don't pray it...
Furthermore, God the Father asks us to pray it everyday... (source: the Protective Seal of the Living God)
Naturally, when we pray both the the Rosary of the Divine Mercy plus the Standard Rosary, the protection for us and for the World increases... Watch out: we can not completely avoid evil...
Mention "MARY as EMPRESS" at start + end DAILY ROSARY.
IDEA TO PROTECT CONTINENT, e.g., AGAINST ISLAMIC TERROR JIHAD
It seems that reciting daily rosary (better: attentive), mentioning 'Empress' (to Virgin Mary) at begin + end of prayer protects continent, at least Europe... it seems to work against possible ISIS TERROR attacks against Europe... JIHADISTS are ALREADY ACTIVE IN LYBIA SINCE SEVERAL YEARS...
We have nothing to loose in reciting it, adding these 2 extra 'empress' mentions...
666, THE MARK OF THE BEAST:


Please Refuse a Microchip in Your Body!!!

Although the mark of the Beast of the book of Revelation, 666, may have also other meanings, according to the private messages of Jesus and Mary, it may also be a microchip, implantable in the human body. At first glance, such an idea seems to have many "advantages":
GPS system: we don't get lost anymore, all over the world

SOLUTION FOR TERRORISM:

through an historic and GPS, the terrorists are discovered and destroyed...
PAYMENT SYSTEM: people pay with the hand or with the forehead! Check with Revelation 13:16: those who don't have the mark of the beast can not sell or buy... and are even killed!
HEALTH SYSTEM: health data, historic and parameters, sent wireless to the doctor...
citizen data: Identity data etc.
...
The book of Revelation says: those who get the mark of the beast in their bodies (hand/forehead) receive the angry of God and go to hell. Although such a system may have many advantages, those who are "marked" loose their freedom: they're controlled like pigs, and receive also hypnotisms which make practically impossible to resist to the seductions of the Antichrist. So, it is better to die as a martyr and go immediately to paradise as a saint, than to get the microchip in the body and go to hell.
The best is to be permanently in state of grace, to avoid bad surprises... are you seeing what the controls of the terrorism are leading us to? To the implementation of an obligatory system of mark of the beast/implantable microchip... Another excuse to impose the mark of the beast is the implementation of an efficient, modern health system... at the moment of the schism of fall of the Catholic Church/Vatican through profanation of the Holy Traditional Sacraments or Traditional Credo, we shall take the holy communion everyday in the remaining Church of Clandestinity, in order to resist until the public coming of the true Messiah in the glory in clouds from heaven to earth, after the 3 days of darkness, in order to take the the public control of the planet and start a new everlasting paradisiacal age. For more precision and rigor, please refer to the original messages of God and Mary, for instance the new The Book of Truth: Messages of Jesus to Maria of Divine Mercy, TLDM: Directives, Apparitions and Prophecies of Jesus and Mary (in New York) and to the French web site, also containing almost 100% reliable private messages of Jesus and Mary, www.apparitionsmariales.org: puce électronique, or other pages from the prophetic links of the site.
Terrorisme as pretext to Control People and to Fight Tradition
Yes, Terrorist attacks are evil. Terrorism & organizations who defend Terrorist attacks shall be fight/kept under control (e.g. Boko Haram, Islamic State).
But don't be ingenuous neither! Because those islamic terror organizations defend also many values of tradition... Evil forces profit, thus, from Terrorist attacks to control the mass's (people) and to fight traditional values. In practice, they mix everything! We must clearly separate waters! Terror and radical Islam is an evil thing, but not traditional (Conservative Catholic) values!
Most of official media in the West is now under control of the Evil forces. They remain professional, most of the news are true, but for the most attentive, manipulation and censorship of important information is evident. News from Heaven doesn't appear there... and they may take pro modernist apocalyptic positions defending/promoting it as good things...
---




Jesus of the Divine Mercy: Those who Honor Jesus, with full trust, through this Picture (above), shall be Saved* from Hell.


* - Please refer to home page from www.christianideas.eu for further Details...



Please Scroll further Down to Fully See the Summary...





I try to pray for protection to all pro God of planet until 00:00h, to try to disinfest, but it's better to complement it with 24h protective prayer, e.g. attentive Rosary or (easier/shorter) 7 sorrows (here further below).



Summary over the Web Site
Catholic Russia Converted Ideas...
Made in Belgium, E.U.
www.christianideas.eu:
DISCERNMENT Criteria, e.g.

True Faith catho conservative non naive

:

risk of Sect New Age in Rome=> the Apocalypse...

=>

better to be in state of grace go to confession to catholic priest asap, after Benedict XVI

Risk of Great Famine

=> news from heaven +- serious to e.g. G Lomax, L de Maria, J Leary...



Ideas (pro God) to (try) to resist Great Famine

:
- St Onofre with a Crumb of Bread,
- Blessed grapes L Maria + S Damiano...

MODERN LIES unmasked
(Lies of Darwinism, Fake Dates...)



History + demographics since 2000BC unmask fake dates. Hominids were hybrids which existed before great Flood

, confirms Jesus at from old web site from V De Tarlé apparitionsmariales.org …



Proactive Darwinism: ~mouse evolves=> bat => vampire, thus ancestor man/whale etc goes to=> Batman => Dracula...

within same ~million years…



Y haplogroups DNA migrations tend to proof Atlantis sank => Ice ages before Moses crossed the Red Sea? Science & Bible theory



DANGER OF APOC after Benedict XVI => St Malachy prophecy:





CHIP 666 IN BODY, WW3, risk vaccines Pest Grippe with 666 smart particles /changing DNA RNA , throw virus (by plane) to kill vaccinated, "good" apocalyptic new age sect, THE GLOBAL EMPIRE SOCIALIST COMMUNIST OF ANTICHRIST... => lots of apocalyptic prophecy at www.tldm.org (for scenario Russia not converted)




ICON OF AUTOMATIC Eternal SALVATION
(also here above)
PROTECTIONS against EVIL, but some suffering needed, sorry! (a summary a bit further below)

IMMORTALITY SUGGESTION:


TO PRAY GOD for ETERNAL SALVATION for THOSE WHO NEEED IT MOST, CALMS 'only' DANGERS for LIFE.
(you have nothing to loose, if you feel dying, even if formula is limited …


after: begin discreet fast + daily prayer (as attentive rosary or 2 daily rosaries) until it calms/improves

=> ~30 days for diabetes,


ok not so easy, but it's better than cancer operations

,

(1-3 days should calm grippe…)

)


GLBT + Modern Sex BEHAVIOURS: Unhealthy, even KILL...


It attracts pests…
it's possible to attack underconscious, e.g., via discrete sorcery… => Nero case study...


IDEAS AGAINST AGING & GRIPPE/PEST /Evil

Dangers of Vaccins: e.g. 666 etc.
BETTER ALTERNATIVES + Pro God:

Fast & prayer (good against evil => Medjugorje) until it calms... (discreet fast & prayer or in solidarity group, prayer style (attentive daily) rosary, or daily rosary 2x, or 7 sorrows...

some food may help: avoid white sugars (fruits honey better if sweet food needed), but 1/8 glass whiskey or vodka (=> let it disinfect (few minutes) at the throat…), 1/6 glass vinegar, 2 cloves raw good garlic mixed e.g. in salad to help counter pest... + immortality suggestion in dramatic cases to calm a bit and in place of dying win forces to pray an attentive rosary /7sorrows... + details links above below



VACCINATED RISK TO DIE before time WITHOUT FORMULAS PRO GOD

(see above; formulas from news from heaven maybe work against vaccines… Exorcism water? miraculous medal, faithful see light cross in sky after great warning, Oils?... ?? )



IDEAS FOR A BETTER LOOK (Ladies & Veil)

How FAKE PUBS BRUNETTE & Erotica ARE KILLING CATHOLIC MARRIAGE FOR LIFE: Sarah x Agar…

(because of unhappy husband: too few beautiful ladies to choose… SOS Aesthetics...

correlations 30 years to detect trends:

... lady educating children in micro appart feels so happy as Husband with lady with not cared aesthetics... eats white sugared stuff=> brunette Scheherazade look puts husbands away...)

Aesthethic care is to have heart for husband

. Comparative Tables at section 'Our Lady of Fatima deserves better look'



MODERN WOMAN IDEOLOGY UNMASKED:
Demographic fall in West (+ Russia)…
stats (1950 or) 1970-2019: Germany x India…


Censured on

Twitter: @_ChristianIdeas

Possible:
T shirts Posters "Songs" Christian Ideas and/or Russia Converted Catholic ('made in Belgium')...

School
(e.g. Maths, Computer Science: exercises, complements to Wikipedia…)

Christian Ideas at Linkedin
(https://be.linkedin.com/in/christian-ideas-104ba893)

If You Want to Defend Good,

PROTECTIONS against EVIL + Take Cross Recommended

(IMMORTALITY SUGGESTION at 1st Sign of Danger,

CONTRACT WITH GOD (ICON AUTOMATIC SALVATION THROUGH DIVINE MERCY), (home page or below), + Daily (better, Attentive):

daily Rosary 2x, and / or

7 Sorrows, and / or

Crusade Prayer 33,

Crusade Prayer 140 (to speak without fears),

to be in state or go to confession catholic priest asap ...

+ details at christianideas.eu
I try to pray for protection all pro God of planet until 00:00h, to try to disinfest, but it's better to complement it, with 24h protective prayer, e.g., attentive rosary or daily rosary 2x or (easier/shorter) 7 Sorrows prayer.
Satan demanded to God 75-100 years to destroy Vatican + money + power => www.tldm.org. Satan had that time, that money, that power. 150 years later, despite dangers + evil, Vatican still resists. Let us see evolution... ??? apocalyptic? reversal pro God (again)???
Note: www.christianideas.eu began in ~2009 and keeps improving. IT REMAINS INCOMPLETE + NOT PERFECT.
Because IT IS NOT FINISHED, NO FINAL VERSION (.pdf) EXISTS. IT KEEPS IMPROVING and there's still many changes to do (and few time, resources...). A complete review of the web site should be done, but it's already better than nothing...
If God helps, I'll try to improve and/or correct eventual detected errors, contents + design, little by little. A backup .zip exists (link colomn above). It contains the most important part of this web site.
Please feel free to print it, copy it, behalf, eventually, songs ... (content's license, above left, with some extra explanations, but the general goal is to give some freedom, for the use of the texts + images, in a good intentioned True Faith pro God use...)
Good intentioned Pub pro God True Faith welcome!!!
(protections from God recommended then! Evil doesn't like it...)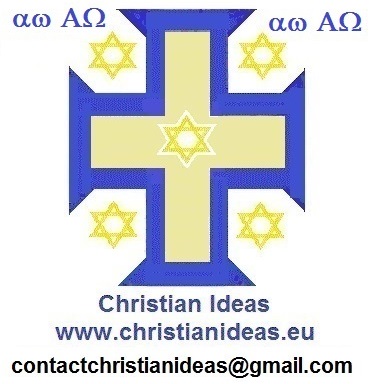 Below: Our Lady of the Roses Honored Exposed and Death doesn't Enter inside.
(source: Jesus at old web site apparitionsmariales )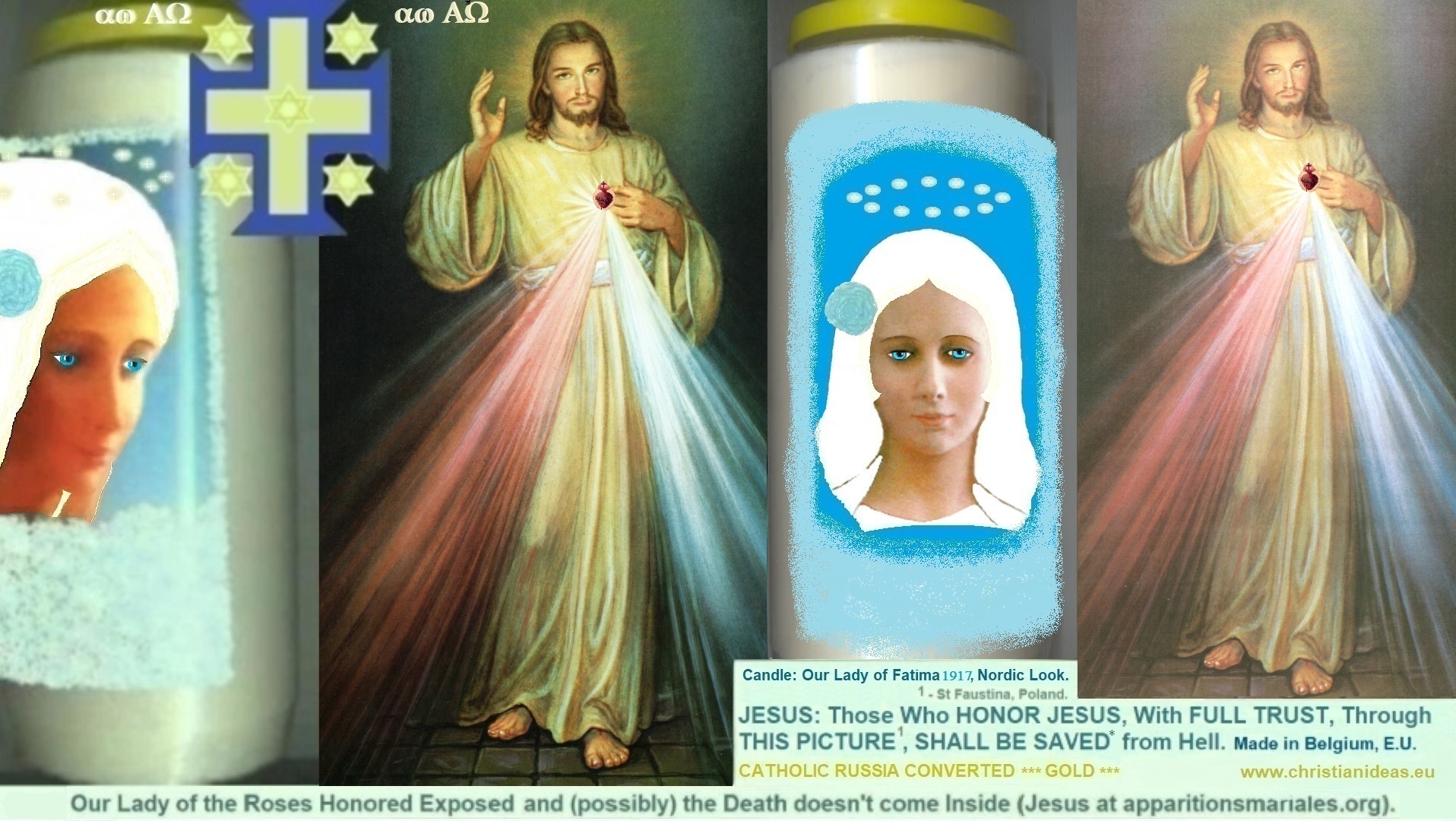 Right Click + save as to download images...