Eden Garden Located: Summary
Garden of Eden possibly Located in Eastern Turkey...
From book of Genesis 2:10-14, we can read:
"10 A river flowed from Eden to water the garden, and from there it divided to make four streams.
11 The first is named the Pishon, and this winds all through the land of Havilah1 where there is gold.
12 The gold of this country is pure; bdellium and cornelian stone are found there.
13 The second river is named the Gihon, and this winds all through the land of Cush2.
14 The third river is named the Tigris, and this flows to the east of Ashur3. The fourth river is the Euphrates."
Legend:
1- Land of Havilah, that of descendants of Havilah, seem to be located in the beginning in Arabia Peninsula. In the beginning the Havilah tribes could have settled in Saudi Arabia, near the sea (Persian Golf + Red Sea)
Afterwards (at least some) Havilians could have crossed the Red Sea, direction Morocco... This map shows already land of Havilah located in both sides of the Red Sea.
2- Land of Cush, that of descendants of Kush, typically refers to 2.1. Ethiopia and neighborhood (Erytreia, Sudan...), 2.2. Berbers (Moors/Magreb) seem also descendants of Cush... it could eventually refer to almost whole African continent (?)... 2.3. Finally, there's still another region with possible influence of Cush: the Hindu Kush region, Pakistan/India... here seems to refer more the Ethiopian region... (?)
3- land of Ashur refers to Assyria, an ancient Mesopotamia great power, more precisely to Assur, in western bank of Tigris river
Because 2 paradise rivers, Tigris and Euphrates, still exist, there are 2 main possible locations for the garden of Eden, in zones of confluence of those rivers, somewhere in the Middle East: either in Eastern Turkey/Kurdistan/Armenia or either South Mesopotamia/Kuwait.
This map of Tigris + Euphrates rivers can already give us a 1st idea of possible locations of Eden Garden (East Turkey + Koweit hypothesis)
From those possibilities, the most probable seems Eastern Turkey/Armenia, because the Bible says that the garden of Eden was the source of 4 rivers, among them the Tigris and Euphrates, whose source is presently the mountains of Eastern Turkey/Armenia...
Furthermore, there are some revelations to, (already Blessed, probably Holy!) German Anne-Catherine Emmerich*, saying that the Eden Paradise was located in a very high place, East to the Mountain of the Prophets.
Over Adam, this Blessed (Saint?) Lady writes that he was blond, born ~Center of mass of the World(Jerusalem) and that He died also again in this region (~place where also Jesus died...). She mentions, however, THAT EDEN PARADISE WAS NOT THERE (IN JERUSALEM HILLS).
This link/map shows very High places containing rivers Tigris and Euphrates (near to each other) are found rather in East Turkey mountains and not really in South Irak Koweit regions. This reinforces East Turkey Eden hypothesis.... Also, according to Genesis description, we should consider, the Eden garden should be a source and not a destination place of the 4 paradise rivers... in South Irak hypothesis, this is still possible, but less probable...
This link gives extra details over the source place of the Tigris river, being the zone of Elazig with lakes Keban and Hazar a possible place of location of the Eden garden... Near lake Keban there are mountains which can overcome 1000m high, eventually 2000m high... Lake Keban self is located ~500 m high... in South Iraq region, relief is rather flat, near sea level... Mystery solved?
*- Thanks to visions/descriptions of Blessed (Holy?) Lady Anne-Catherine Emmerich, it was possible to rediscover lost house of Virgin Mary, zone Ephesus/Turkey, built by disciple St John (author book Revelation etc)
What about the lost Paradise Rivers: Gihon and Pishon?
This web site seems to give an interesting analysis over the possible location of Eden parden with some interesting maps...
Reading writings of wise really superior German lady, St Hildegarde of Bingen, We learn that before the Great Flood, it didn't rain...
Circumstances were, thus, different than we know it now... After the great Flood, great climatic changes should have happened: it began to rain and some of the previous existing earth water sources could have disappeared...
We know that by the time of Moses, Egypt had already an warm desert climate... the climate seems thus not to change seriously in Middle East and North Africa after the great Flood...
I expect, thus, that the rivers Gihon and Pishon which crossed regions with warm aggressive desert climate like Saudi Arabia + Sudan to have disappeared or strongly changed after the great Flood...
The river Gihon, coming from East Turkey mountain regions, in order to cross whole typical Cush region (desertic Sudan + Ethiopia) should cross Sinai peninsula... we should remember that initially there was no Suez channel and Africa was united with Asia...
The curious analysis from https://godshotspot.wordpress.com/2016/08/19/eden-garden-rivers/ considers the possibility of Pison river to be a great Jordan river flowing to Red sea, which crosses/encircles the whole Havilah/Saudi Arabian region, up to Kuwait... indeed it is compatible with this analysis and a possibility to consider... I've never thought over a description of Pishon river in that way... but it is indeed possibility to describe it... maybe Pishon river was described like that by Moses...(?) or something similar... (?)
Adam: a native Cameroonian or a Nordic? Y Haplogroups x Heaven...
Genetics give some interesting information, but it doesn't mean it is 100% accurate... I think professionals had to submit to Darwinist lobbies, in subjects hard to proof, in order to avoid problems...
Genetics show contradictions in fake Darwinist long dates... dates remain long but fossil dates don't match with Genetic dates: watch out, because such dates are only numbers hard to proof, the fake numbers may even be aligned... Accurate History + Demographics from 4.000 years ago can then bu used to unmask the fake dates... please refer to chapters Big Bang and Darwinism for further details...
Genetics contradicts again Darwinist fakes of random evolution of modern man, stating that modern intelligent man comes from an initial root DNA, near Y Dna haplogroup A00... a Genetic Adam and a genetic Eve... thus no continuous hazardous evolution... However, Genetics doesn't make the game of Genesis 100% neither, namely in dates or in the origin and physiognomy of Adam/Eve...
Concerning migrations, Y Haplogroup Genetic Maps give important information, most of those trajects seem to match with existing historic available data, after the great Flood. If we discard fake dates, most migration paths seem accurate, we even discover traces of existence of Atlantes/Atlantis... We can see then how first inhabitants arrived to Sweden, to Yellow River, China, to America, Celtic R1b migrations to Spain..., after the 1st great division of the Earth, about 4000 years ago, after Babel confusion Babylon, Iraq...
IT DOES NOT MEAN SUCH MIGRATION PATHS ARE 100% ACCURATE. SOME OF THOSE PATHS CONTRADICT messages from HEAVEN of good quality + BIBLE + CAREFUL HISTORIC ANALYSIS(better: good translations + cross check several ones, very old ones etc). Some points remain however hard to proof, but I expose here a first analysis.
GENETICS COME WITH THE FAKE OF DARWINISM SAYING ORIGIN OF MEN WAS SUB-SAHARAN AFRICAN, INHABITING IN THE REGIONS near KENYA or CAMEROON or either NIGERIA... ORIGINAL Y DNA HAPLOGROUP WOULD BE THUS NEAR A00. We can thus have an idea of people with such genetic inheritance, prototypes of Adam,..., e.g., North Cameroon inhabitants have some interesting % of A00 Y Dna Haplogroup...
In order to have a more generic idea, people of Haplogroups A and B are, according to Genetics's studies, genetically close of the original Adam.
BECAUSE BEFORE THE FLOOD THERE WAS CONTAMINATION HYBRIDIZATION BETWEEN MAN AND HOMINIDS AND BECAUSE HISTORY UNMASK FAKE DATES, MODERN HAPLOGROUPS ONLY GIVE AN IDEA OF MIGRATIONS AFTER THE GREAT FLOOD, THUS AFTER ~2300 BC. OTHERWISE IT WOULD REFER TO MIGRATION ROUTES OF HOMINIDS ALSO. IT IS NOT THE CASE. IT GOES OVER EXISTING PRESENT Y DNA HAPLOGROUPS and not over EXTINCT HOMINID GENETICS (some rests could however be infiltrated in modern man because of scientific proofed little contamination with Neanderthal).
HISTORIC MAPS, NAMELY THOSE OF ANCIENT EGYPT IN OLD TIMES, SOME STILL AVAILABLE IN THE INTERNET UNMASK THE FAKE. THIS IS ALSO VISIBLE IN Y HAPLOGROUPS MIGRATIONS BUT IT IS RATHER CONFUSING:
COLONIZATION OF AFRICA IN EGYPT REGION WENT FROM NORTH TO SOUTH, Ethiopian Sudanese etc CUSHITES RELATED GOING DOWN THROUGH THE RIVER... at least some... Please compare with first Portuguese colonizations of river Amazonas after 1500 DC... we can thus deduce colonization/settlements sense... from the sea coast to inner lands... We can see that also in a Y DNA Haplogroups migration map, it concerns Hamitic, Cushitic E3b1 Haplogroups...
According to my previous analysis, the Curd Theory for Adam seems to be correct, paradise seems to be near source of river Tigris, SW Turkey (please see above). After the Great Flood, Genesis is very clear, the Ark was near Ararat Mountains, in East Turkey also. Please refer to chapter Noah's ark for further details...
Bible and messages from Heaven with good quality, Blessed A. C. Emmerich, state that Adam, Abel and Cain were a Nordic, Gold Blond or Redhaired (in French). Eve came from Adam's leg, says the Bible, thus, Eve's DNA should be almost identical to that of Adam, thus, Y haplogroup of Adam should be near I Nordics Croats or either J (Sarah, spouse of Abraham, first Semitic Jews), eventually G (possibly 1st Iberians)... please note near H Y DNA haplogroup relates to Dravidian, South India, language spoken by Semitic Elamites, H seems, thus, a mix Semitic African... (?)
Origins of present genetic variety seems rather to have happened in the region of middle east, Babylon, babel tower, like the bible tells, with further migrations, division of the earth, some 4000 years ago...
Although still hard to proof 100%, the conclusion I have is that bible says the truth, good translations, and some Genetics tend to confirm it. When there are presently contradictions between Science and the Bible, normally the error comes from the Science (however good translations from the bible and some scientific and historical knowledge required to counter argument...).
Dark skinned Africans, e.g Pygmies + native American Indians seem rather a Genetic specialisation with some isolation in their respective original native geographical regions after the Flood.
TO MAKE BELIEVE NORDICS ARE AN "EVOLUTION" FROM PYGMIES seems SIMILAR TO make BELIEVE MEN IS GOING TO HAVE BAT WINGS BECAUSE SAME "EVOLUTION" HAPPENED BEFORE WITH MOUSES...
Origins of present genetic variety seems rather to have happened in the region of Middle East, Babylon, Babel Tower, like the Bible tells, with further migrations, division of the Earth, some 4000 years ago...
CHINESE could GIVE NAME TO DESERT OF SIN + SINAI, possibly the Sinnites (Canaan: Phoenicians) + Noah, BEFORE DESCENDING RED SEA, AND GOING THE NEAR THE COAST OF SOUTH ASIA UP TO BANGLADESH, before going up, direction Yellow river... Do you think genetic and fossile alternatives are really better? Really? OK, this chapter remains still a bit open...
Idea Against Big Temptations style "Forbidden Fruit"
If you have Big Temptations style "Forbidden Fruit of Paradise", Charming but pushing to Evil, Coming back to Spirit in loop (depressive/paranoiac) style, St Michael's Prayer may help to cut such tendencies... if needed, repeat it...
Forbidden Fruit: Apple or Fig?
Although there was an idea that forbidden fruit of Paradise was the apple, it's not so sure... the Bible's I read don't mention it explicitly, but there are descriptions of visions about what happened in the beginning, suggesting the forbidden fruit was more like a "Fig"...
Hominids: Fruit of Bestiality and Not of Darwinism
According to Jesus, Mankind exists since ~ 6.100 years ago. Wise Middle Ages Superior German Lady St Hildegard from Binche reveals that hominids are fruit of decadent sinful Bestiality, rather than fictive evolution/Darwinism... It happened before the Great Flood...
We could compare such hybrids with the liger (son of lion + tigress), with same number of chromosomes they can even reproduce themselves... Science confesses there were mix between modern man (Cro-Magnon) and Man of Neanderthal (same nr of chromosoms...)... for obvious reasons, they didn' came in the Ark of Noah... for more details please refer to chapters Darwinism Unmasked or Big Bang x 6 Days
When Sahara/North Africa Was Not a Desert...
According to Messages Heaven Related, From St Hildegarde, REAL SUPERIOR WOMEN FROM GERMANY/NORTH, It Didn't Rain Before the Great Flood... water came down from heaven in the form of dew, there were only relatively small water streams...
It was everywhere like that... Dense forests style "rain forest" didn't exist yet, but probably small agglomerations of nature (bushes/trees) could exist near the water streams... thus, I could expect a more clement climate with some green nature in whole North Africa before the great Flood also... please refer also to Chapter Flood + present alternative scientific explanations... some ideas match...
Euphrates River Shall Also Disappear?
If I read/interpreted good the battle of WW3 in the book of Revelation, we may expect the River Euphrates to dry/disappear in order to make place for the Kings of the East... thus, the best is to profit from the Euphrates while it still is there, because afterwards, there's a possibility the 3rd river of paradise Eden (+ 3/4 of the world) to be destroyed/disappear... (source Rev 16:12):
The sixth angel emptied his bowl on the great river Euphrates. Its water was dried up to prepare the way for the kings of the East.
I imagine Euphrates could dry using a powerful weapon, atomic bomb style, but it could only be through intensive water consumption (urban + agriculture needs...) in the neighborhood and/or desertification tendencies... (?)
---


Jesus Divine Mercy: Those who honor Jesus, with full trust, through this picture (above), shall be saved





I try to pray for protection to all pro God of planet until 00:00h, to try to disinfest, but it's better to complement it with 24h protective prayer, e.g. attentive rosary or (easier/shorter) 7 sorrows (here further below).

http://www.christianideas.eu/#about tries to help...
Over Web site of Ideas from Catholic Russia Converted,
made in Belgium, E.U.,
www.christianideas.eu:
DISCERNMENT Criteria, e.g.

true faith catho conservative non naive

:

risk of sect new age in Rome=> the Apocalypse...

=>

better to be in state of grace go to confession to catholic priest asap, after Benedict XVI

Risk of Great Famine

=> news from heaven +- serious to e.g. Enoch, G Lomax, L de Maria, J Leary...



Ideas (pro God) to (try) to resist Great Famine

:
- St Onofre with a Crumb of Bread,
- Blessed grapes L Maria + S Damiano...

MODERN LIES unmasked
(Lies of Darwinism, Fake Dates...)



History + demographics since 2000BC unmask fake dates. Hominids were hybrids which existed before great Flood

, confirms Jesus at from old web site from V De Tarlé apparitionsmariales.org …



Proactive Darwinism: ~mouse evolves=> bat => vampire, thus ancestor man/whale etc goes to=> Batman => Dracula...

within same ~million years…



Y haplogroups DNA migrations tend to proof Atlantis sank => Ice ages before Moses crossed the Red Sea? Science & Bible theory



DANGER OF APOC after Benedict XVI => St Malachy prophecy:





CHIP 666 IN BODY, WW3, risk vaccines Pest Grippe with 666 smart particles /changing DNA RNA , throw virus (by plane) to kill vaccinated, "good" apocalyptic new age sect, THE GLOBAL EMPIRE SOCIALIST COMMUNIST OF ANTICHRIST... => lots of apocalyptic prophecy at www.tldm.org (for scenario Russia not converted)




ICON OF AUTOMATIC Eternal SALVATION
(also here above)
PROTECTIONS against EVIL, but some suffering needed, sorry! (a summary a bit further below)

IMMORTALITY SUGGESTION:


TO PRAY GOD for ETERNAL SALVATION for THOSE WHO NEEED IT MOST, CALMS 'only' DANGERS for LIFE.
(you have nothing to loose, if you feel dying, even if formula is limited …


after: begin discreet fast + attentive daily prayer(as rosary) until it calms/improves

=> ~30 days for diabetes,


ok not so easy, but it's better than cancer operations

,

(1-3 days should calm grippe…)

)


GLBT + Modern Sex BEHAVIOURS: Unhealthy, even KILL...


It attracts pests…
it's possible to attack underconscious, e.g., via discrete sorcery… => Nero case study...


IDEAS AGAINST AGING & GRIPPE/PEST /Evil

Dangers of Vaccins: e.g. 666 etc.
BETTER ALTERNATIVES + Pro God:

Fast & prayer (good against evil => Medjugorje) until it calms... (discreet fast & prayer or in solidarity group, prayer style (attentive daily) rosary or 7 sorrows...

some food may help: avoid white sugars (fruits honey better if sweet food needed), but 1/8 glass whiskey or vodka (=> let it disinfect (few minutes) at the throat…), 1/6 glass vinegar, 2 cloves raw good garlic mixed e.g. in salad to help counter pest... + immortality suggestion in dramatic cases to calm a bit and in place of dying win forces to pray a rosary /7sorrows... + details links above below



VACCINATED RISK TO DIE before time WITHOUT FORMULAS PRO GOD

(see above; formulas from news from heaven maybe work against vaccines… Exorcism water? miraculous medal, faithful see light cross in sky after great warning, Oils?... ?? )



IDEAS FOR A BETTER LOOK (Ladies & Veil)

How FAKE PUBS BRUNETTE & Erotica ARE KILLING CATHOLIC MARRIAGE FOR LIFE: Sarah x Agar…

(because of unhappy husband: too few beautiful ladies to choose… SOS Aesthetics...

correlations 30 years to detect trends:

... lady educating children in micro appart feels so happy as Husband with lady with not cared aesthetics... eats white sugared stuff=> brunette Scheherazade look puts husbands away...)

Aesthethic care is to have heart for husband

. Comparative Tables at section 'Our Lady of Fatima deserves better look'



MODERN WOMAN IDEOLOGY UNMASKED:
Demographic fall in West (+ Russia)…
stats (1950 or) 1970-2019: Germany x India…


Censured on

Twitter: @_ChristianIdeas

Possible:
T shirts Posters "Songs" Christian Ideas and/or Russia Converted Catholic ('made in Belgium')...

School
(e.g. Maths, Computer Science: exercises, complements to Wikipedia…)

Christian Ideas at Linkedin
(https://be.linkedin.com/in/christian-ideas-104ba893)

If You Want to Defend Good,

PROTECTIONS against EVIL + Take Cross Recommended

(IMMORTALITY SUGGESTION at 1st Sign of Danger,

CONTRACT WITH GOD (ICON AUTOMATIC SALVATION THROUGH DIVINE MERCY), (home page or below), + Daily (better, Attentive):

Rosary, and / or

7 Sorrows, and / or

Crusade Prayer 33,

Crusade Prayer 140 (to speak without fears),

to be in state or go to confession catholic priest asap ...

+ details at christianideas.eu
I try to pray for protection all pro God of planet until 00:00h, to try to disinfest, but it's better to complement it, with 24h protective prayer, e.g., attentive rosary or (easier/shorter) 7 Sorrows prayer.
Satan demanded to God 75-100 years to destroy Vatican + money + power => www.tldm.org. Satan had that time, that money, that power. 150 years later, despite dangers + evil, Vatican still resists. Let us see evolution... ??? apocalyptic? reversal pro God (again)???
Note: www.christianideas.eu began in ~2009 and keeps growing. IT REMAINS INCOMPLETE + NOT PERFECT.
Because IT IS NOT FINISHED, NO FINAL VERSION (.pdf) EXISTS. IT KEEPS GROWING/IMPROVING and there's still many changes to do (and few time, resources...). A complete review of the web site should be done, but it's already better than nothing...
If God helps, I'll try to improve and/or correct eventual detected errors, contents + design, little by little. A backup .zip exists (link colomn above). It contains most of the site, behalf the heavy assets.
Please feel free to print it, copy it, behalf, eventually, songs ... (contents license above left with some extra explanations, but the general goal is absolute freedom for use of text + images, in a good intentioned True Faith pro God use...)
Good intentioned Pub pro God True Faith welcome!!!
(protections from God recommended then! Evil doesn't like it...)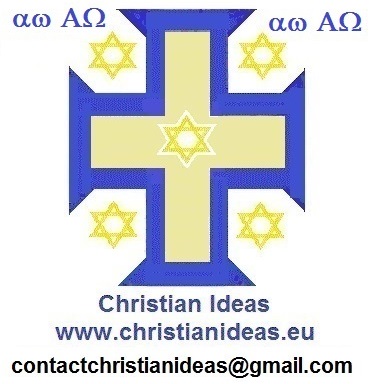 Below: Our Lady of the Roses Honored Exposed and Death doesn't Enter inside.
(source: Jesus at old web site apparitionsmariales )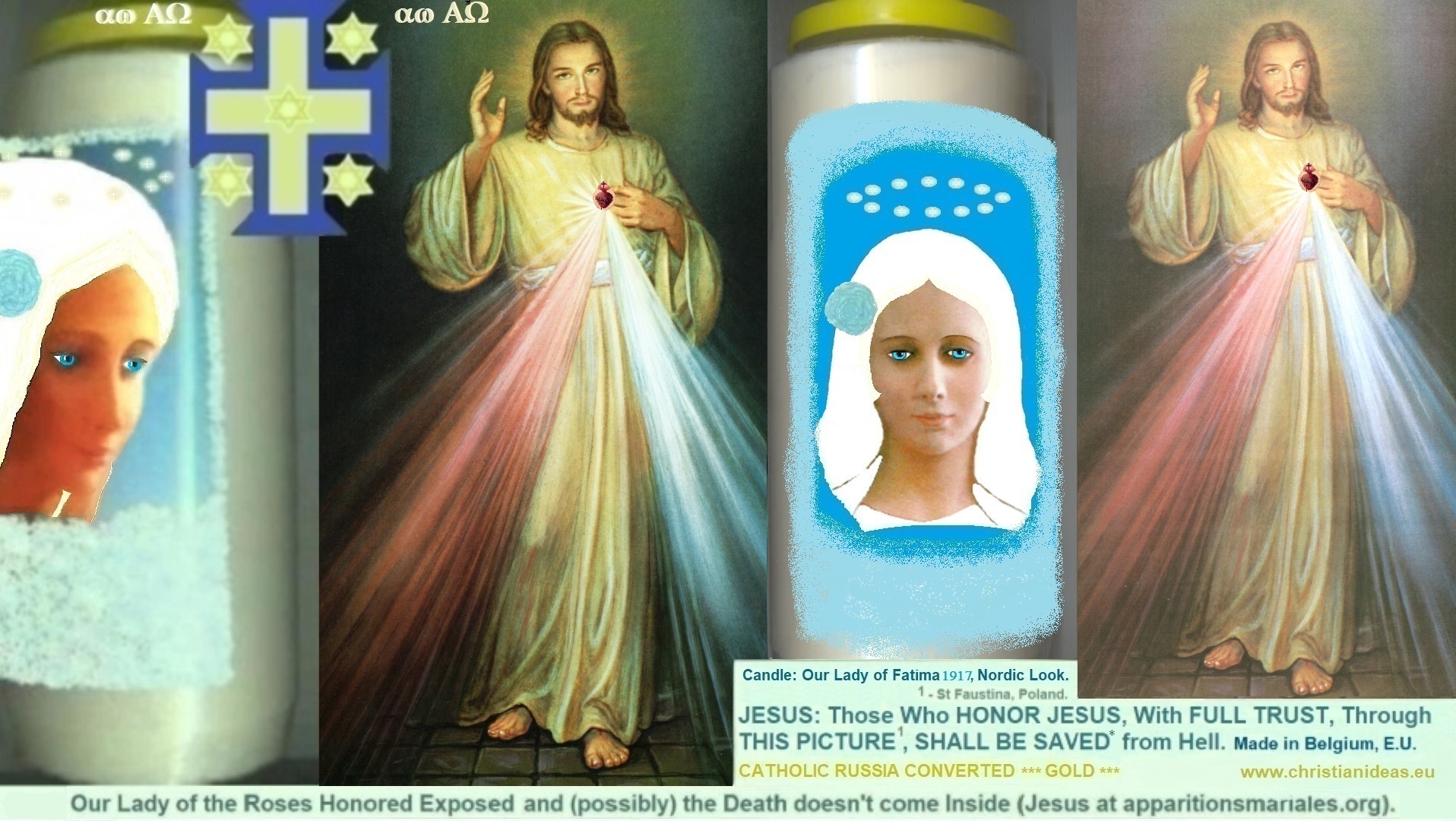 Right Click + save as to download images...