Dangers of Secret Societies: Summary
Dangers of Freemasonry: Introduction
The Freemasonry is an important kind of secret society that honor false gods (e. g., Isis, of ancient Egypt), and thus, Satan, in order to get money, power and influence in the society. Other important (semi) secret societies of the style are the Illuminati and Wicca, according to Our Lady and Jesus in New York. They are now even infiltrated in the clergy of the Catholic Church, according to a message of Jesus to find in the Book of Truth. Please find further details in the declarations of Our Lady and Jesus in New York, through the tldm link masons.
St. Michael in New York was very clear: those who join the freemasonry are in the path to hell.
The formulas of automatic salvation through the Jesus's Divine Mercy can be used to escape hell. God can even save the whole mankind through His Divine Mercy's prayers. A formula that can be used is to accept the Seal of the Living God.
Recommended also to do sincere repentance and return to real/traditional Catholicism and Exorcism, to stop the chains/pacts with the Evil one.
A Good Solution: Opus Dei
The people of God has an alternative that allows also to become powerful in the society, even rich, while becoming holy: the Opus Dei. It allows holiness through the work and also strong spiritual protection against evil. Some of them live in residences, which allows to avoid spending time with the normal domestic tasks (this time is used instead in more noble activities like sanctification and work). Their members pray the rosary and go to the holy mass everyday (as God recommends), among other activities, like holy meditations.
Trap: Opus Dei and Freemasonry Compatible?
Dear members of Opus Dei: Opus Dei and Secret Societies like Freemasonry, Illuminati, Wicca, Communist parties etc are NOT compatible! I'm sorry, even if "there are some positives values" in "common", like "solidarity" and "hard work".
The Catholic conservative clery is now under attack, because evil forces pro freemasonry are getting stronger, and schism(s)/traps are preferably to avoid (but not at all costs!)... but, otherwise we risk even the final schism of the fall of the Vatican and the final apocalyptic persecutions of the true faith...
Thus, Opus Dei clergy now is eventually forced to make concessions to pro "New Age/Illuminati/evil" forces in order to avoid traps or a premature final schism... the clergy is thus not in force position to impose their true faith vision anymore... they are not even able to give the example (to avoid bigger problems: indeed it's the best option, currently, unless positive ideologic changes in the top of Vatican hierarchy... however, if clergy feels free enough to defend true faith, it's better! To see, prudently... risks of traps... protections from God recommended! etc. )
BUT THE LAIC OPUS DEI MEMBERS SHOULD preferably AVOID the SAME "CONCILIATING" STRATEGY WITH THEIR ILLUMINATI, MODERNIST, NEW AGE, FREEMASON, MUSLIM, COMMUNIST, PROTESTANT ETC COLLEAGUES... only PRAISES or either SILENCE/DISCRETION MAY BE TOXIC ALSO! Some of the principles of OPUS DEI IDEOLOGY, which worked good until now, MAY BE UPDATED... to check, prudently, case per case...
I know, it may be a difficult choice, Opus Dei members in open conflict with Freemason members risk to suffer damages which maybe could be avoided... but a 100% conciliating policy is dangerous also! SOME PRUDENCE HERE! EVIL FORCES ARE IN STRONG POSITION BUT CONCILIATION AT ALL COSTS MAY GO TOO FAR!
EVENTUALLY A RADICAL CHOICE (e. g., discreetly quit the job) MAY BE TO CONSIDER...
e. g., "PRAISES OVER THE COMMON (Freemason and Opus Dei) VALUES OF SOLIDARITY AND HARD WORK" MAY BE TOXIC, COMING FROM LAIC Opus Dei MEMBERS: It may push people to become Freemasons members, because "it's the same as Opus Dei: a tool for success in life...": this kind of speech may seduce people, thus, to the path of hell...
IT's NOT INNOFENSIVE, despite "the good common values"...

YOU, Opus Dei laic members, MAY BECOME RESPONSIBLE FOR MISLEADING OTHER PEOPLE also EAGER FOR SUCCESS...
OPUS DEI MEMBERS SHOULD NOT SUBMIT TO SUPERIORS AT ALL COSTS: THERE ARE PROFESSIONAL ACTIVITIES *INCOMPATIBLE* WITH GOOD CATHOLIC PRACTICES: e. g. unneeded work at Sundays, practices of Freemason witchcraft to make pleasure to Illuminati superiors, (implicit) approval of abortion, divorce, holebitrans behaviours, New Age, communist, ... ideologies, because it belongs to the "enterprise values/ideologies"... if it risks to set the members in mortal sin, a discreet change of job should be considered...
AN OPEN CONFLICT WITH FREEMASONRY etc. MEMBERS IS NOT VERY SMART NEITHER.
WE SHALL NOT JUDGE OTHERS neither. A POLICY OF ONLY PRAISES, SUBMISSION AT ALL COSTS, AND SILENCE (if you can not praise, then "keep silence") CAN BE TOXIC ALSO. SOME DIPLOMATIC SPEECH MAY BE THE BEST OPTION: not judging others (e. g. people may want success or is intimidated, confused etc), we can always pray for the concerned members (please refer to sections "protections against evil"), giving hope, but not showing that "beautiful", "conciliating" and "praise" behavior neither... (such "everything OK" strategy may be misleading and toxic: it gives a "paradise idea" and hides sad realities, concerned people may be responsible for...)
the problem: avoiding the traditional "silence", "paradise/everything OK", "100% loyalty/submition to superior", "praise" strategies, there are risks of punishments/revenge (to be fired, burn-out etc)... OPUS DEI members risk to have bigger difficulties, if they avoid the traditional "paradise/praise/all OK" strategy... but otherwise they risk hipocrisy (even selling discreetly their soul to the Evil one, if, e. g., they begin Freemason "dissuasive" witchcraft practices etc.)...
In the European Institutions there's already some ideological compromises with satanic ideologies... Illuminati forces are there active also... there's not really a promotion of true faith values... maybe it doesn't set yet the concerned person in mortal sin, but some ideological values are not that perfect neither...
but, with some luck, maybe this problem/dilemma doesn't appear... keep your protections from God (daily rosaries etc) Good Luck!
Torrefied COFFEE to UNMASK discrete WITCHCRAFT behind LONG CANCERS (22/10/2021)
And how can we arrive to such conclusion? Apparently they're not related...
AS WE KNOW TOBACCO IS CARCINOGEN: such harmful particles of cigarette in longs increase probability to have a LONG CANCER... later in time...
... And when?
We don't know precisely, but chances are higher for smokers to suffer from long cancer later in time, because of harmful effects of cigarette particles... stats show that...
FOR THE SAME REASON, SMOKED FOOD AS delicious SMOKED SALMON or SMOKED HAM may also be carcinogen... the smoke may go to the blood as like for cigarettes...
FOR THE SAME REASON BURNED TORREFIED FOOD MAY BE CARCINOGEN... namely burned food when cooking at home... or barbecues...
FOR THE SAME REASON COFFEE DRINKs BASED ON ROASTED COFFEE or ROASTED CHICORY also...
CONTRADICTION!
WE ALL KNOW COFFEE DRINKS ARE EXCELLENT PRODUCTS AND CAUSE ***NO*** CANCER!!!
JESUS IN THE BIBLE SPEAKS ABOUT THAT: WE MAY EAT EVERYTHING without problems...
We can understand this from Mark 7:14-23, which follows here below (source: Bible of Vatican):
14 He summoned the crowd again and said to them, "Hear me, all of you, and understand.
15 Nothing that enters one from outside can defile that person; but the things that come out from within are what defile."
17 When he got home away from the crowd his disciples questioned him about the parable.
18 He said to them, "Are even you likewise without understanding? Do you not realize that everything that goes into a person from outside cannot defile,
19 since it enters not the heart but the stomach and passes out into the latrine?" (Thus he declared all foods clean. )
20 "But what comes out of a person, that is what defiles.
21 From within people, from their hearts, come evil thoughts, unchastity, theft, murder,
(...)
WITCHCRAFT IS EVIL. BECAUSE OF THAT IT IS MORE POWERFUL WHEN DISCRETE AND CAMOUFLAGED...
TO SPEAK OPENLY OVER WITCHCRAFT IS TABOO.
Indeed, ONE SHOULD WATCH OUT WHEN SPEAKING OPENLY OVER HIDDEN SORCERY. WHY?
Simply because of the fact that THOSE WHO SPEAK ABOUT IT RISK TO RECEIVE A DOSE => take cross...
I try to pray for protection of all pro God of planet up to 00:00h, but it's better to increase protections (e. g. daily attentive rosary or 7 sorrows... please refer to section http://www.christianideas.eu/#about for + details... ) ... but best formulas pro God include some suffering / cross / salt...
IF EVIL IS EXPOSED, IT BECOMES MORE VULNERABLE. WITCHCRAFT ALSO! I shall speak about it, I have already a dose, thus...
PEOPLE LIKE CATHOLIC KINGS COULD EVEN IMPLEMENT LAWS AGAINST PRACTICE OF WITCHCRAFT HALLOWEEN promotion etc.
That's why, witchcraft wants to be hidden, to seem aleatory and to use correlations with other reasons to confuse...
DISCRETE WITCHCRAFT MAY BE PRESENT EVERYWHERE IN OUR SOCIETY, HIDDEN BY APPARENT CAUSES. Examples non stop! E. g.:
ROTATION OF ONE EYE IN ORDER TO CAUSE VISION TROUBLES => glasses needed... angle of vision changed...
PSYCHIC DISEASE => NERVOSITY disease...
Evil character => NERVOSITY attack (e. g. conflict of interests, with a group against concerned person, eventually discrete sorcery under conscious attack also)... evil energy shall go out, evil character calms it, but for sociability it's not fantastic...
DIABETES. I ATE AT YOUTH ENORMOUS QUANTITIES OF CANDY FOOD CAKES... CHILDREN AND YOUTH ARE MORE PROTECTED, BUT At RETREAT AGE, MANY ANCESTORS OF FAMILY HAVE ALREADY DIED AND PERSON IS MORE VULNERABLE TO FOOD RELATED 'tales'... specially those seniors who eat cheap cakes or home made could risk a diabetes (Gluttonous! It's time he receives his diabetes... we have found a camouflage cause => white sugar...)
THUS, IT IS NOT the CIGARETTE WHICH CAUSES LONG CANCER NOR WHITE SUGARED FOOD WHAT CAUSES DIABETES, BUT DISCREET WITCHCRAFT AND CONFLICTS BETWEEN PEOPLE... less protected become thus vulnerable... a camouflage cause or pretext is generally associated and for discretion is also better that is seems to appear in a random way...
Jesus, Bible: FOOD CAUSE NO DISEASE! But EVIL, conflicts, yes...
NERO SEEMED TO RECEIVE A DOSE of GLBT DISCRETE WITCHCRAFT (~"that young man has no correct behavior... it's time he gets sodomized and vulnerable as women, in order to calm his arrogance and barbaric methods" => + details in LGBT chapter, Nero case study...)
Love spells, also in LGBT version, could be a source of income to sorcerers... solutions for the problems of a client: recovery of ex love partner, revenge... Halloween only worsens things, because it gives ideas...
Discrete witchcraft could stimulate microbes as camouflage cause / pretext... observing victims discreetly e. g. via crystal ball, when microbes diminish, they could also diminish disease symptoms in parallel... Microbes of caries or E Coli maybe not => there are indeed real causes(white sugar agent or displacement of microbes)...
... anyhow, this 2nd hidden agent (discrete sorcery), could worse things, and profit from the 1st agent (the official cause => presence of microbes) to worse symptoms...
Anyhow, there are ways to discretely observe this, because...
... DISEASES WITHOUT MICROBES EXIST ALSO: THOSE ARE PSYCHIC DISEASES and EVEN SEVERAL SYMPTOMS AS EPILECTIC ATTACKS ARE BIZAR to be caused only in natural way or by microbes... officially (e. g. wikipedia) it's admited epylepsia could also appear without microbes...
THE PROBLEM: SOMETIMES THERE ARE IMPORTANT CONFLICT OF INTRESTS, risk to become ill when speaking about it, AND GENERALLY THE REAL CAUSE (=> REVENGE conflicts of interests etc), HIDDEN WITCHCRAFT, REMAINS HIDDEN behind the 2nd agents associated (pretexts, camouflages... ) ...
THE TRUTH IS STILL THERE IN THE PHARMACY SYMBOL: A GREEN CROSS AND A SNAKE (=> evil is hidden but it's the real cause behind the health problem...).
BUT ALL THIS BECAME SO SUBTLE, THAT MANY PEOPLE ARE NOT REALLY AWARE OF THIS. THE ILLUMINATED/Illuminati Freemasons sorcerers etc know this, but most of others were not really aware because good was stronger before and practice of witchcraft had very bad reputation...
WITCHCRAFT IS EVIL AND SHALL NOT BE PROMOTED. WITCHCRAFT MAY CAUSE TERRIBLE SUFFERINGS DEATHS etc AND IS EVIL AS PEDOPHILIA. EVEN "Good intentioned white" WITCHCRAFT of style "Merlin, the wizard" IS EVIL and creates risks for the person who practices it.
AND SOLUTIONS?
PRO GOD LAWS à la 'Isabelle Catholique' may help a lot to make diminish the problem... but to make it disappear completely is in practice impossible... no to 'death penalty', but even from prison person may send a discrete attack against concerned... => take cross...
Sometimes the cause of this are conflicts of interests... thus daily protections against evil, to forgive, christian behavior, to help your brother in christian way, solidarity, take cross may be best solutions to try to prevent...
To speak about it helps to scare witchcraft practictioners (+ correlations, interaction analysis, use of probability stats + graphs in behavior and reaction analysis of problem, e. g., compare hazardous situation with effective behavior + use probability analysis...)... in case of health attack etc =>discrete fast + daily prayer* as attentive rosary until it calms... +take cross... some suffering we can not avoid... but with true faith + christian behavior some evil could be weakened... ???
*- 30 days hunger staking heals permanently 66% of diabetes (no intelligent chip needed => these chips may easily evolve into 666 payment chips...), says an university study... thus, discrete fast and daily attentive prayer (as 7 sorrows) against evil is not very easy, but it is better than operations against cancer... + more details in 'against evil' sections of www.christianideas.eu ...
(30/7/2021)Money & Holiness: Does God prefer Poor to Rich people?
From gospel of Matthew 19: 23-26, (source: Bible of Vatican online at https://www.vatican.va/archive/ENG0839/__PVS.HTM), we can read:
"16 Now someone approached him and said, "Teacher, what good must I do to gain eternal life?"
17 He answered him, "Why do you ask me about the good? There is only One who is good. If you wish to enter into life, keep the commandments."
18 He asked him, "Which ones?" And Jesus replied,

" 'You shall not kill;
you shall not commit adultery;
you shall not steal;
you shall not bear false witness;
19 honor your father and your mother';
and 'you shall love your neighbor as yourself.'"
20 The young man said to him, "All of these I have observed. What do I still lack?"
21 Jesus said to him, "If you wish to be perfect, go, sell what you have and give to (the) poor, and you will have treasure in heaven. Then come, follow me."
22 When the young man heard this statement, he went away sad, for he had many possessions.
"23 Then Jesus said to his disciples, "Amen, I say to you, it will be hard for one who is rich to enter the kingdom of heaven.
24 Again I say to you, it is easier for a camel to pass through the eye of a needle than for one who is rich to enter the kingdom of God."
25 When the disciples heard this, they were greatly astonished and said, "Who then can be saved?"
26 Jesus looked at them and said, "For human beings this is impossible, but for God all things are possible."
How do we explain this?
YES, IT IS HARDER FOR RICH people TO ENTER IN KINGDOM OF GOD THAN to POOR.

But not impossible: Abraham was rich, Job was rich, David was rich...
THE 1st PROBLEM IS THAT RICH PEOPLE MAY SET MONEY ABOVE GOD => IDOLATRY OF MONEY + EVENTUALLY PERFORM SINFUL ACTIVITIES in order to keep their money advantage.
Concerned could fear, e. g.: divorce poverty difficulties bankrupt etc
... the concerned may enter in vicious circle and may have it hard to stop such scheme's.
Some could finally dare at pension time to go to mass, when such risk of bankrupt disappears, since pension is 'guaranteed for life' (please see also chapter 'ideas to try to improve health': 'pension can attack your health' section)...
others don't dare anymore => they exclude themselves, it's a pity...

Kingdom of God is for everybody... but must one shall go to confession and repent of sins... sinful behaviors should stop but some are more toxic than others... and sometimes concerned has it difficult...
... but, e. g., 'abortion doctor' at pension time could repent and go to confession, despite many murders he/she committed previously... => please don't exclude yourself!
The 2nd problem is wealthy people are not perfect!
It is easier for poor man to become perfect, e. g. Jesus... to sell all things and give all money to the poor approaches perfection... e. g. St Antony...
... but mostly are clergy, because wealth and lady's beauty helps stability happiness in couples => correlations stats stable couples during 30 years+ period...
Yes, TO BE RICH IMPLIES IMPERFECTION. BUT IT IS STILL POSSIBLE TO ENTER KINGDOM OF GOD despite such imperfections, e. g. via honoring Jesus with full trust by a valid icon of Saint Faustina, thus, through divine mercy.
Yes, TO BE RICH IMPLIES IMPERFECTION.

IT IS IMPOSSIBLE TO AVOID ONE OR ANOTHER CRITIC:

he/she could have helped financially this person, this need etc.

IF RICH PERSON HELPS with money EVERYBODY, ALL MONEY NEEDS, he/she could eventually become poor and looses money wealth advantage: it could be toxic inside marriage: priority should be family(=> catholic marriage for life), wife children... risks of angry wife, risks of divorce... but not always...

BUT TO BE RICH GIVES LOT OF ADVANTAGE. BUT then BETTER to be RICH WITH GOD 1st: TO HELP PRO GOD + true faith values...

ABRAHAM DID IT KING DAVID ALSO.

TO SERVE GOD AND NOT MONEY.

Eventually person is rich, but priority is God and not money.

PROBLEM: this is harder...

DISCRETION OBEYING GROUPS HELPS A LOT WEALTH SYSTEMS but may be toxic, e. g. after Benedict XVI, hiding from your neighbor/brother important subjects in order to keep wealth and avoid problems with groups, own family/wife etc.
ANYHOW PLEASE DO NOT CUT YOUR SELF FROM KINGDOM OF GOD:

going to confession asap,

try to be in state of grace,

go to sunday mass,

take saint hostia in mouth (or: now in covid times) use napkin + clothespin in order to set holy hostia in mouth, without touching your hands: true faith catholic conservative non naive...
THERE ARE CATHOLIC CONSERVATIVE PEOPLE RICH THAT GO TO MASS EACH SUNDAY at least. IT IS possible. NOT ALL BECOME POOR, even if they become practising catholic and cross/difficulty appears.
OFTEN THEY USE DISCRETION Methods, a bit toxic, BUT AT LEAST BETTER THAN FREEMASON ILLUMINATI formulas which use discreet witchcraft...
Some ideas against evil in this chapter and other sections of this web site (e. g. 'home page', section 'about' etc.)
To be pro God and rich it is possible. But it is harder: president Trump has it harder...
protections against evil + some suffering recommended. With enough resistence, fight/cross, good could eventually win, but yes it's harder... that's why many wealthy peopple choose for more discrete and easier solutions... but often solutions not pro God... that's a bit the problem.
TO BE RICH IS IMPERFECTION: BUT POOR PEOPLE ARE NOT PERFECT ANYMORE... AND REMAIN IN DISADVANTAGE...
one could try e. g. OPUS DEI solutions, specially if the person is already rich good protected and want to become also holy...
watch out: too much discretion and conformism in these formulas which is a bit toxic now, after pope Benedict XVI because evil is increasing and there's danger of apocalypse, unexpected (=> prophecy St Malachy).
Viktor Orban Bolsonaro Trump (rich man) solutions are now much better, but much harder...
Anyhow Opus Dei (non clergy) standard solutions, even with much discretion and conformism, are better than wealth discrete satanic Freemason Illuminati solutions and eventually concerned could still be in state of grace. Eventually is still possible some freedom pro God e. g. to refuse to do discrete witchcraft (without disobeying superiors at work and without being fired)..."
YOUNG RICH MAN COULD ALSO ENTER KINGDOM OF GOD. WHY Jesus SHUT UP then?
YES, THEY CAN. RICH PEOPLE (and poor also!) CAN ENTER KINDGOM OF GOD. GOD FORGIVES. CATHOLIC CHURCH IS UNIVERSAL => FOR ALL. THE 1st REASON IS THIS:
"BE PERFECT AS YOUR FATHER IN HEAVEN IS PERFECT."
Ex. THE ABORTION DOCTOR WHICH PERFORMS ABORTIONS DURING 40 YEARS, LIVES now VERY COMFORTABLE WITH PENSION 5.000+ €/ MONTH netto IN HIS wealthy VILLA; he GOES to CONFESSION, DEMANDS PARDON and GOD FORGIVES HIS ~100.000 MURDERS.
OK, GOD FORGIVES, BUT AS EXAMPLE IS somewhat SIMILAR TO THAT OF JUDAH ISCARIOTES... It is not perfection: the doctor has to loose 5 extra minutes in confession ( e. g. listening things less interesting to the ear), as Judah should loose 5 extra minutes time, asking pardon to the Lord: but afterwards God forgives (normally, I think...)!
Such examples (abortion doctor...) don't interest God enormously as pubs/models to enter paradise of God: it's better other examples as models to follow in order to enter to Kingdom of God... God prefer perfection, but accepts imperfect persons in paradise, God forgives... (=> after confession, catholic priest)...
This (abortion doctor) EXAMPLE INTERESTS Yes, but FOR ANOTHER REASON: PLEASE KEEP HOPE! PARADISE IS FOR ALL! You did something wrong? SOMETHING REALLY TOXIC FOR yourself OR YOUR NEIGHBORS? Please keep hope, convert, go to confession and it's still possible to go inside paradise of God. NOW YOU HAVE ALSO DIVINE MERCY POSSIBILITY fully honoring Jesus through a valid St Faustina icon...
Only example of Mother Theresa of Calcutta is better than that of pirate Ali Pasha (if he converted afterwards...) => some examples are more interesting than others...
For the Glory of God, examples of holy perfect people (Jesus, Mary) interest more than imperfect examples...
THE SECOND REASON IS TO SHOW WHAT HAPPENS WITH MANY RICH PEOPLE: they exclude themselves after listening a critic, in place of remaining with God, despite hearing one or another critic (or complain of imperfect behaviors...).
JESUS LET YOUNG RICH DECEIVED MAN DEPART, TO SHOW WHY IS SO HARD FOR RICH PEOPLE TO ENTER IN PARADISE: THEY HEAR SOMETHING THEY DO NOT LIKE AND THEY depart, EXCLUDING THEMSELVES from PARADISE OF GOD.
RICH MAN IS IMPERFECT EXAMPLE, BUT God prefers perfection, perfect examples: rich people has to react otherwise in place of excluding themselves: anyhow poor people are not perfect neither (anymore), thus rich shall not stop neither from going to Sunday catholic mass and confession, only because of that...
It's not perfection, but rich man should remain anyway: God generally accepts rich people, after repentance in confession: some imperfections do exist...

WEALTHY MAN IS NOT OBLIGED TO SELL ALL HE HAS AND GIVE TO POOR,

... in order to be in state of grace...

But: if he remains with his wealth, some imperfection remains...
... but in confession there are some things that rich man (eventually) should stop: e. g. doctor should stop doing abortions asap: better change of job department in clinic...

if abortion doctor would die before pension and would keep doing his murders through abortion, maybe he would not be in state of grace and finish in hell etc. this kind of refusal from rich people to change (and to remain in Sunday mass/confession), setting money above God, has indeed some risks, freemasonry style...

that's why rich people sometimes have it hard to be in state of grace or to enter paradise of God...
... but it's possible, yes!
SOME PEOPLE, EVEN AFTER PENSION DO NOT DARE ANY MORE TO GO TO CATHO MASS... FEARING REVENGE/cross OR HOSTILITY FROM COMMUNITY or prev group etc. e. g. orthodox Russian in Russia, Muslim Turk, Freemason... or either divorced remarried illegitimate who refuse to destroy illegitimate union etc.
IT IS POSSIBLE, THEY DO NOT LOOSE ALWAYS THEIR WEALTH/advantages, BUT DAILY PROTECTIONS AGAINST EVIL + TAKE CROSS=difficulties could be good idea. + details e. g. section http://www.christianideas.eu/#about...
Some Other Protections Against Evil
It is recommended to remain in state of grace and reject fear feelings (fear attracts the evil, says the Bible), while trusting in the power of God to protect us (and avoiding arrogance).
Our Lady in Medjugorje said that those who do fast (better: 2 times per week, in secret) and prayer (better: daily rosary, if possible in church, community or family) do not fear the evil neither the future.
Our Lady in New York counsels us also some extra spiritual protections to put over the neck: the rosary, the crucifix, the St. Benedict medal, the Our Lady of the Roses medal, the Miraculous Medal, and the brown scapular. She recommends also to pray the St. Michael's exorcism (with holy water) and protect the homes, putting a cross above the front and back doors. Please refer to the links Spiritual and Material preparations, for further details.
If, eventually, you feel insecurity feelings, you can always send a mail to yourself, through the internet, with a copy, CC or BCC, informing but not alerting the police, and advising that probably it is a false alarm and possible speculation. It works as dissuasive, and diminishes the feelings of insecurity.
The Holy Face's Medal gives good protection against death in calamity times. None of the Italian soldiers who wore it during World War II perished because of the war. Also to find in the shop of www.tldm.org web site.
According to Jesus, in a message in the French web site apparitionsmariales.org, links over end times, to expose a picture of Our Lady of the Roses in a house gives increased protection and security to the persons concerned and can even avoid death through martyrdom in the houses concerned: death shall pass over those houses... and because it seems that tribulations approach, it's indeed a good idea to expose it in our homes... indeed, the exposition of this picture, in format A4, in the houses, seems to be very powerful. This picture can be found in one of the many directives from heaven found at the link Directives from heaven, below, in the given web page. The image of Our Lady of the Roses of Saint Damiano seems also to be good. Please don't forget to remain in state of grace, or to go to confession as soon as possible...
Very powerful are also the prayers and tools, given recently to us by Jesus: the Cruzade Prayers, namely the Powerful Crusade Prayer for Conversion (where we can ask a personal good intention), the Seal of the Living God, the Medal of Salvation .
In the following document, can be found a Summary of the Protections Against Evil I'm currently using.
A Prayer Against Evil to Our Heavenly Father
Note: it is better to pray it at every moment you feel anguishes/troubles, or, at least, at the beginning of the day...
"Heavenly Father, send us by Jesus Christ, Your Beloved Son, our Redeemer and Savior, Thy Holy Fatherly Love, superior to all the evil spirits, in order that they be converted or they withdraw. Amen.
Heavenly Father, send us from heaven, Thy Fatherly Love to all those who persecute us, betray us or want to make evil to us, in order that they be prevented by Thy Holy Presence. Amen.
Heavenly Father, send now Your Holy Flame of Charity on all liars, hypocrites and slanderers in order that they can no longer do evil to us and harm whole mankind.
That the greatness of the Holy Charity cross the earth like a lightning when the murderers roam the world to sow misery and hatred between peoples. Amen.
Heavenly Father, in these times of trouble, stay with us, be our support, our guide, our Lord, be our protector, our strength and our force. Amen.
Heavenly Father, spread Your Holy Love of Good Father over all people; fill in the Holy Flame of Your goodness, in order to that they recognize the dangers of our times, caused by the cunning of the Devil. Amen.
Heavenly Father, act everywhere as the Good and True Master! Command the spirits of darkness to withdraw from its field of action and to save the men. Amen.
Heavenly Father, Father of goodness, do by Your Fatherly Love, what you find in all circumstances, good, fair and healthy. This is our faith, the holy trust and confidence in your Infinite Love. Amen."
We can also pray the following prayer, for a better protection against evil and valid during one hour time:
"Eternal Father, by the Painful and Immaculate Heart of Mary and her Tears, I offer you the precious Blood and the Plagues of Our Lord Jesus Christ, in order that the Mother of God, sustained by St Michael the Archangel and all the Saints, destroy the power of Satan and expel all the evil spirits and undo their projects, specially in this moment where our homeland and the whole world are in danger. Amen."
A Prayer to Liberate Freemasons/Illuminati from their Captivity
This Crusade of Prayer given by Jesus to Maria of the Divine Mercy helps to break the chains of those who have sold their souls to the Evil One.
If you pray for the salvation of those who need it more, like Freemasons and Illuminati, Jesus promises you Imortality.
Jesus explains below the (some other) powers of this prayer:
"(...)The old serpent falls and stumbles losing much power when you strive to say My Crusade Prayers, daily.

And while the times of great trials continue, your prayers will create many setbacks in the plans created by Masonic powers in the world, which are designed to create havoc in order to control the weak and vulnerable.

Just one Crusade Prayer, said from the heart, is enough for Me to destroy the power of arrogant political leaders, who do not have a conscience. (...)"






Here follows the (crusade) prayer:




"Dearest Jesus, I consecrate the souls of (list them here) and all those who swapped their souls for the price of fame.

Rid them of their infestation. Turn them away from the threat of the Illuminati, who devour them.

Give them the courage to walk away from this wicked bondage without fear. Take them into Your Arms of Mercy and nurture them back to a State of Grace, so they are fit to stand before You.

By Your Divinity, help me through this prayer, for Satan's adopted souls, to prise them away from Masonry. Free them from the shackles which bind them and which result in a terrible torture in the chambers of Hell.

Help them, through the suffering of chosen souls, through my prayers and through Your Mercy, to be in the front line, ready to enter the Gates of the New Era of Peace – the New Paradise. I beg You to release them from captivity. Amen."




Freemasons/Illuminati: They may even look "Holy"




Watch Out: In the times of the Apocalypse, people which fight God are not easily recognizable anymore.

Before, was easier to identify them, because the "Eyes are the Mirror of the Soul". That formula worked for a long time, but in these end times, if you trust only in "regards", you're Ingenuous!!!

Why the "Eyes are the Mirror of the Soul" doesn't Work (as before)?




Sure, if a person has a "perverse/evil regard", that gives you an alert. But we must also be prudent, because we shall not judge others, even if they have good/evil regards, in normal situations. Also, the alerts given through the Eyes, don't work anymore like before:

Evil became more sophisticated and it hides himself much better than before.

Watch Out: the Antichrist looks Holy!

Some leaders, also in the West, have "their hands full of Blood": Complicities of Murders of Innocents and others , (e. g., Abortion, Misleading Holebitransgenders etc.) , and they're even very Emphatic!!! Perverse/Evil Eyes? You shall nothing remark in their Eyes!!!

The Gospel advises you? The Apocalypse also!!!

Indeed, the Book of Revelation tells us, that, in that period, "the ruse is so great, that, if possible, it would mislead even the elected"... with perverse/evil eyes, that is a lot less probable, because such eyes emit alerts...

The problem: Evil evolves... also... It was so in the time of the Gospels, and we can still remark something through the regards, but not anymore like before!!!




How is it Possible?




Regards that unmask Evil doesn't interest the Evil One. Evil wants to hide himself and also to look Holy, as "Holy People", as "the Good Example to follow", if possible. Through Evil regards, bad intentioned people could be easily identified before, through the alerts the eyes gave to others... That doesn't interest the Evil One...

But during many centuries, good was relatively strong in the West, evil was less sophisticated or weaker and sometimes evil intentions were detected through evil regards... that alert is still valid, e. g., a furious person can still be detected through his/her regards, but it is not enough anymore, because evil hides himself better...

Indeed, the Forces of Evil discovered a formula which can completely mask the evil regards in evil intentioned people. You shall not notice them anymore through evil/perverse regards... or, at least, not so easily anymore...




And What is the Formula which Hides Evil in the Regards?




To have good regards, people must have many qualities and/or the support of the others (many).

But those people are not necessarily (sincere) people of God. They can work for the Evil One.

Typical examples are the Freemasons/Illuminati with a network of "solidarity/support" among members, which may work hard, study hard and have a strong support around them. People with money may also have this kind of "quality". Because they have many qualities and/or are in team, the support of the others are reflected in the eyes, and their real intentions are a lot less visible.

Thus, the gospels are not wrong, when they say the "Eyes are the Mirror of the Soul". Indeed, a person with a good regard has many qualities and/or support from others. The problem: that person may work for the Evil One and not for God!!!




Before, people with many qualities and/or support from others matched a lot more with people of God. Now, it is not so any more...

There's a lot of people who work hard, do hard studies, but are also working hard for the Evil One... things changed... Thus, watch Out!!!

Persons with evil/perverse regards have for sure a problem (everybody is a sinner or has defaults), but they may be even people who work for God, but detested of many... If that person has less qualities and has more enemies/opponents, their regards may look more perverse than "more perfect people", who works (hidden) for the Evil One... that happened less in the past...

"The Eyes are the Mirror of the Soul": Conclusion




By their Fruits you shall recognize them... Regards are not enough... and even if the fruits seem to be good, it is always better to wait several years before taking conclusions... The Antichrist seems holy, and seems to perform wonders/cures, to be a champion of solidarity and peace... it is not so easy to detect... the Apocalypse advises you...




Annex: Protections Against Evil
A French only version old Word format of this annex, out of date, but with most hyperlinks in French is available here.
Protections against Evil, updated 18.10.2020
IN CASE OF DIFFICULTIES TO PRAY burn out etc, YOU CAN PRAY 1st meditation of 7 SORROWS OF MARY, meditated but incomplete for a time (e.g 30 minutes) and then begin 7 Sorrows prayer normally (thus 1st meditation prayed twice). 7 SORROWS daily GOOD PRAYED completely attentive.
Alternatively, Cruzade Prayer 33 of Seal Living God is even shorter (as an Our Father) and seems to gove God's protection up to 00:00h, for you and you cherished ones.
IF REQUIRED STUTTER (in thought to try to advance, e.g, at different rhythms). OTHER PRAYERS COULD GO FURTHER IN NORMAL RHYTHM EVEN IN CASE OF DISTRACTION BURN OUT. AFTER ~3 DAYS EVIL FORCES ARE FORCED TO DIMINISH ATTACKS AGAINST YOUR ROSARIES: BURN OUT during prayer DIMINISHES... otherwise too much time lost to try to pray correctly... further details (prayers...) below...
IDEA TO PRAY + EFFICIENT ROSARIES:
YOU PRAY ROSARY KNOWN PRAYERS Credo Our Father Hail Marys AS FAST AS POSSIBLE…
IT SEEMS CONTRADICTORY, but at least you may do the test…
WHY CAN IT BE BETTER? Assume opponents spy discreetly you, and at time to prayer try to cut your prayers (distraction, burn out intelligent evil energies etc), PRAYING repeated parts WITH OLYMPIC PRAYER SPEED, evil HAVE DIFFICULTIES TO FOLLOW SUCH QUICK RHYTHM.
OK, SOME 20 % of HAIL MARYS RISK TO BE LOST. ONE EXTRA MYSTERY CAN BE ADDED AT END TO COMPENSATE.
BUT AT LEAST ONE ROSARY GOES A LOT QUICKER with hail Marys at turbo speed, and it goes as efficient as trying to pray it slowly in order to get attentive… results with me are weak, I seemed regularly discreetly persecuted and attempts to pray seriously have to fight with such intelligent negative energies… AT LEAST YOU MAY DO THE TEST to see if it helps or not… (?)
To repeat St Michael's exorcism several times, up to weaken the negative energies burn out, could also be an idea...
Attention: absolute protection against evil doesn't exist ; we must always live with a « bit of cross=adversity ». However, there are several divine protections, which help us to have a better life (less worse), without having to fold to the blackmail of the evil forces. These protections of God, help a lot, otherwise I would be already in cemetery! But, life don't become a paradise, it becomes more like Catholic Spain/Austria, before 1900... but good becomes (a little bit) stronger! Even so, it's better to be prudent! Evil is presently strong, thus...
DON'T BE INGENUOUS. WITHOUT PROTECTIONS AGAINST EVIL, WE BECOME VULNERABLE (to Evil). And intimidations or seduction of success, submitting to evil, increase in these apocalyptic times...
Some examples of protections against Evil (the more, the best, of course):
(ideas against aging + protections against catastrophes in the bottom of this doc)
PLEASE DO A CONTRACT WITH GOD

(

because everybody is vulnerable and Satan is very ruse

!) e. g. honor Jesus with full trust through the icon of divine Mercy/Automatic salvation from St Faustina to be found e. g. at

www.christianideas.eu

(home page)
Fast and prayer

(in secret, from time to time)
to pray daily the rosary

, e. g., in group/church, attentively
( https://www.rosarycenter.org/ homepage-2/rosary/ how-to-pray-the-rosary ). If you become member of the confraternity, also possible through the previous link, then your rosaries become more powerful! (If we don't have the time to pray it, in case of attack/catastrophe possibility, e. g., at 3:00:00 am, we can always use the "interrupted rosaries formula": begin sign of cross; pray something (very short) from the rosary; close it with sign of cross; do the same for the divine mercy chaplet, and pray it correctly afterwards, when we have time). The Rosary gives ~24hours divine protection against evil (better: attentively). In dramatic cases, pray it twice. The more the best... to pray several times the same prayer, could eventually compensate distractions and even go quicker...
(pray at the normal rhythm, in the same day, even distracted, 4 rosaries + 4 chaplets of divine mercy + 4 prayers from Amsterdam seems to increase the Divine protection for that day, eventually also a few days after. But: it is better to pray rosary every day too. ) If you expect difficult situations and you do not have time to pray it completely correctly, then you could to use the formula of the interrupted rosary (e. g. sign of the cross, "Our Father", "Heil Mary", sign of the cross) (but: if needed repeat (discreetly) this short version several times a day, because its positive effects lasts less time... when possible, the best is thus to pray normal daily rosary)
to go daily to the (Catholic) mass and receive the Holy Communion

, when possible
to become a member of the OPUS DEI

(the exclusive OPUS DEI formula works good (individually), protects the concerned person, he/she gets rich etc, but, because of "too much discretion/timidity", the good has difficulty to advance in the world. Exception: the clergy do a good job inside Vatican!)
to reject fears

, while being serious and trusting in God

(better: use prayer against fears, the crusade prayer 140 from Book of Truth, also further below)
to Pray/meditate daily the 7 Sorrows* of Mary

(7 hail Marys + 7 meditations (sorrows). Meditation of each sorrow during each hail Mary)
source: https://www.qsl.net/kf7dwb/ sevensorrows_bvmprayers.html
*7 sorrows:
Prophecy of Simeon,
the fugue to Egypt,
Jesus lost in the temple,
the meeting in way of cross,
crucifixion,
the removal from the cross,
the burial of Jesus
The 7 Sorrows of Mary daily prayer gives some divine protection and DURING ~20 TO 24 hours EVIL CAN NOT TRIUMPH (better: pray it each 12 hours + complement it remaining protections... rosary... )
IF EVIL PERSECUTION +AGGRESSIVENESS OF EVIL INCREASES, YOU CAN EVENTUALLY PERFORM SOME shorter versions of these PRAYERS soon after 00:00h, and / or, pray the "7 sorrows of Mary" each ~12-16h (thus, twice a day, 2nd time to renew it, in a more comfortable way). You can eventually pray (a renewal, a 2nd) "7 sorrows prayer" at different rhythmes, during the night... (but: in case of bizarre reactions, it is better to pray it quicker and/or to use immortality suggestion (e. g. troubles in vision...), if needed...)
when required (I do it regularly):
prayer (suggestion) of Immortality
This formula, doesn't give good health, but it calms health crisis and threats/dangers against life.
Indeed, Jesus promised, in the Book of Truth, to give immortality (to escape graveyard, thus) to those which pray for the conversion and salvation of those persons, who need it the most. Each time I feel a crisis/attack/danger against my health/life, it suffices to pray (e. g., twice) in this way and it calms... otherwise I should be already in cemetery, I think... if required, repeat it. Ex. of this kind of prayer :
« Dear Jesus, I present you, the soul of my brother and sister [who need it the most], who has abandoned their soul to Satan ; take this soul and redeem it in your Holy Eyes. Free this soul, from slavery to the beast and bring it eternal salvation. Amen »
(better: memorize it, in order to use it, discreetly, when needed)
(e. g., if you feel something strange (concerning health etc), you begin to have vision troubles, you feel in/a danger etc.)
St Michael's prayer (little exorcism), good protection against evil
« Saint Michael the Archangel,defend us in battle.
Be our protection against the wickedness and snares of the devil.
May God rebuke him, we humbly pray;
and do Thou, O Prince of the Heavenly Host -
by the Divine Power of God -
cast into hell, Satan and all the evil spirits,
who roam throughout the world seeking the ruin of souls. Amen. »
(better: memorize it, in order to use it, discreetly, when needed. Temptation of "angelatry"? Accompany it, e. g., with a 'Glory to the Father')
(better: pray it before the begin of the Catholic Mass/Rosary or even regularly, specially before possible "polemic / dangerous"situations.)
It's also a good weapon to help cut "Big Temptations", those with (aggressive evil) charm, which come in loop back to spirit, style "forbidden fruit of Paradise". These kind of temptations are hard to fight and they may be dangerous to the victim; which has eventually to fight eventually against a (powerful) group of opponents: in such case: (discreetly) St Michael's prayer asap; if needed, repeat it!
If you don't have time to pray St Michael's prayer and feel danger, you can always do a very small discreet sign of cross (e. g. hand turned to you inside coat + say=think 'in the name of the Father, ..." ). But it's better to complement it with daily protections against evil like daily rosary etc. More details in this section.
Alternatives:
(discreet) interrupted rosary or pray for (the salvation of) the enemies or ask God the Father in Jesus's name to cut evil/temptation etc Here is not paradise, but some prayers may help...
to pray for the salvation/conversion of Freemasons/Illuminati/ opponents/enemies (

recommended, e. g., in case of attack, from the evil forces, like St Michael's prayer and/or daily rosary

)
This (crusade of) prayer, extracted from the Book of Truth, and adapted, allows to save a Freemason/opposer, each time it is prayed. One of the most efficient means to calm the Freemasonry/Illuminati is to pray for the salvation of their members (because they're also persons, but they're in the path to eternal damnation).
« Dear Jesus, I present you, the soul of my brother and sister [the Freemason/Illuminati/the enemy/the opposer who need it the most etc], who has abandoned their soul to Satan ; take this soul and redeem it in your Holy Eyes. Free this soul from slavery to the beast and bring it eternal salvation. Amen »
(better: memorize it, in order to use it, discreetly, when needed; it is quite similar to the recommended immortality prayer. It can also be used, to save a person you choose... and Jesus save him/her!)
Protective Crusade Prayer 140 against Fears etc (from: Book of Truth)
« Dear Father, God of all Creation, please grant me, grace and protection through Your hierarchy of angels ;
Please help me to focus on Your love, for each of Your children, no matter how they offend you ;
Please help me to spread the news of the Final Covenant, to prepare the world for the second coming of Jesus Christ, without fear in my heart ;
Please grant me Your special graces and blessings, to rise above persecution, inflicted upon me by Satan, his demons, and his agents on earth ;
Never allow me to fear Your enemies ;
Please help me to love my enemies and those who persecute me in the name of God. Amen »
(better: memorize it, in order to use it, discreetly, when needed: before speaking of God or to reject (illegitimate) intimidations, in a more spontaneous way. To pray it daily and combine it afterwards with St Michael's prayer before each "possible polemic situations" give better results)
PS: if you have difficulties to pray, prayer groups may help. You can always ask God the Father in name of Jesus what you wish, eventually accompanied with St Michael's prayer. Sometimes it helps. Eventually: to pray 2 rosaries (or even more!), without pauses, normal rhythm, even distracted ... there is time lost of time, yes, but afterwards things seem to improve a bit ... by the 4th Rosary, it should go better... the evil weakens with rosary prayer, even with distraction, though, when possible, praying with attention is better ... (watch out: paradise on earth, it doesn't exists... presently...)
OTHER IMPORTANT PROTECTIONS
(the death doesn't comes inside the concerned home/building)
to wear all the time, if possible, around the neck (

better: blessed by a Catholic priest

)
brown scapular

( we can find it at, e. g., religious shop or at
St Benedict medal

( religious shop or, e. g., Internet :

www.tldm.org

)
miraculous medal

( e. g. Religious shop or Internet)
(protects against seduction of the Antichrist, I think)
(protects against death in (world) wars etc)
to lock your door from inside (when possible);
eventually send preventive information (tweets, etc) in case of insecurity feelings to police as dissuasive (specially if God recommends you to do that)... but watch out: if too frequent without evidences (or reasonable probabilistic correlations), risk of discredit because of "paranoiac attitudes"
In case Evil forces use less polite ( generally groups of) teenagers/ yong men (up to ~23 years old) to to try to intimidate, e. g. Muslim profile, one can always shout very strong (in urban zones) when begins 1st sign of disrespect (low education) which may quickly lead to small criminality, together with other preventive measures (prayers/preventive tweets...). To discreetly wait that things get worse or to be afraid, don't really help... I mean: walking in public places and trying to be serious... Shouting strong warns of a possible problem and (normally) scares evil intentioned groups...
simply to communicate insecurity feelings (e g) friends, twitter/web helps already to calm... e. g. a simple tweet (not to police) "I have (strong) anxious insecurity feelings, even if outside all seems normal": it scares evil (which wants in many cases to attack discreetly/hidden)
Sacred Hearts of Jesus & Mary, Printer Friendly Version, Wikipedia based. It helps to Protect House.



Protection against severe Poverty, Misery/Hunger: wear with you everyday, e. g. in your wallet, a very small (Egyptian / Ethiopian) St Onuphrius (Onofre) metal statue with a small coin (to give money) + a crumb of dry food to give food, thus to escape misery (+ hunger). You may buy it, e. g., in a religious shop in Fatima (Portugal).

A valid St Onuphrius shall be offered, thus, you must receive it for free. Once you have bought one, you must, thus, do tricks with someone in order to get it offered to you: e. g. you offer it to someone which offers it back to you (someone which agrees with this kind of schema).

SAINT ONOFRE DOES **NOT** PROTECT AGAINST POVERTY. Here's no paradise... but if protects against misery + famine (when you respect requirements) it's already quite nice... => times are bizarre, we don't know 100% sure evolution... apocalyptic? famines? great crash? still a bit 'normal'?... ???
to be in state of grace, or: to go to confession

, (asap, in case of mortal sin)

and return to state of grace

, asap
FOR NON CATHOLICS WHO WISH TO CONVERT: PLEASE RECEIVE SACRAMENTS ( baptism, confirmation, catholic marriage, confession when required).
For Ex-Muslims or Christians in Muslim/communist lands and other vulnerable groups: please protect yourselves good with God's protections, otherwise...

do you want to finish as John the Baptist or St Peter? It's quite heroic, but... I think we can avoid it, with the help/protections of God... and even so, recommended to be prudent...(sometimes some action helps, yes, to see case per case, but better to prepare yourselves first with God's protections...)
Attacks at night after 0:00h. If you're too asleep, try at least, the interrupted rosary formula, the crusade prayer against fears, st Michael's prayer, immortality suggestion + variant to help enemies/opponent. It's better to have all other protections, images/Seal, medals etc If you can pray also the 7 sorrows prayer + a full rosary (even more) it's better, but not that easy at night... if God suggests it, make preventative informational calls to the police by email / phone / sms ... it helps to calm fears / anxiety / paranoia ... (warning: this technique may loose its benefits if it becomes recurrent and seems paranoiac...however you can always write (public) tweets to calm anxieties (public tweets, not sent to the police)
Measures* to Try to fight AGING & Obstructed Nose Diseases (GRIPPE...)
1. Measures* which seem to help to counter AGING
some adequate physical exercise, adequate meals, of course recommended, when possible. Some Fitness for Men, jogging (e. g. 20 minutes/day) etc
to eat everyday enough (raw) vegetables (better: salads), 1 or 2 cloves raw good chopped garlic*/day, good mixed with meals, (to avoid negative secondary effects, e. g., in the evening), a little bit of ginger* everyday, vinegar* sauce (disinfects also) ...
to avoid regular consumption of bad aliments (white sugar based or too salty or too fat or too much food or too sweet (e. g., too much fruits*) etc)
also (regular) adapted exposure to frozen temperatures / environments could maybe help ...
It's up to you to (safely) do the test to check ...

e. g. look at the mirror before the test, and after ~24 hours ...

to check the differences ...

if there are any ...
2. Ideas* against Obstructed Nose Diseases (GRIPPE...) updated 22.10.2020
IN DRAMATIC CASES WHERE LIFE IS IN DANGER, THE VICTIM COULD BEGIN PRAYING GOD FOR ETERNAL SALVATION OF THOSE WHO NEED IT THE MOST (Jesus Immortality Suggestion calms 'only' dangers for life).
Again to avoid regular consumption of Bad aliments (containing bad sugars*, e. g. white sugar based... natural traditional sugars e. g. fruits honey are better to supply sugar needs).
Stomach full of food + white sugared based food worsens obstructed nose diseases...
Again Daily Protections of God against Evil + take cross: at least daily short prayer 7 sorrows (better: rosary, shortest alternative: crusade prayer 33), if needed 'immortality suggestion' (calms 'only' dangers for life)
Fear attracts evil, says the Bible. Reject fears, but it's also good idea christian true faith behavior + daily protections against evil (some suffering=cross remains, sorry). To pray daily Crusade Prayer 140 (better: at begin of day, attentively) helps to remove fear feelings.
Again some adequate Physical Exercise, when possible. Regular Sportive behavior to stimulate hard transpiration: jogging (e. g. 25 minutes/day, last 10 hard, if possible, while grippe persists) or alternative measures to stimulate transpiration: Sauna, Warm Bath, Warm Drink (tea...) etc
Strong Alcohol Drink* (e. g. whisky, vodka, brandy...), in small quantities e. g. 1/5 glass, let it disinfect your throat during some minutes, eventually repeat... (watch out secondary effects, if you have already other health problems=> medicines with alcohol etc => implicit!).
Heaven to Luz de Maria speaks about Prayer + Good Samaritan Oil maybe against Pestilences. Side effects possible, better to read good preparation and Test it 1st (I didn't: no need, up to now). Site seems reliable for catastrophe forecast in absence of enough rosary prayers. Interesting to take note. Better to test before 1st use.
Some Medical Advice seems OK: (wash hands, masks in dangerous places, quarantine). Better to test it, one per one, also. Vaccine grippe triggered severe grippe on me, ~15 years ago, but maybe it works good with other people (?). I don't rely in such vaccines sorry, as heaven said... but some may even work good, but with risk toxic discreet side effects (?)
Heaven to Enoch, heaven to John Leary: messages interesting. To use (kits medicinal herbs prayers): better more prudence + test (or more info) 1st one per one, before effective use. I find interesting to take note. To use it, however, prudence + tests welcome. I don't need it (now), I only take note. We never know... wikipedia seems to confirm J Leary... Enoch kits extra info required...
Heaven to J leary speaks regularly now about the virus, e. g. Prayer + Pills: Elderberry ... + masks + confirm other medical measures (quarantine, wash hands) . To take note, it seems interesting, but to effective use, more tests and prudence welcome (I don't need it now, thus, I don't do those tests... only in case...). christianideas.eu is not perfect, it keeps improving, updating. Wikipedia seems to confirm medicinal power of herbs given to J Leary... (?)
*- 1.for a normal person - in other cases, it's a good idea to ask advice to experts (doctor, nutritionist etc) ex. raw garlic/ginger/vinegar increase a bit liquefaction of blood... persons with hemorrhagic tendencies could compensate with adequate quantity spinach... moderated quantities for normal person, not too much raw garlic, ginger or vinegar (secondary effects possible). e. g. 1/5 of normal glass with vinegar or whiskey... moderated quantities...
*- 2.Some sugars (better : natural traditional ones : fruits, honey) are maybe needed : to help concentration, to calm stress/nervousness, they help against drops of tension/hypoglycemia, but a too sugared diet (e. g. too much fruits) has also negative effects...
*- 3.Strong alcohol drink increases blood pressure... also some secondary effects... but it helps against grippe obstructed nose diseases... better than antibiotics... moderated quantities for normal person, thus... E. g. 1/5 of normal glass ...
PROTECTION AGAINST CATASTROPHES
e. g.,

daily rosary + divine mercy chaplet + prayer of immortality (personal protection)+ Prayer of Amsterdam (below)

. Better with prayer groups and/or attentively. Divine mercy chaplet/prayer at

http://www.praydivinemercy.com

Other prayers possible, e. g., crusade prayers.
(further details in link Terror from www.christianideas.eu )
"LORD JESUS CHRIST,
SON OF THE FATHER,
SEND NOW YOUR SPIRIT
OVER THE EARTH.
LET THE HOLY SPIRIT LIVE
IN THE HEARTS OF ALL NATIONS,
THAT THEY MAY BE PRESERVED
FROM DEGENERATION, DISASTER AND WAR.
MAY THE LADY OF ALL NATIONS,
THE BLESSED VIRGIN MARY,
BE OUR ADVOCATE.
AMEN.
IDEAS AGAINST PRISON (updated 8.1.2022)



IN CASE OF PRISON (e. g. because of TRUE FAITH PERSECUTION)

Persecution ruse against True Faith is increasing also in West. Recommended:

1.All protections against Death, but torture possible (here, related sections) e. g. holy face medal. Not always possible

2. Daily Protective Prayer: Daily Rosary (better) and/or 7 Sorrows (shorter) and/or Crusade Prayer 33 Seal

(renew from time to time, e. g. with St Michael exorcism, if needed)

3. IT SEEMS FOR EACH LOVE KISS YOU GIVE TO (baby) JESUS
GOD SAVES 1000 PERSONS FROM HELL!!!!

If true, MAY it HELP???





BUT:

(better: discreet) DAILY ROSARY or 7 SORROWS NEEDED

to avoid attacks mouth, ruse attacks from evil etc



maybe it works sometimes... anyhow, we have nothing to loose, in such cases...



Maybe it works in other cases... probably you have to kiss baby Jesus much longer, e. g. 2 days non stop for a prison penalty of 20 years + a fine of 5.000 $ to pay, but if you go out after a week in place of 25 years later, you win a lot of time... maybe it works???

Watch out: if you can avoid murders etc, it's better... please keep hope even with 20 years in jail... paradise of God is for you also... but some prison penalties/justice should remain... but if the punishment is accomplished a lot sooner, why not??? One has nothing to loose... ???





IDEA AGAINST UNDER CONSCIOUS HARASSMENT (Suicide, LGBT ideas, Nightmares...)




Daily rosary even quick protects against depression suicide ideas. Better: attentive

After praying daily attentive protective prayer against evil like daily rosary or at least quicker 7 sorrows, you can try St Michael small exorcism to cut ideas + 7 sorrows again but interrupted to try to calm ideas... more details in chapter 'LGBT sex kills', section 'Suggestions'.

Crusade Prayers like 140, 33 at (/ after) 00:00 may help against fear or against nightmares (discreet witchcraft). You have nothing to loose to test it + (daily rosary, of course )





IDEA AGAINST ISLAMIC TERROR




If you pray [Mary]"Empress" at begin + end of each daily rosary, it seems to increase protection against Islamic terror. It seems to work here in Europe, against e. g. Islamic terror (Islamic State etc e. g. from Libya...).

An additional consecration of the continent to the immaculate heart of Jesus and Mary could help also, because possibly this happened in Europe and America... ???

Anyhow, if you pray daily rosary (better: attentive, stronger, with discrete fast...), you have nothing to loose, if you add this word "Empress" twice, as mentioned here above...





PRAYER Against WITCHCRAFT



(to pray every day at the start of the day, even at 00h:01 )

1. Any padlock fashioned against me, be broken by Fire, in the name of Jesus.

2. I withdraw my blessings from all financial means, fashioned against me, in the name of Jesus.

3. Let all incantation and enchantment planned against me be destroyed, in the name of Jesus.

4. Any spiritual marriage (not legitimate) against me and my interests, be destroyed, in the name of Jesus.

5. Any cage that locked up my destiny, be destroyed, in the name of Jesus.

6. I remove every organ of my body from any altar, shaped against me, in the name of Jesus.

7. May the Blood of Jesus destroy all manipulation fashioned against me, in the name of Jesus.

8. O Rock of Ages shatters any foundation of witchcraft in my family, in the name of Jesus. You, founded witchcraft in my father's house? From my mother, die, in the name of Jesus.

9. Every witchcraft trap catch your owner, in the name of Jesus.

10. Any system of transporting from the powers of sorcerers (e), be interrupted and disturbed, in the name of Jesus.

11. Any system of communication of the powers of witchcraft, be destroyed by Fire, in the name of Jesus.

12. Any padlock of witchcraft fashioned against me, be broken, in the name of Jesus.

13. I overturn any burial of witchcraft against me, in the name of Jesus.

14. I deliver my soul from every spell of sorcery, in the name of Jesus.

15. Any identifying mark of witchcraft be erased by the Blood of Jesus.

16. Let the Blood of Jesus block the plan of flight of the powers of witchcraft targeted against me, in the name of Jesus.

17. Any conscious or unconscious alliance that I have made with the powers of witchcraft, be broken, in the name of Jesus.


18. I release myself from the grip and powers of witchcraft, in the name of Jesus.

19. Starting today, I refuse to obey the command of the powers of witchcraft, in the name of Jesus.

20. All witchcraft fields assembled against my prosperity, be arrested and converted, in the name Jesus.

21. I order all witchcraft used to control my health to be broken now, in the name of Jesus.

22. In the name of Jesus, I break and free myself from all the evil curses, chains, incantations, bewitchments, witchcraft or magic that may have been launched on me.

23. May the thunder of God locate and dismantle the throne of witchcraft in my house, in the name of Jesus.

24. Any local and international network of all the sorcerers of the house, be canceled converted and dispersed, in the name of Jesus.

25. Any agent who serves on the altar of witchcraft in my house, be stopped and converted, in the name of Jesus.

26. May the lightning of God locate and overturn the warehouses and reserves of house witchcraft that hold back my blessings, in the name of Jesus.

27. Any padlock of witchcraft fashioned against any department of my life, be burned, in the name of Jesus.

28. O Sun, Moon, Stars, Earth, Water and the Elements, vomit any enchantment that is against me in the name of Jesus.

29. O Lord, may my dreams and visions reject all projections of witchcraft, in the name of Jesus.

30. Any evil power which fights to restructure my destiny, be stopped, in the name of Jesus.

31. Umbrella of fire from the almighty God, cover my life, in the name of Jesus.

32. All power of usurpation in my dreams, die in the name of Jesus.

33. Every enemy of my promotion be stopped and converted, in the name of Jesus.

34. Any cause of persistent problem, be holy solved, in the name of Jesus.

35. Any power that prolongs the captivity in my life, be stopped, in the name of Jesus.

36. Any power that steals my blessings through dreams, be stopped, in the name of Jesus.

37. May the spirit of failure that repeats itself in dreams, be definitively stopped, in the name of Jesus.





Prayer to Protect a House and Gain Authority over Evil Spirits(22/10/2021)

There is only one real power, that of the living God, creator of heaven and earth. There is only one Savior, Jesus Christ, Only Begotten of God, come in the flesh, born of Mary, died on the cross, buried, risen, standing in glory, alive forever and present here, now in his majesty.

There is only one power of protection, of combat and of victory, that of the Holy Spirit, Power of Love in the Holy Trinity of God. Only the Blood of Jesus Christ protects us and keeps us from any attack from Satan and Demons. Only the Blood and the Name of Jesus Christ frees the captives of the Demon.

May God the Father Almighty, Jesus the Lord and the Holy Spirit, make the Power of the Blood and the Name of Jesus reign now in this place over those present here and all the inhabitants of this House. Amen!

In faith, I surround this House with the Blood of Jesus which is an impenetrable enclosure for any unclean spirit. May all authority contrary to that of God be destroyed by the Power of God. Amen!

In the Name of Jesus, I take Authority over any evil Spirit Present and acting in this Place. By the Blood of Jesus and in the Name of Jesus come in the Flesh, I order you: "Evil Spirits, come out of every Person here Present (name the related person if one knows his name) and come out of this House!




By the Blood of Jesus and in the Name of Jesus Christ, came in the Flesh, I bind you, evil Spirits, I cast you out and command you to go to the Cross of Jesus Forever.

Now we are under the Protection of the Blood of Jesus and of the Blessed Virgin Mary, she who, for unclean spirits, is formidable as bannered Troops (Ct 6:10) August Queen of Heaven, sovereign Mistress of Angels, you who from the Beginning have received from God the Power of the Mission to Crush the Head of Satan, we humbly ask you, send your Holy Legions so that, under your Orders and by your Power, they pursue Demons, fight them everywhere, suppress their audacity and push them back into the Abyss."

Holy Angels and Archangels, defend us, keep us. Hear us, Lord Holy Father, Almighty and Eternal God, deign to send your Holy Angel from Heaven: may he keep, protect, visit and defend all those who dwell in this Abode.

Glory be to the Father, to the Son and to the Holy Spirit, to the Holy God, to the strong God, to the victorious God, now and for ages and ages. Amen!




(other references/protections to find at : www.christianideas.eu and related links , e. g. Tldm Directives from Heaven, blessed candles, curtains etc.)

If all objects can be blessed by a Catholic priest, is better, of course. It is better also to be permanently in state of grace (go to confession asap, in case of serious sin).

EVENTUALLY TO IMPROVE HEALTH, YOU CAN ALWAYS TRY TO GIVE (love) KISSES TO GOD/JESUS DURING ~1 hour (or more). NOTHING IS PROMISED, but, IT HELPED ME TO RESTORE (temporarily) TO ITS PREVIOUS STATE MY VISION (which was being attacked). I still have some lack of vision, but this "normal" state is a lot better than before that "hour of kisses". It seems that for each kiss with love we give to God, God saves 1000 persons from hell (?).
---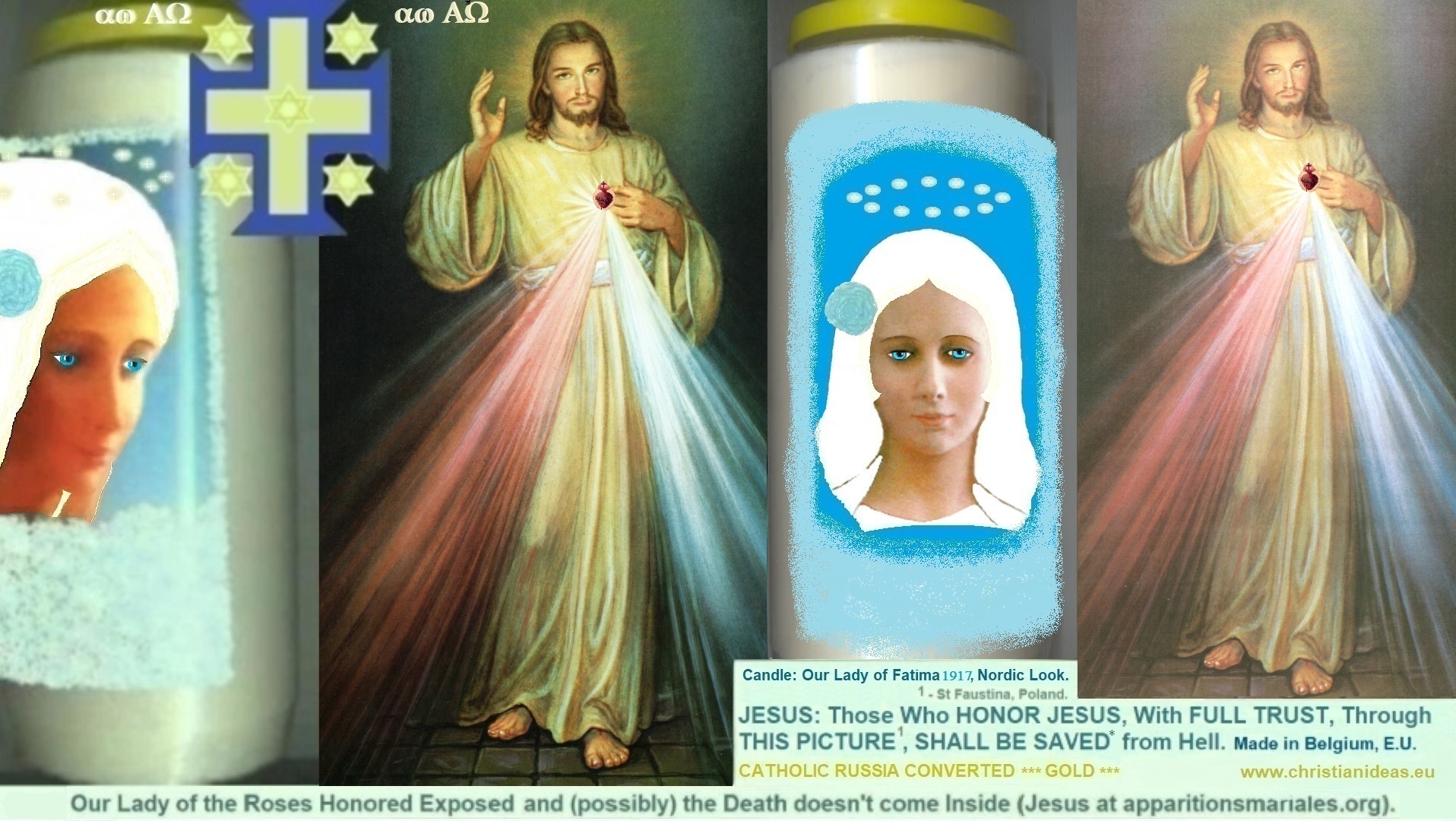 Jesus Divine Mercy: Those who honor Jesus, with full trust, through this picture (above), shall be saved





I try to pray for protection to all pro God of planet until 00:00h, to try to disinfest, but it's better to complement it with 24h protective prayer, e.g. attentive rosary or (easier/shorter) 7 sorrows (here further below).

http://www.christianideas.eu/#about tries to help...
Over Web site of Ideas from Catholic Russia Converted,
made in Belgium, E.U.,
www.christianideas.eu:
DISCERNMENT Criteria, e.g.

true faith catho conservative non naive

:

risk of sect new age in Rome=> the Apocalypse...

=>

better to be in state of grace go to confession to catholic priest asap, after Benedict XVI

Risk of Great Famine

=> news from heaven +- serious to e.g. Enoch, G Lomax, L de Maria, J Leary...



Ideas (pro God) to (try) to resist Great Famine

:
- St Onofre with a Crumb of Bread,
- Blessed grapes L Maria + S Damiano...

MODERN LIES unmasked
(Lies of Darwinism, Fake Dates...)



History + demographics since 2000BC unmask fake dates. Hominids were hybrids which existed before great Flood

, confirms Jesus at from old web site from V De Tarlé apparitionsmariales.org …



Proactive Darwinism: ~mouse evolves=> bat => vampire, thus ancestor man/whale etc goes to=> Batman => Dracula...

within same ~million years…



Y haplogroups DNA migrations tend to proof Atlantis sank => Ice ages before Moses crossed the Red Sea? Science & Bible theory



DANGER OF APOC after Benedict XVI => St Malachy prophecy:





CHIP 666 IN BODY, WW3, risk vaccines Pest Grippe with 666 smart particles /changing DNA RNA , throw virus (by plane) to kill vaccinated, "good" apocalyptic new age sect, THE GLOBAL EMPIRE SOCIALIST COMMUNIST OF ANTICHRIST... => lots of apocalyptic prophecy at www.tldm.org (for scenario Russia not converted)




ICON OF AUTOMATIC Eternal SALVATION
(also here above)
PROTECTIONS against EVIL, but some suffering needed, sorry! (a summary a bit further below)

IMMORTALITY SUGGESTION:


TO PRAY GOD for ETERNAL SALVATION for THOSE WHO NEEED IT MOST, CALMS 'only' DANGERS for LIFE.
(you have nothing to loose, if you feel dying, even if formula is limited …


after: begin discreet fast + attentive daily prayer(as rosary) until it calms/improves

=> ~30 days for diabetes,


ok not so easy, but it's better than cancer operations

,

(1-3 days should calm grippe…)

)


GLBT + Modern Sex BEHAVIOURS: Unhealthy, even KILL...


It attracts pests… Vaccine Papilloma protected only 70%...
it's possible to attack underconscious, e.g., via discrete sorcery… => Nero case study...


IDEAS AGAINST AGING & GRIPPE/PEST /Evil

Dangers of Vaccins: e.g. 666 etc.
BETTER ALTERNATIVES + Pro God:

Fast & prayer (good against evil => Medjugorje) until it calms... (discreet fast & prayer or in solidarity group, prayer style (attentive daily) rosary or 7 sorrows...

some food may help: avoid white sugars (fruits honey better if sweet food needed), but 1/8 glass whiskey or vodka (=> let it disinfect (few minutes) at the throat…), 1/6 glass vinegar, 2 cloves raw good garlic mixed e.g. in salad to help counter pest... + immortality suggestion in dramatic cases to calm a bit and in place of dying win forces to pray a rosary /7sorrows... + details links above below



VACCINATED RISK TO DIE WITHIN ~7 YEARS WITHOUT FORMULAS PRO GOD

(see above; formulas from news from heaven maybe work against vaccines… Exorcism water? miraculous medal, faithful see light cross in sky after great warning, Oils?... ?? )



IDEAS FOR A BETTER LOOK (Ladies & Veil)

How FAKE PUBS BRUNETTE & Erotica ARE KILLING CATHOLIC MARRIAGE FOR LIFE: Sarah x Agar…

(because of unhappy husband: too few beautiful ladies to choose… SOS Aesthetics...

correlations 30 years to detect trends:

... lady educating children in micro appart feels so happy as Husband with lady with not cared aesthetics... eats white sugared stuff=> brunette Scheherazade look puts husbands away...)

Aesthethic care is to have heart for husband

. Comparative Tables at section 'Our Lady of Fatima deserves better look'



MODERN WOMAN IDEOLOGY UNMASKED:
Demographic fall in West (+ Russia)…
stats (1950 or) 1970-2019: Germany x India…


Censured on

Twitter: @_ChristianIdeas

Possible:
T shirts Posters "Songs" Christian Ideas and/or Russia Converted Catholic ('made in Belgium')...

School
(e.g. Maths, Computer Science: exercises, complements to Wikipedia…)

Christian Ideas at Linkedin
(https://be.linkedin.com/in/christian-ideas-104ba893)

If You Want to Defend Good,

PROTECTIONS against EVIL + Take Cross Recommended

(IMMORTALITY SUGGESTION at 1st Sign of Danger,

CONTRACT WITH GOD (ICON AUTOMATIC SALVATION THROUGH DIVINE MERCY), (home page or below), + Daily (better, Attentive):

Rosary, and / or

7 Sorrows, and / or

Crusade Prayer 33,

Crusade Prayer 140 (to speak without fears),

to be in state or go to confession catholic priest asap ...

+ details at christianideas.eu
I try to pray for protection all pro God of planet until 00:00h, to try to disinfest, but it's better to complement it, with 24h protective prayer, e.g., attentive rosary or (easier/shorter) 7 Sorrows prayer.
Satan demanded to God 75-100 years to destroy Vatican + money + power => www.tldm.org. Satan had that time, that money, that power. 150 years later, despite dangers + evil, Vatican still resists. Let us see evolution... ??? apocalyptic? reversal pro God (again)???
Note: www.christianideas.eu began in ~2009 and keeps growing. IT REMAINS INCOMPLETE + NOT PERFECT.
Because IT IS NOT FINISHED, NO FINAL VERSION (.pdf) EXISTS. IT KEEPS GROWING/IMPROVING and there's still many changes to do (and few time, resources...). A complete review of the web site should be done, but it's already better than nothing...
If God helps, I'll try to improve and/or correct eventual detected errors, contents + design, little by little. A backup .zip exists (link colomn above). It contains most of the site, behalf the heavy assets.
Please feel free to print it, copy it, behalf, eventually, songs ... (contents license above left with some extra explanations, but the general goal is absolute freedom for use of text + images, in a good intentioned True Faith pro God use...)
Good intentioned Pub pro God True Faith welcome!!!
(protections from God recommended then! Evil doesn't like it...)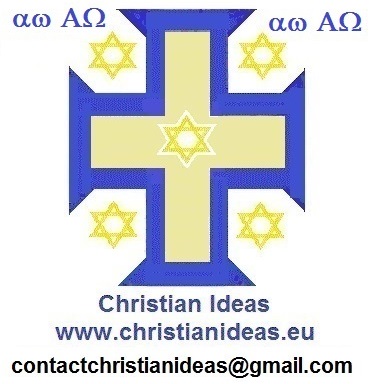 Below: Our Lady of the Roses Honored Exposed and Death doesn't Enter inside.
(source: Jesus at old web site apparitionsmariales )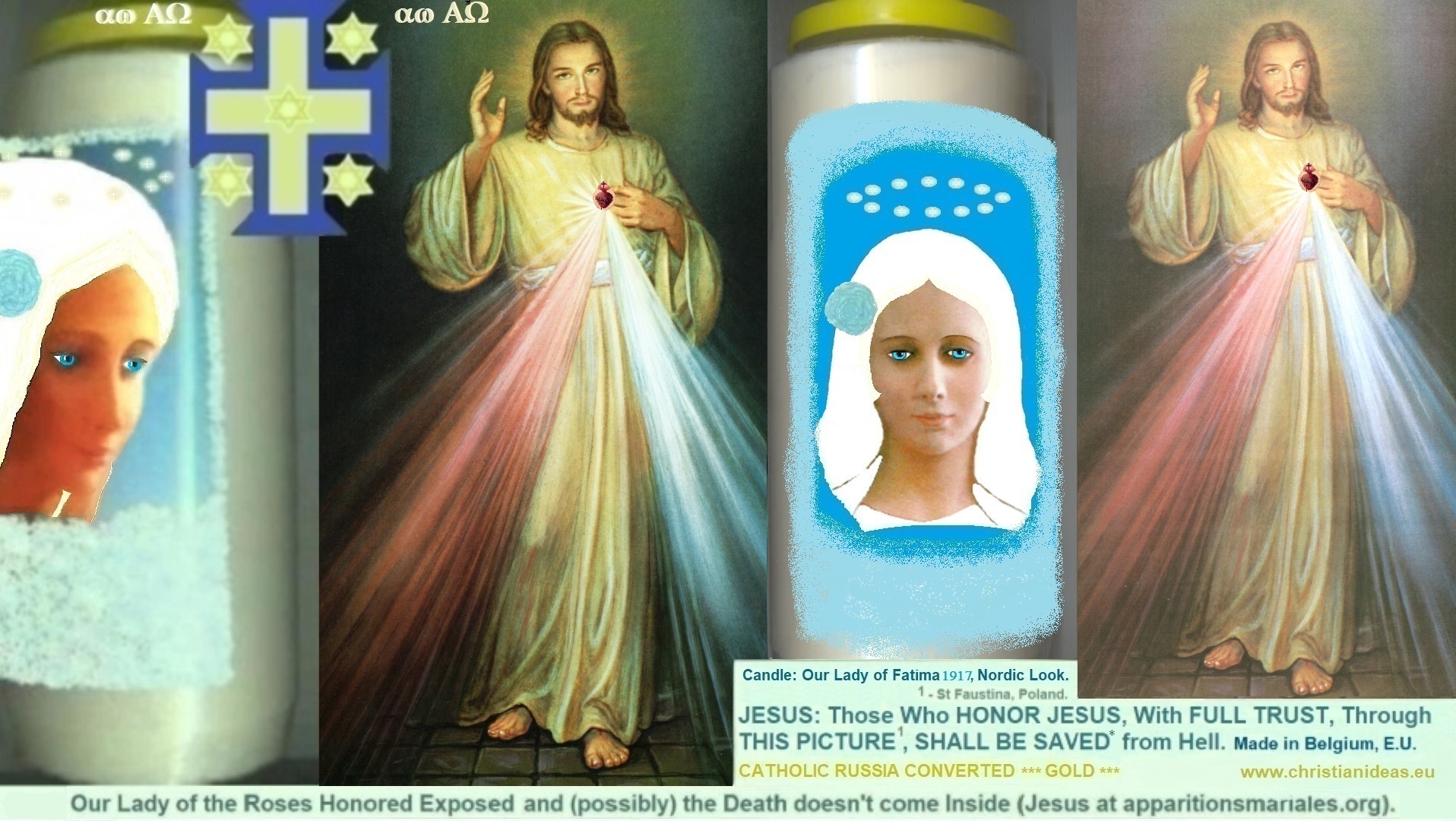 Right Click + save as to download images...