Miracles and Discernment: Summary
The miracle's theory below is an attempt to explain several kinds of miracles. Alternative ways/explanations for performing these miracles are, of course, possible. Please don't forget that, for God, everything is possible. Further below, you'll find a criteria for discernment of the truth, of the Will of God and traps to discernment.
The "Natural" Miracles
They are incredible, fantastic phenomena; they're always present, but we don't give them the required importance... because we're used to it, since we were small kids. Examples:
the sun
the fire
the water
the light
our vision
when we walk, it's " automatic " (except for people with handicap)
...
The "Supernatural" Miracles
They're not more spectacular than the "natural" miracles, but they have the particularity that they come from God and go against the laws of the nature/physics. We know, by the gospels, that the angels may go against the laws of the gravity: Jesus temptations (Mat 4:6): Jesus "could jump from the rock", because the angels would protect Him… the laws of the nature/physics were created by God. God and the angels could maybe simulate them, or… counteract them.
The Miracles of the Style "Bread Multiplication"
This kind of miracles, the "material miracles" can maybe be explained through the analysis of some equations/theories of the physics/chemistry.
We need to take into account the (bio)chemical reactions, the nuclear reactions, which change one chemical substance/atom into another. So, through these kind of reactions, God can maybe change (even man, sometimes) one substance into another. We have also equations which convert energy into matter or vice versa: E=mc2 and Energy = matter + antimatter. That means that, even if for the man is still quite difficult to perform automatically this matter "conversion", for God it is quite easy and He can simply use energy to convert it in huge quantities of matter.
The miracles style bread and fish multiplication could maybe be explained through conversion matter into matter or energy into matter. The same idea can be used to explain the appearance of an enormous quantity of water by time of the Universal Flood and its disappearance afterwards...
Miracles at Different Levels
We could still distinguish 3 different kinds of miracles:
those that act at the level of the issuer
those that act at the level of the channel
those that act at the level of the receiver
Possible Examples and Proofs of the Authenticity of the Traditional Catholic Doctrine
The Holy Blood of Jesus

: this is a permanent miracle, because this Blood, exposed in Bruges, resists time, without degradation, under normal conservation conditions.

It is a very good devotion to honor the Divin Holy Blood shed by Jesus to redeem us and the whole world.

If this Blood is spread over the borders of a country, it protects that country against evil.

I think that's why the city of Bruges in Flanders was protected from war during the two World Wars... possibly since 1310... Many powerful Christian prayers invoke the Holy Blood of Jesus shed for us...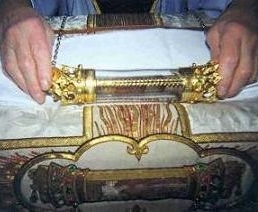 The Holy Blood of Jesus exposed in the chapel of the Holy Blood in Bruges, Flanders, Belgium.

The Incorruptible Bodies of some Saints

, like the Holy Blood of Jesus, resist time, without degradation,

can even smell perfume or for a time permanently bleed (stigmata), under natural conservation conditions and without normal natural or artificial procedures of mummification

. In opposition to the procedures of mummification, there's no visible signs of body degradation, only little changes, remaining inclusively all the organs intact... and they're exclusively from devout traditional Catholics... No comparison is possible with other mummified bodies, like the embalmed corpse of Lenin or the mummies of buddhist monks , which show always traces of death/sin, or they remove the organs which show such traces... For further details, please refer to Incorruptible Saints.

Please note that MIRACLES WHICH GIVE GOOD FRUITS, RESISTING THE PROOF OF TIME, ARE A CRITERIA FOR DISCERNMENT OF THE TRUTH AND SHOW THE WILL OF GOD: THE TRUE FAITH (it doesn't change!) + THE LEGITIMATE AUTHORITY of the TIME (the Vatican, up to the great Apocalyptic Schism of the Fall).

That's the case of the corpse of Padre Pio and St. Bernadette of Lourdes, which remain incorruptible for more than 40 years, even more than thousand years in case of St Cecile or the Holy Blood. In Lourdes, it still happens miracles/healings in present times.

That's not the case of the corpses of Marilyn Monroe, the Modernist, of Muhammad, the Muslim, of Luther, the Protestant or Darwin, the creator of the prestigious science fiction theory of Evolution. I have nothing against them, only the examples they gave are not the best and confuses many. Further details in Discernment criteria, further below.

The Miracle of the Sun

, Fatima (Portugal), 1917. Thousands of persons in Fatima saw the sun "dancing". In the rest of the world, the sun remained in its place! This miracle could either:

be produced at the level of the brain of these persons (miracle acting at the level of the receivers)
be produced through a sort of "filter", which could have been set at the atmosphere around the zone of Fatima, allowing only these persons to assist these "special effects" of the sun (miracle acting at the level of the channel)

The Snake spoke to Adam and Eve

. This could also be a real fact, maybe a miracle acting at the level of the receiver, of the issuer or of the channel. That means: for ex., the snake could have used his snake language as usual, but at the level of the audition of Adam and Eve, they could have understood these noises as "words", enabling thus, a real dialog. This kind of transformation of animal noises to words it is possible and may happen still today, in persons with strong nervous symptoms, e. g. schizophrenics. A schizophrenic may hear "voices", inner voices, or noises which are perceived as sentences...
Criteria for Discernment of the Truth/Will of God
Step 1. The Truth is the Coherency with Reality. Some Traps.
In the first phase of Discernment of Truth, we must take into account that the Truth is always coherent with Reality, even if it seems illogical/absurd/not credible. "Good lies" contain typically lots of truths, and some/little logical, credible (and even scientific) fiction in some NON PROOFED domains which are, generally, difficult to unmask.
Just to give a simple idea over what it goes about: Assume a person is dressed with a black custom, and we can't check all the details. Assume somebody else does a physical description of that person, mentioning all details correctly, behalf the color of the custom, which is said to be "light grey" in place of "black".
This "description" is "normal", logical, credible, with lots of truth, and, if it comes from a prestigious person/entity, generally, we don't check it anymore and we believe!!!
In such example, the damage is small, but when it goes over the truths of God, the danger is real, and at least 3/4 of the planet is getting confused with such types of theories/doctrines, with truths and fictions mixed, in a logical and credible (even scientific) way.
Examples of Logical/Credible (Fiction) Traps
Some of the examples mentioned below require further explanation (please see also Step 2: Good Things give not only Good Fruits but also Resist the Proof of Time: at least 10 years).
Among the theories/doctrines which confuses people at level 1 of the discernment criteria, we have:
"Scientific" Fictions: Darwinism, Ancient Dates, Big Bang

Because it goes over logical, credible lies mixed and sophisticated scientific knowledge and several truths mixed, people from the West and those with high studies are among the "big victims". Indeed, Science acquired strong prestige and some victories against the Clergy in the past, and now, these profile of persons, trust in everything from the Scientific domains and they don't check it anymore. Naturally, the lies are not evident, they touch domains difficult to proof and they're masked with High scientific knowledge. Some of those (fictive) theories, like the Big Bang, remain impossible to unmask completely, while others, like Ancient Datings and Darwinism are currently possible to (partially) unmask. To unmask Darwinism:

We can in a short period of time trigger a change of specie, either through hybridization, either with an intelligent creator
with a mutation we can not in a serious way, trigger a change of specie... what we really can, is to believe in a logical/scientific lie...
modern man, able to perform doctorates, didn't remain 30.000 years static and "stupid", in caves/huts, without beginning the basic principles of people's life: urbanism, agriculture, fishing, displacements, life stock, writing...
the miraculous and stable corpses of holy Catholic Saints when comparing them with Scientific celebrities responsible for those lies, e. g., Darwin.

For further details, refer to the scientific sections, namely, Darwinism unmasked and Big Bang or 6 Days? . We can unmask several of those lies, but the subject is generally complex and deserves specific chapters.

Modern Way of Life:

Modernist theories seduce many people in the world, namely in the West. The doctrine seems "good", attracts many people, namely in the West. However, we have already 50 years of experience and statistics with the "New World Order Values" and their fruits are putrified, although it is not always evident to remark it. SINCE THE FRUITS OF MODERNISM in the last 50 years ARE ROTTEN, THE VERDICT IS DONE AND IT DOES NOT CHANGE ANYMORE (watch out the ruse, seduction, traps and tricks of Satan). This way of life, although it remains popular, can be unmasked:

the miraculous and stable corpses of holy Catholic Saints when comparing them with Modernist celebrities, e. g., Marilyn Monroe (I have nothing against those persons), living at the same time of holy anti-modernist Padre Pio.
Modern (superior) Woman and Communism of Genders are correlated statistically with destruction of couples, namely everlasting Catholic marriages. Women shall not be judged individually, but they're being misled with these modern doctrines. Watch out: the subject is subtle, it contains traps, but statistics don't lie. It is not a coincidence and it is not the will of God. Further details in Woman & Veil
LGBT die on average 30 years before other people and have serious health problems. Most of them are misled, because they're not aware of those dangers. Otherwise there were no gay prides, like there's no "diabetes prides". The fruits of those behaviors are thus not good. The subject is however complex. Further details in Homosexualities kill
Divorces exploded. Now maybe they diminish, because traditional families are already destroyed. The fruits of divorces are rotten: e. g. ex-husbands die, on average, earlier, the children have more troubles and have worse performances in adult lifetime. Further details in section Divorces
Abortion: It is a calamity, a butchery, an Holocaust, with ~45.000.000 murders of babies every year in the world. Normally, at least some 1.5 billions of murders through abortion happened since the years 80... some statistics from these Apocalyptic times... the problem is however complex: the destruction/vulnerability of the couples and the "sexual liberation" don't help. Further details in Ideas against Abortion

Islam:

Although supernatural is present in the Koran, we can unmask some of its logical doctrine (with some fiction mixed) with some concrete facts/realities:

The Holy Blood of Jesus: a permanent wonder and the Proof of the Crucifixion of Jesus, in Bruges, Belgium.
the miraculous and stable corpses of holy Catholic Saints when comparing them with Muslim celebrities

For further details, refer to sections Islam and "Examples of Miracles", above.

Protestantisms:

Although doctrine is different from that of Islam, the principle is the same: intense religious study and lots of truth in it, but because they interpret the Bible in a "logical/credible" way, but not necessarily the true one, they introduce "interpretative errors", typically quite difficult to proof. This is more dramatic than Orthodoxy/Traditionalists, because they not only become schismatic, but also deform the true doctrine, in some points, which vary from one "Protestant Church" to the "other". We can also unmask them with:

The miraculous permanent cures in Lourdes, which resisted the proof of the time (please see also criteria 2 of discernment and possible traps)
The miraculous permanent Corpses of Catholic Saints when compared with some Protestant Celebrities, e. g., Luther, Calvin, etc.
Step 2. HOLY THINGS MUST GIVE GOOD FRUITS and MUST RESIST THE PROOF of the TIME
If we escape the traps of the phase 1 from the criteria for discernment is already a very good thing, because at least 3/4 of the world population are getting confused at this level, and there are even modernist and pseudo-scientific movements inside the Catholic Church, which is under attack, since, at least, the years 60/70.
THE PROBLEM: THE EVIL ONE IS VERY INTELLIGENT, RUSE, AND, IF THE CRITERIA OF DISCERNMENT IMPROVES, THEN HE CAN ALSO ADAPT HIS TECHNIQUES AND HE CAN AGAIN MISLEAD MANY PEOPLE, IF WE DO NOT WATCH OUT. This seems to happen in the Apocalyptic period, if we take into account the book of Revelation:
Marc 13:22 "False messiahs and false prophets will arise and will perform signs and wonders in order to mislead, if that were possible, the elect."
Thus, the ruse is great in this period, and some discernment is required to avoid possible traps. When we're aware that the TRUTH MUST MATCH WITH REALITY, with the facts, RATHER THAN IN LOGICAL INTERPRETATIONS / DOCTRINES / THEORIES, then WE MUST TEST THE FACTS, THE GOOD FRUITS, THE SUPERNATURAL MANIFESTATIONS, SCHISMS / LEGITIMATE AUTHORITY. Because Satan can simulate many things, can control world leaders.
TO HAVE DISCERNMENT OF THE WILL OF GOD, THE FACTS, THE GOOD FRUITS, ARE NOT ENOUGH ANYMORE, THEY MUST RESIST THE PROOF OF TIME: AT LEAST 30 YEARS TIME. ONCE TESTED, IT DOESN'T CHANGE ANYMORE, even if Satan makes "updates" to confuse people... because those "updates" must be tested again, more 30 years time, and because the original test is already done... those "updates" must be 100% compatible with the original test, which doesn't change anymore... Padre Pio is Saint. Point. Virgin Mary is not prostitute. Point.
WE HAVE ALREADY SUCH PROOFS OF THE WILL OF GOD:
the HOLY BLOOD OF JESUS

THE MIRACULOUS CORPSES OF THE CATHOLIC ANTI-MODERNIST SAINTS OF THE PAST
THEY already GAVE THEIR GOOD FRUITS AND THEY DON'T CHANGE ANYMORE (all possible changes to confuse come from the ruse of Satan, are temporary and can't resist the proof of the 30 years time: however, it could be enough to mislead/confuse many ).
THE WILL OF GOD WAS EXPRESSED THROUGH THE WAY OF LIFE OF THOSE HOLY PERSONS OF THE PAST, whose CORPSES ARE PERMANENTLY INCORRUPTIBLE, THROUGH A MIRACULOUS WAY AND FOR MORE THAN 30 YEARS. In all miraculous corpses of the holy persons of the past, we have:
DOCTRINE: OLD CATHOLIC (anti-moderniste)

RELIGIOUS AUTHORITY: THE LEGITIMATE ONE* of the time (thus, the popes/Vatican, up to the present day.)
* - Watch out: the Vatican and the popes are under attack, since the years 60/70, and the legitimate authority may thus change in the future. Extra discernment is required, and it may appear even traps and confusing situations / schisms. The best criteria of Discernment concerning legitimacy of religious authority I found, is Jesus, in the Book of Truth.
I can give you an idea, but this subject can be quite confusing and subtil. This is not yet the case in the present day, but watch out traps! In such cases, we must ask help to God for extra discernment, because, to become schismatics, like the Orthodox, is not a good thing, neither the Will of God.
It is also a subtle subject to speak with our Clergy, which shall submit to the legitimate authority also, like us. We better pray for our Clergy, under attack, for the unity of the Catholic Church, because the Fall of the Vatican as legitimate authority is also a synonym of Apocalypse... further details of the attacks against the Vatican, since the years 60 to find at related links from Directives From Heaven...
How to recognize the chism of the Fall of Vatican (3rd Secret of Fatima)?
It seems that at the moment of the schisma of the fall of the Vatican to the hands of the evil forces, the Catholic Church Clergy splits in ~2 halfs (style 49% against 51%). Even if I'm wrong in such percentages, it seems to occur a great division, thus, surely not a splitting of the style 99% 1%... A False religion of the Style New Age, very "Brilliant" would then Triumph in the Vatican, with the Support of a Powerful "Holy" Style Person (seeming "good", presuming to be the Messiah) .

The remaining Church, legitimate, would keep the true faith of the past, and would be persecuted and pushed to clandestinity (persecutions of the End times). The best prepared are protected, but others may be vulnerable and susceptible to become saints through martyrdom...

Note: some references are interesting to reinforce this idea (e. g. 3rd secret of Fatima prophecies from www.tldm.org) ...

In principle, this kind of criteria should be enough to avoid traps like the Lefebre schism. Indeed, Jesus confirms:

"It will be bishop against bishop and cardinal against cardinal. " - Jesus, June 1, 1978

From the TLDM web site, Directives From Heaven Fatima: the 3rd Secret, we can have this idea; unfortunately, it's not enough as reference for the idea of the Split of the Church in two halves, style ~49% ~51%. But normally shall occur a great division in the Catholic Church at that moment...

Some Other Criteria for Discernment of the Legitimate Authority (only in case of future Schisma)

(source: Jesus in the Book of Truth.)
IF THE HOLY COMMUNION IS PROFANED/SUPPRESSED, THE RELIGIOUS LEGITIMACY OF THE VATICAN FALLS
IF CONFESSION IS SUPPRESSED, THE RELIGIOUS LEGITIMACY OF THE VATICAN FALLS
IF A SAME SEX MARRIAGE IS PERFORMED AS A SACRAMENT BY THE CATHOLIC CHURCH, it looses its religious legitimacy: the Vatican falls
IF THE DIVINITY OF JESUS IS REMOVED, (thus, changes in the Holy Trinity concept), then the religious legitimacy of the true religious leader since then, falls also
Please refer to the sources, because I'm not infallible in this subtle subject of discernment criteria of legitimate religious authority.
Examples of Possible Traps (11/9/2023)
As you can see, the ruse and intelligence of Satan, can be enormous, and doesn't even stop with difficult subjects like discernment criteria for legitimate Authority. Other examples of traps/scenarios which may confuse many:
Our Lady in La Salette advises us of the possibility that, the corpses of celebrities, under satanic influence, may return to life, to say "non sense" things (e. g., to confuse).

This fact, takes a greater importance now, as the miraculous corpses of the Holy are an important argument to unmask false/confusing present-day doctrines. Since the Catholic Church is under attack, the forces of evil can take control of one or several of such holy corpses, and through simulations and supernatural intervention, try to confuse and try to contradict the already established facts. The danger is real and not advised people gets easily confused with eventual declarations of a possible corpse of Padre Pio saying things like "before I was anti-modernist, but now modernism is OK", or (after the fall of the legitimate authority of the Vatican as the true church), "I was and I remain loyal to the Vatican"... the schism of Lefebre was already confusing and a trap... further details relate to Pope Paul VI, related links from Directives From Heaven. We can unmask this eventual trap: all supernatural interventions must resist the proof of time, if possible 30 years time and give good fruits. Each new supernatural manifestation must be tested again, resist the test of time and give good fruits. Also, words and texts are not valid (alone) as proofs/facts.
According to the messages of Heaven,

we may expect an Antichrist, which looks holy, with Stigmata, which performs (temporary) "miraculous healings", which is "champion of peace and solidarity" and knows good the Bible

. Thus: Satan may use several "good" facts, "holy features" and "good fruits"!!!

This sort of "appearances of holiness" can be unmasked through the test of time (30 years), because the reign of the Antichrist shall be short, according to the scriptures

. Other ways to unmask it (although not evident):

use of microchip in the body (mark of the Antichrist)
He does not comes in the clouds, in the glory, when he appears in public to begin his world-wide reign.

But it is not evident...
other possible traps:
Rev 13:13

"It performed great signs, even making fire come down from heaven to earth in the sight of everyone."
Just to give an idea how this can be confusing/misleading, compare it, for instance, with:
I Kings 18:38

"The LORD'S fire came down and consumed the holocaust, wood, stones, and dust, and it lapped up the water in the trench."
The Forces of Evil can thus simulate many things of God, and not attentive people can fall in such traps. For discernment of the legitimate authority after a future schism, I'm even not able to recognize the "good side", in very confusing tricky situations. The help of God is required in such cases.
The following tables may summarize some of the traps to take into account:
Traps for discernment of type I : Fiction mixed with lot of truth + logical and credible doctrine/theory
| Trap | Cause/ Detection | Good Example |
| --- | --- | --- |
| Modern way of Life | Bad fruits since 1960 | Old Catholicism + legitimate authority. Other ideas/details in related links from this web site. |
| Modernism: Modern woman | Bad fruits since 1960: e.g., traditional couples destroyed. Further details in related links from this web site. | Old Catholicism + legitimate authority |
| Modernism: Divorces | Bad fruits since 1960: e.g., traditional couples destroyed, men die earlier, bad for children in adult lifetime | Old Catholicism + legitimate authority |
| Modernism: Behavior LGBT | Bad fruits since 1960: persons with such behavior die ~30 years before time. Transgenders die ~6 years after operation. | Old Catholicism + legitimate authority |
| Modernism: Communism of genders | Bad fruits since 1960: women may be equal, but not superior to men (of course, it is implicit). In practice, it doesn't happen and traditional couples are destroyed. | Old Catholicism + legitimate authority |
| Modernism: Abortion | Bad fruits since 1960: ~50.000.000 murders through abortion every year, ~1.5 billion murders since 1980, an Holocaust. Murder is not a good fruit. We don't eat burgers of fetuses. Why? | Old Catholicism + legitimate authority |
| Other (modern) murders: Euthanasia, executions, etc. | Bad fruits since 1960: Murder is not a good fruit. Difficult to proof that murders and victims of euthanasia risk Hell. | Old Catholicism + legitimate authority |
| Islam | Facts/ Permanent Wonders contradict Islam (e.g., Holy Blood of Jesus, Corpses of Catholic Saints) | Old Catholicism + legitimate authority |
| Modernism: Darwinism, Big Dates, Big Bang | Facts + logic contradictions: Genetics x fossils (dates). Hybridization x fictif Evolution. Historic of Maps and of World population since 2200 BC. ). Big Bang Harder to Unmask. | Genesis, literally (hard to believe). |
| Protestantismes | Incorruptible Corpses of Saints. Conclusions over those corpses resisted time and don't change seriously anymore. For each (small) change (La Salette): it must resist test of 40 years | Old Catholicism + legitimate authority |
| Russia Converted? | War with West possible, despite the fall of communism ("confusing partial" consecration) | Portugal or Poland: no Tensions with West (but with the tradit. faith!) |
| Modernism: all religions are "good" -> New Age "religions" | Corpses of Saints of the Past resisted proof of Time and conclusions don't change anymore (True Religion). | Vatican until today, but with faith of Padre Pio in 1967. |
| Modernism: Modern Bibles (not) changed | compare with a version before 1965 or with the sources, if you can. | Old Catholicism with Legitimate authority: Vatican until today, but under attack since 1970/1960. |
| Shroud of Turin is not authentic | Difficult to proof that a middle ages copy was used during dating and that the H. shroud is indeed authentic. | Not enough proofs, and the "cat/ mouse confusion game" may be again repeated. Jesus testifies authenticity in the old web site "apparitions mariales .org" |
| after a massive Vaccination against disease, the "microbe" became resistant to vaccine and kills many. | wait and see what happens when somebody gets vaccinated. The microbe became resistant and person gets disease? Maybe vaccine causes disease. | Be prudent over vaccinations against epidemics. Use immortality suggestion if required: to pray God for the conversion and salvation of the hardest ones to save (by God). |
| A microchip in body is required | Mark of the beast 666. Despite their "fantastic" possibilities, victims looses soul control. Freedom is a good fruit. Such control is not a good fruit. | Refuse it at any cost, even risking Martyrdom. Martyrs go Immediately to the Paradise, after the Death. Alternatively, you become a Good Catholic, asap. More Details over this Subject, in the Section 'Protections Against Evil' from this Web Site. |
| result of referendum/ elections "always" valid | No way to control it, behalf for a minority under control of the leaders. | Not to be ingenuous. It may also be true. |
| official media, Science, etc. are "completely free" and "independent" in the West | E.g., try to publish a comment saying LGBT live less ~30 years and see if it is censured. | Not to be ingenuous. It is however better than in China and Muslim lands. |
| Earthquakes, Hurricanes, Epidemics etc. are "always" natural catastrophes | No way to proof, sorry. Heaven +-serious in Amsterdam and to J leary speak about such modern weapons. | Not to be ingenuous. Modern weapons and synthetic/ changed microbes can have such power. It may however be true. A part of Apocalyptic "natural" catastrophes may be "artificial" with no way to detect it. Protections against Evil. |
| We're not in the times of the Apocalypse | Everything seems "normal", but sin, knowledge and confusion increases a lot. 1500 years old laws change "suddenly" (check Daniel). Technology for mark of the beast (microchip in body) is a reality and most of Western leaders are under powerful but discrete blackmail of the evil forces. | Not to be ingenuous. Become a good Christian under legitimate authority and faith of Padre Pio in 1967 to avoid "bad surprises". We don't know when the Vatican falls... |
| The Vatican is "not" under attack, since the years 60/70 | Compare pictures of young and old pope Paul VI. One of the three impostors/ doubles had a round nose (the real pope, no). The presumed murder of st John Paul II did that under orders of the nr2 of the Vatican of the time, confirming what is stated in the apparitions of NY (www.tldm.org). | Not to be ingenuous. Become a good Catholic with the faith of Padre Pio in 1967 to avoid "bad surprises". The best is to pray for our Clergy, and not separate from the Vatican until the schism of the fall, and, if required, eventually, submit to superiors in Vatican while it remains legitimate, even if some points are less "Catholic"... confusing, because there are limits to changes also! |
| Globalization is a "good thing" | Difficult to proof, because there are economic advantages. A central financial world institution makes easier the payment system with microchip in body, the mark 666. Generally bad for West (except for exporters, e. g., Germany). Trade of Babylon, the great, mentioned in Apocalypse. Favors (communist) China, which normally plays a role in the fall of the West. | Not to be ingenuous. Protectionist block in the West/ Christian world, eventually with some other selected nations, e. g. South Korea, Philippines, but not with great potential non christian lands, e. g., China/India. However, prices increase. |
| Separation Church / State is a "good thing" | Faith and society are interconnected, impossible to really "split" it and to be "neutral" in a serious way. "Neutrality" sets truths and lies, good fruits and bad fruits at the same level. Can be used to attack the Legitimate Church and the True Faith (e. g., faith of Padre Pio in 1967) | Official Church of a land is Catholic Church with Faith of Padre Pio of 1967 (until the fall of Vatican). Freedom of religion (we can not force people conversion to true faith). Financial support and promotion only for Catholic Church, eventually for Judaism. |
| God prefers always Rome and Israel, but not Greece | Byzantium of Justinian seemed a good example. God is the α/Α and the ω/Ω, not the 'A' and 'Z'. However, religious authority was given to Rome and the popes, not to the Orthodox patriarchs of Istanbul (ex-Constantinople). Is Greek the Universal language of the future??? | Greek Catholics (Ukraine). |
| A "Popular and Good Messiah (new Incarnated Buddha?)" is here on Earth to begin His New Age Reign of Peace & Prosperity | The True Jesus comes to reign in Glory in the Clouds ONLY after the Reign of the Antichrist. | True Faith is NOT modernist, in the Style of the Sect New Age: it's the Catholic Conservative Faith. |
| communism / Marxism is a "good thing" | bad fruits: general poverty, pollution, millions of deaths, persecutions (e.g., under Lenin / Stalin ), dictatorship, anti-christian ideologies, etc. | christian democracy, but, if possible, with official religion Catholicism and faith of Padre Pio in 1967. |
| All Religions are Good (Equal) to worship the True God with a good Heart | Incorruptible Corpses of Catholic Saints of the Past (Bernadette of Lourdes). It gave good fruits, resist time miraculously, it does NOT change (seriously) anymore and shows the Will of God for doctrine + legit. authority until the Apoc. | Watch out "New Age" traps! God loves everybody (from all religions) and there's good things in all religions / idolatries / sects / separatism. But True Faith is the Faith of Padre Pio under legitimate Autority of the time(Pope until today). Jews also accepted by God! |


Further explanations in related topics from Christian Ideas and also from Directives From Heaven.

Traps for discernment of type II : Supernatural, Facts and "Temporary Good Fruits"; Legitimate Religious Authority, future Schisms

The Antichrist is a personage which may use such simulation techniques (stigmata, "miraculous" healings, etc.)
| Simulation/ Trap | Cause/ Detection | Good Example |
| --- | --- | --- |
| Antichrist: "Miraculous" Healings | "good fruits" must resist more than 30 years (e. g., because the reign of Antichrist is short.) | Lourdes: resisted more than 100 years. Conclusions don't change anymore. |
| Antichrist: Stigmata | must resist more than 30 years | Padre Pio: resisted time |
| Antichrist: Champion Peace | must resist more than 30 years | true Jesus |
| Antichrist: Champion Solidarity | must resist more than 30 years | Solidarity Institutions |
| Antichrist: knows Bible | must resist more than 30 years | Saints from past |
| Fire comes from Sky | Rev 13:14; "good fruits" must resist more than 30 years | Elijah, 1 Kings 18:38 |
| Corpse of Celebrity "speaks" | Our Lady in La Salette warns of these simulations. Test it again and wait again 30 years. | Corpses of Saints resisted time and conclusion don't change anymore. No update (contradiction) required. |
| Orthodoxy/ Lefebvrists and other traps / schisms | Illegitimate Authority. St. John Paul II, Padre Pio remained Catholic, after that schism. Incorruptible Corpses (Padre Pio) testify True Faith + Will of God. | Vatican still valid, because Padre Pio remained Catholic. By the schism of the Fall of the Vatican (Apocalypse), the Cat. Church shall suffer great division (~2 halves?); a false new Age style shining faith in Rome. We could then avoid Lefebvre style traps, if there's no GREAT division in the Cat. Church... |
| Schism/ Fall of Vatican's legitimate Authority | Changes in Sacraments/ Doctrine: Traps!!! but, Doctrine must be compatible with Faith of Padre Pio, in 1967. Please refer also to Lefebvre trap (schism) | Vatican until today. |
| Antichrist | Only True Jesus comes in the glory, in the clouds, from Heaven to Earth, in Public to begin world reign. Microchip in body. | Jesus |
| Judaism: "Jews need to be converted" | Judaism is Incomplete: misses Jesus recognition. Israel still waits, since 3000 years ago, to become the world superpower. | Vatican's autority (up to today); with faith of Padre Pio. Watch out: Judaism still accepted by God!!! Conversion well come, but NOT by Force: voluntary. Traps: inquisition, Hitler... |
| split Israel in two States, Israel and Palestine | Read Old Testament (Joel?). God is against. Note that the texts of the Bible are confirmed through the faith of the Saints of the past, with incorruptible corpses, which resisted time. These conclusions don't change anymore. | Israel Shall Not Be Divided in 2 States. |
| A person doesn't merit to be with God, because that person is "evil like a monster" | Person recognizes that he /she did a lot of evil, but then falls in pessimism: e. g. Judas... | Repent and keep always hope. Everybody is a sinner. Recommended: confession of sins, conversion to true faith. E.g.: St Paul, St Ciprian etc. |
| "True Apparition" of Holy Ghost, Mary, Jesus, Archangel etc. | Ask the Person of the "Apparition" to make the sign of the Cross and to worship a(nother) Person of the Holy Trinity. Only a Person from Paradise accepts that. Doctrinal contradictions with Faith of Padre Pio in 1967 are suspect. Must resist 30 years with good fruits. | Apparitions of Lourdes. Good fruits, corpse of St. Bernadette and miracles remained after 100 years. Conclusions don't change anymore. |
| Women Priests trigger the Fall of Vatican Legitimacy | It is not the Will of God, but to Keep His Church United, it seems this kind of error doesn't trigger the Fall of Vatican's Legitimacy. In case of doubtful Doctrine changes, ask help to God self. Risk of traps!!! | Women, please let the Clergy be Men. Holy Superior Women, like Virgin Mary, Queen and Empress, doesn't need those rivalries with men. But maybe Priesthood opens doors to Women (against the Will of God). |
| Death Penalty/ To Kill Others in War | It is not the Will of God to kill people, thus, Death Penalty and To Kill Others at War, Neither. Exception: in case of Legitimate Defense or If God asks that, e.g. David x Goliah. Risk of Traps, even if it Gives "some Good" Results !!! | True Faith / Will of God should be Promoted. Ideia: To Pray Rosaries Non Stop, while the Risk of War / Death Penalty Remains. To Create Adequated Legislation Pro God. Other Ideias at Concerned Chapters of this Web Site. |
| Reincarnation phenomena, e. g., a person (child) remembers good from previous life | Such Phenomena may exist, because of Supernatural Phenomena linked to East Asiatic Religions. Permanent Holy Human Relics show the will of God and Contradict This Phenomena as Coming from God. | Stable Catholic Miraculous Relics are Correlated with the True Faith / Will of God. The True Faith is, thus, Catholic Conservative and Not Buddhism (or Similar). |
| Extra-terrestrials & UFO's | Such phenomena does exist: It's supernatural satanic activity to confuse. source: Messages from heaven www.tldm.org | You may find more Information about this Subject, by Reading, for example, the Section 'Theory over Atlantis and Extraterrestrials' from the Chapter the 'Bible and Science' of this Web Site, plus the Related Topics of www.tldm.org. This Subject is Difficult to Proof. |
| Astrology, Nostradamus etc is a Good Thing | Miraculous Corpses + Blood of Holy show the Will of God: Cath Conservative Doctrine + legitimate authority until Apocalypse. Astrology does NOT come from God, even if there may exist some truths mixed inside. | Please reject it as toxic. |
| Prophecies + Science before time, but against True Faith | Possible: Supernatural Knowledge + Knowledge of Legitimate Existing Prophecies (Bible Studies + Previous Legitimate Apparitions etc). Proofs of Good Fruits (e.g. Corpses of the Holy) + Proof of Time unmask Such Claims of 100% Divine Origin. | Prophecy Analysis / Share may be Interesting, but Watch out False Doctrine (or Autority) Contamination. |
| Saints of the Islam | Rival with Catholic / Jewish Saints and Confuse. The First Saints of Islam should have been Christians disguised as Muslims like Muhammad, who played a double game and even went to Confession from time to time. The Most Recent Saints of the Islam Serve instead to Confuse... Some of these Saints Achieved to Go to Paradise, but without Miraculous Incorruptible Corpses: That's the Price to Pay for the Double Game... | Convert to the true Faith, Conservative Roman Catholic and become a Catholic Saint. |
| Buddhist Mummies | These Mummies Result from Embalming Techniques like the Mummies of Ancient Egypt, after the Suicide of the Concerned due to a Voluntary Hunger Strike. One can notice the Signs of Corruption / Sin of the Concerned Mummies. Therefore, these are not Miraculous Permanently Incorruptible Corpses of Saints of the True Faith. | Convert to the True Faith, Conservative Roman Catholic and become a Catholic Saint, without going in Tales of Suicide due to Hunger Strike, nor Buddhism neither. |


We have still cases of terror against the true faith: the Christians are, of course, among the preferred targets, specially in Africa and Asia; other communities are also intimidated. In such case, the best is to take Divine Protections Against Evil. The true believers have nothing to fear, with a good behavior, but discernment is required also, and that, it is not so evident, as you could see above.

In the worse cases, e. g., during the Apocalyptic tribulation and even in some lands presently, the true believer risk even martyrdom, as John the Baptist. In such cases, the doors of paradise are open (automatic access to paradise), but Jesus now comforts us even with Immortality Protections. Thus, courage!



Please Test Everything You can But don't Exaggerate
A good criteria for discernment is try to test everything, to see if it matches reality. But don't exaggerate in your tests.
Specially the "toxic tests" are to be avoided: e. g., to test "if an overdose heroin indeed causes death", or to test the immortality suggestion, springing from the 10th floor to the ground, to see if "it works good"... because the immortality formula saves us from death, but it doesn't give good health... such toxic tests may set the concerned person in coma... for a long period... better not to do such tests, right?
Please note that the immortality formula is legitimate in case of self defense against an attack from the evil forces or in case of a health crisis... and it can always be used...
The other tests should be welcome... if you can check everything by yourself, it is always better... it is not always possible... and even if I try to do my best in order to set here the truth, I'm not unfaillible neither; when you can, please test it, (behalf the toxic tests, of course, which can cause damages to the person who performs such tests...).
---




Jesus of the Divine Mercy: Those who Honor Jesus, with full trust, through this Picture (above), shall be Saved* from Hell.


* - Please refer to home page from www.christianideas.eu for further Details...



Please Scroll further Down to Fully See the Summary...





I try to pray for protection to all pro God of planet until 00:00h, to try to disinfest, but it's better to complement it with 24h protective prayer, e.g. attentive Rosary or (easier/shorter) 7 sorrows (here further below).



Summary over the Web Site
Catholic Russia Converted Ideas...
Made in Belgium, E.U.
www.christianideas.eu:
DISCERNMENT Criteria, e.g.

True Faith catho conservative non naive

:

risk of Sect New Age in Rome=> the Apocalypse...

=>

better to be in state of grace go to confession to catholic priest asap, after Benedict XVI

Risk of Great Famine

=> news from heaven +- serious to e.g. G Lomax, L de Maria, J Leary...



Ideas (pro God) to (try) to resist Great Famine

:
- St Onofre with a Crumb of Bread,
- Blessed grapes L Maria + S Damiano...

MODERN LIES unmasked
(Lies of Darwinism, Fake Dates...)



History + demographics since 2000BC unmask fake dates. Hominids were hybrids which existed before great Flood

, confirms Jesus at from old web site from V De Tarlé apparitionsmariales.org …



Proactive Darwinism: ~mouse evolves=> bat => vampire, thus ancestor man/whale etc goes to=> Batman => Dracula...

within same ~million years…



Y haplogroups DNA migrations tend to proof Atlantis sank => Ice ages before Moses crossed the Red Sea? Science & Bible theory



DANGER OF APOC after Benedict XVI => St Malachy prophecy:





CHIP 666 IN BODY, WW3, risk vaccines Pest Grippe with 666 smart particles /changing DNA RNA , throw virus (by plane) to kill vaccinated, "good" apocalyptic new age sect, THE GLOBAL EMPIRE SOCIALIST COMMUNIST OF ANTICHRIST... => lots of apocalyptic prophecy at www.tldm.org (for scenario Russia not converted)




ICON OF AUTOMATIC Eternal SALVATION
(also here above)
PROTECTIONS against EVIL, but some suffering needed, sorry! (a summary a bit further below)

IMMORTALITY SUGGESTION:


TO PRAY GOD for ETERNAL SALVATION for THOSE WHO NEEED IT MOST, CALMS 'only' DANGERS for LIFE.
(you have nothing to loose, if you feel dying, even if formula is limited …


after: begin discreet fast + daily prayer (as attentive rosary or 2 daily rosaries) until it calms/improves

=> ~30 days for diabetes,


ok not so easy, but it's better than cancer operations

,

(1-3 days should calm grippe…)

)


GLBT + Modern Sex BEHAVIOURS: Unhealthy, even KILL...


It attracts pests…
it's possible to attack underconscious, e.g., via discrete sorcery… => Nero case study...


IDEAS AGAINST AGING & GRIPPE/PEST /Evil

Dangers of Vaccins: e.g. 666 etc.
BETTER ALTERNATIVES + Pro God:

Fast & prayer (good against evil => Medjugorje) until it calms... (discreet fast & prayer or in solidarity group, prayer style (attentive daily) rosary, or daily rosary 2x, or 7 sorrows...

some food may help: avoid white sugars (fruits honey better if sweet food needed), but 1/8 glass whiskey or vodka (=> let it disinfect (few minutes) at the throat…), 1/6 glass vinegar, 2 cloves raw good garlic mixed e.g. in salad to help counter pest... + immortality suggestion in dramatic cases to calm a bit and in place of dying win forces to pray an attentive rosary /7sorrows... + details links above below



VACCINATED RISK TO DIE before time WITHOUT FORMULAS PRO GOD

(see above; formulas from news from heaven maybe work against vaccines… Exorcism water? miraculous medal, faithful see light cross in sky after great warning, Oils?... ?? )



IDEAS FOR A BETTER LOOK (Ladies & Veil)

How FAKE PUBS BRUNETTE & Erotica ARE KILLING CATHOLIC MARRIAGE FOR LIFE: Sarah x Agar…

(because of unhappy husband: too few beautiful ladies to choose… SOS Aesthetics...

correlations 30 years to detect trends:

... lady educating children in micro appart feels so happy as Husband with lady with not cared aesthetics... eats white sugared stuff=> brunette Scheherazade look puts husbands away...)

Aesthethic care is to have heart for husband

. Comparative Tables at section 'Our Lady of Fatima deserves better look'



MODERN WOMAN IDEOLOGY UNMASKED:
Demographic fall in West (+ Russia)…
stats (1950 or) 1970-2019: Germany x India…


Censured on

Twitter: @_ChristianIdeas

Possible:
T shirts Posters "Songs" Christian Ideas and/or Russia Converted Catholic ('made in Belgium')...

School
(e.g. Maths, Computer Science: exercises, complements to Wikipedia…)

Christian Ideas at Linkedin
(https://be.linkedin.com/in/christian-ideas-104ba893)

If You Want to Defend Good,

PROTECTIONS against EVIL + Take Cross Recommended

(IMMORTALITY SUGGESTION at 1st Sign of Danger,

CONTRACT WITH GOD (ICON AUTOMATIC SALVATION THROUGH DIVINE MERCY), (home page or below), + Daily (better, Attentive):

daily Rosary 2x, and / or

7 Sorrows, and / or

Crusade Prayer 33,

Crusade Prayer 140 (to speak without fears),

to be in state or go to confession catholic priest asap ...

+ details at christianideas.eu
I try to pray for protection all pro God of planet until 00:00h, to try to disinfest, but it's better to complement it, with 24h protective prayer, e.g., attentive rosary or daily rosary 2x or (easier/shorter) 7 Sorrows prayer.
Satan demanded to God 75-100 years to destroy Vatican + money + power => www.tldm.org. Satan had that time, that money, that power. 150 years later, despite dangers + evil, Vatican still resists. Let us see evolution... ??? apocalyptic? reversal pro God (again)???
Note: www.christianideas.eu began in ~2009 and keeps improving. IT REMAINS INCOMPLETE + NOT PERFECT.
Because IT IS NOT FINISHED, NO FINAL VERSION (.pdf) EXISTS. IT KEEPS IMPROVING and there's still many changes to do (and few time, resources...). A complete review of the web site should be done, but it's already better than nothing...
If God helps, I'll try to improve and/or correct eventual detected errors, contents + design, little by little. A backup .zip exists (link colomn above). It contains the most important part of this web site.
Please feel free to print it, copy it, behalf, eventually, songs ... (content's license, above left, with some extra explanations, but the general goal is to give some freedom, for the use of the texts + images, in a good intentioned True Faith pro God use...)
Good intentioned Pub pro God True Faith welcome!!!
(protections from God recommended then! Evil doesn't like it...)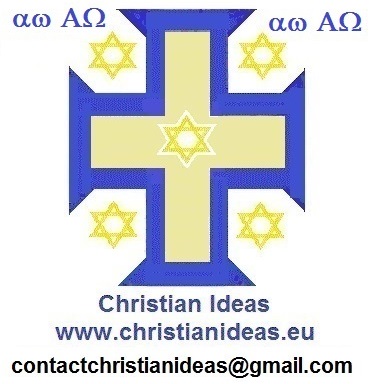 Below: Our Lady of the Roses Honored Exposed and Death doesn't Enter inside.
(source: Jesus at old web site apparitionsmariales )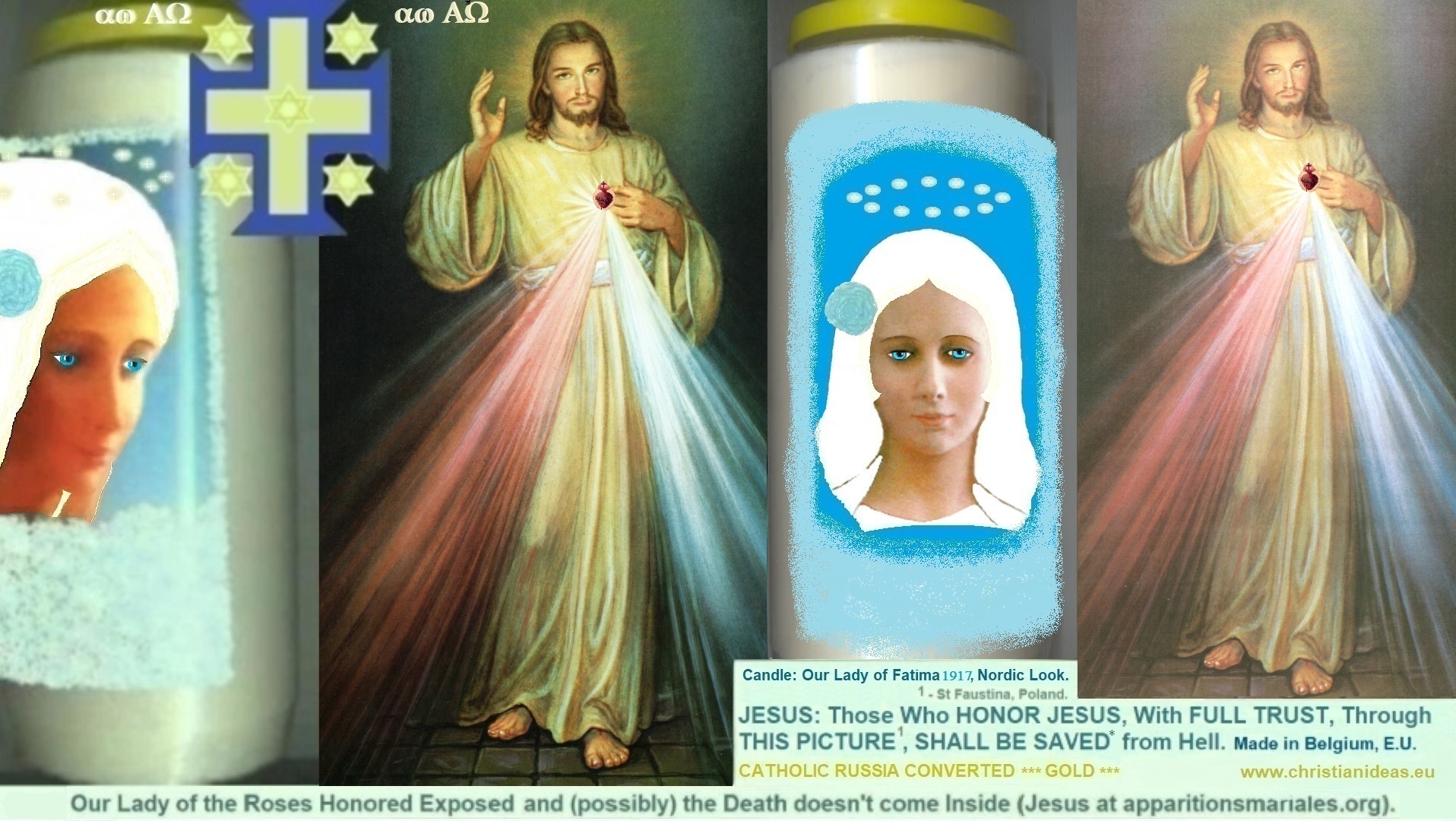 Right Click + save as to download images...