PS: I HAVE IT HARD TO SHOW A VERY BEAUTIFUL OUR LADY as in Fatima 1917. Satan targets happy catho marriages for life, but at least, we can already have an idea... (protections against evil + take cross maybe good idea).
Women, Dangers, Beauty, Superiority, Holiness & Veils (+ Men): Summary
LADIES & VEIL : Introduction
If you think this section wants to promote Veiled Women Poor Examples, you're Completely wrong...




Evil Forces try to set everything up side down and promote at all costs the deceptive "Fake Modern Women Ideology".

We want thus to restore the holy order, thus, comparing "the Fake Modern Women Ideology" with the Will of God for Women, to show the Real Superior Women, e.g:

Of course, each one is free and may have a different opinion...

Note: God loves all His children (of all beliefs), although the religion who has given the proofs of authenticity and legitimacy is the Traditional Roman Catholicism until the fall of the Vatican as the true church. It has not yet happened, but may well happen in an undetermined future.

Modern woman is a complex subject, it doesn't give good fruits, but we shall also not judge people, women in this case, individually. There are traps.

Some equalities are legitimate, others are not the will of God, although couples are free to follow it or not. The publicities over the subject should change radically, while people should remain free. Some laws should be adapted to promote the will of God (compensating measures should be considered in complex subjects like this).

Indeed, man and women should have different complementary roles, specially if they're in couple or in the Church, according to the will of God. For further details, prefer refer to sections below.



Communism of Genders doesn't give Good Fruits!!!
After 50 years testing this Model of Communism of Genders, at least in the most developed countries, we have already statistics showing that this model doesn't give good fruits, although it may seem differently:
Catholic Marriages for life are disappearing.
Traditional Families are disappearing and Sin Increasing accordingly
1.5 billion murders (through abortion) since ~1978, although it seems differently
holebitrans tendencies, divorces etc. increase and have as consequence precoce deaths. Genders rivalry can trigger holebitrans tendencies in family members concerned (please refer to links below from related 'Directives from Heaven')
children from not traditional couples have more troubles and less chances of success during their lives
...
Please refer to other related sections from this web site for further details, namely the (not yet updated) doc over prophecies, in the section Apocalypse...
Modern Woman as cause of Decadence of the West and Apocalypse!!!
Statistics show that this model of Modern Woman are catastrophic for the West, triggering decadence moral, economic and demographic, while giving illusion everything it is OK.
Statistics don't lie, since 1960, when this model was set in practice in the developed countries, the % of Catholics marriages for life, diminished radically.
The demographic weight of the West/Christian World diminishes dramatically, and the economic weight also, although the West remains "rich" (illusion to confuse and to mask global reality)...
Artificial Contraceptives promote Demographic Decadence/Communism of Genders!
Artificial Contraceptives promote Modern Woman Ideology and, thus, Demographic Decadence.
The Will of God, although keeping people's free will, is that husband and spouse play complementary traditional roles.
The first priorities of the Catholic Woman (in couple) should be to be a good spouse, submitted to her husband, (according to the Will of God (Col 3:18, Eph 5:21-33)) and good mother first, inside a Catholic Marriage for life (thus, ideally, she should never divorce!).
The use of artificial contraceptives is sin, although less dramatic than abortion. Evil fruits of Contraceptives:
It "frees" woman from her first priorities according to the will of God (to be good mother/spouse), thus, opening place to rivalry in work market. Good jobs and salaries are power which she may use to impose "order" inside couples. Because women are as intelligent as men, but roles should be different, according to the will of God... the problem: modern woman doesn't give stability in the couples and traditional roles shouldn't be inverted... in practice, statistics show it: traditional catholic marriages for life are disappearing with this model... fruits are purrished, even if the problem is complex and often with traps...
Demographic decadence (of the West/Christian World)
India is becoming Stronger than Germany! and Others Follow...

It started with non christian Japan, Taiwan, Hong Kong... it was not really a problem, but... Giant Communist China followed... China is becoming the first World Economy, and India is rising quickly in the top 10 of the biggest economies of the World... Other Non Christian Nations follow...

Communist China/Red Dragon is an Important Apocalyptic Actor!!! Please refer to 'Directives from Heaven' from www.tldm.org, related sections... Sin is increasing, couples being destroyed, demography weight diminishing, and thus, Western economies can not resist eternally the demographic pressure...

It's time to react! Because the Balance now is in equilibrium... The West/Christian World (exception: not converted Russia!) is loosing quickly it's economic, military and demographic leadership... the salaries of modern intelligent graduated ladies are not enough to compensate this decadency!!! People are free but publicities are completely Wrong!!! Even laws should be rechristianized... a kind of crusade (against evil, not people!) should be necessary...

During centuries and centuries and centuries... since the times of the end of the Western Roman Empire up to ~1950, the laws remained stable/traditional in the Christian World, the West + Russia became even enormously strong around 1900 with this model...

... but Satan protested towards God at the time, it seems , and, thus, everything should change since then... to prepare "discretely" the Apocalypse...

...in the last 50 years, in the Christian World, many laws/ideology are becoming "upside down", and it's not so spontaneously, because evil forces are getting much power in a discrete way, they intimidate, and a lot, but in a "professional way"... protections against evil, thus, recommended, even to communicate!!!

Please give a look at some statistics/links to have a better idea:



Although nominally, India is still weaker than Germany, military, is much stronger, even a nuclear power(!), and, in Purchasing Power Parity (the correct conversion rate of goods and services), Germany is already crushed by India, thanks to demography... because economies finish to follow demography...

Still some statistics to compare the evolution of the West/Christian World, now in 2017 and some decades ago:

If you check the population evolution in the world ranking... the decline of the West is strong and visible... but since the West remains rich, an illusion feeling remains... only the PPP world ranking 2017 unmasks that...

 



Modern Woman + artificial Contraceptives trigger decadence of the West: Conclusion

thus, without Apocalypse(?), Asia gets stronger by 2030 (forecasts)...India crushes then Germany, even in GDP Nominal statistics (forecasts)... the Balance is changing (!)...

it should be the time to react!!! Demography counts!!! Because, by 1990, India was not even in the top 10... by 1950, the population rate Germany/India was 68/370 ~ 0.18 (about 5 Indians per German) and now is 81/1343= 0.06 (about 20 Indians per German in 70 years time... what a decadence, Germany...).

Economically, nominally, we had 209/62= ~3.37 in 1970, for Germany. This rate increased in the following years (German nominal economy ~5 times greater than that of India), but now the rate is only 3365/2088 = ~1.6. In Purchase Parity Power, India begins to crush Germany... and nominal follows it, but with some delay...



Over Women: What wishes Our Lord and Our Lady
Concerning women, please refer to the Bible, Col 3:18, Eph 5: 21-33, 1 Cor 11 and also to the following links, which express clearly and without ambiguities the wishes of Our Lord and Our Lady:
(11/8/2023) Should Wives Always Submit to Their Husbands?
Col 3:18 and Eph 5:21-33 say that the Woman shall Submit to her Husband, but the husband should love her wife as his own body...
Thus, the wife should submit to her husband, as the true faith Roman Catholic Church Conservative should submit to its Spouse, Jesus Christ...
The relation is not perfect, but the members of the Catholic Church should go to confession to Catholic priest, in case of sin, in order to restore the fidelity...
But in the case of the normal (catholic) marriage, it happens that the husband is less perfect or even a lot less perfect than Jesus Christ...
In situations where the wife, in order to submit to her husband, shall disobey to God, the priority should go to obey to God... e.g., if the husband asks his wife to perform an abortion, or to take anticonceptional pills... in such cases, the wife should refuse, I think...
The husband should also be pro God. If it's not the case, the wife should not divorce, but she should protest, I think...
A problem exists for this strategy: the concerned husband could not accept the insubordinate reaction of his wife, and he could take revenge, even divorce...
'Protections Against Evil' + 'aesthetic lady care' are maybe a good idea...
Because catholic marriage should be for all life...
Other Suggestions for this Complex Problem
I would suggest to rechristianize laws and publicities, showing the will of God and the Real Statistics/Truth, forbidding divorces, at least when there are children and/or Catholic Marriages.
Because there are real complex situations (adultery, alcoholism, physical violence, trap situations etc.), compensatory measures should be considered in order to promote the will of God, e.g., smart solutions using couple's experts, databases/statistic studies, conciliation committees to help, detox clinics, psychological (but conservative catholic!) and eventually financial help etc.
Because there's normally no divorce for life between parents and children: why should it exist between woman and husband??? It's rather a psychological refuse of the other...
Artificial Contraceptives and abortion should also preferably be forbidden, restoring laws and gender separation measures from ~1900. Eventually some smart improvements, but the basis should remain... thus, gender separation conservative catholic schools (to try to prevent children outside marriage or use of artificial contraceptives) etc. This is not exclusif from conservative (even radical) Muslim societies. It existed in the West/Christian World, also at ~1900, when Christian world was incredibly powerful and without present style terrorist attacks...
Inside a couple/family, priority should be given to the interests of the family as a whole and not to the personal freedom of one the (ex-)spouses which wants to destroy the family as a whole, specially in catholic marriages and/or when there's children.
Also (relatively young) women should give priority to their role of good Mothers and Spouses, rather than to Career, according to the Will of God. Please don't forget that child education demands time and attention for children/family, even for Princesses!
Freedom remains, but women are presently misled and choose wrong priorities!!! And their huge salaries doesn't avoid miseries in couples, modernist confusion and decadence of the West...
Over Superior Women: Princesses have Always Existed!!!
As we know, Princesses have always existed. However, some examples are better than others.
The (Spanish) Holy Queen Isabel of Portugal, the Virgin Mary, Saint Faustina of Poland (religious and celibate/chaste Catholic Conservative women are apart cases!) are very interesting cases of Superior Women.
Madam Melanie Trump (if she doesn't divorce) or Madame Clinton (during the affair Lewinsky) may be interesting cases.
Young Leaders of the Left/Communist Political Parties are relatively poor examples/publicities.
Queens of England/British empire could preferably give leadership to, e.g., their husbands, and/or, still better, incorporate the Anglican Apocalyptic Modernist (christian?) sect inside the Conservative branch of the Catholic Church... but as long as freedom of religion remains... please, watch out: ~100 years ago, the British Empire was much more conservative and there was religious freedom with an interesting Catholic Ireland! The examples were not so poor...
Better Catholic Women Leaders than Freemason/Modernist Men!!!
Watch out Traps!!! We're living in a period of moral decadence in the West, and, as we know, men are not better than women. Rules of the game changed, and also male leaders adapted accordingly.
Christian Conservative Women (better: Catholic!) may be better political leaders then modernist men! Currently, Mme Merkel seems to be a good choice presently... Should the Christian Party CDU fall? Please, no!!! CDU could be (much) more Conservative and/or Catholic, but better it's quite difficult... There may be exceptions, thus..., and, by their 50/60 year old, women are relatively more free from their important role in children education (giving the attention children need: babysitters cannot completely replace mothers in this role)...
Virgin Mary plays also now a relatively important role as Queen of Heaven. But, watch out: 2000 years ago, She gave priority to her role of good Mother and good spouse, submitted to her man and modest. She was NOT the Master in the couple/family... She keeps using a (relatively beauty) veil, but She is NOT Muslim... She remains Conservative Catholic...
After the return of Jesus, thus, after the INCREDIBLY DESTRUCTIVE COLLISION WITH THE COMET FINISHING THE CURRENT AGE and the reign of the Antichrist and his followers, it is expected that HOLY/martyr WOMEN (and men, of course) SHALL REIGN IN JERUSALEM as DEPUTIES, WITH JESUS, in a another political system, THEOCRATIC AND NOT DEMOCRATIC, in order to correct the vices of the present models, I think (Apoc 20).
Thus, watch out, TRAPS DO EXIST. Some exceptions also, only the publicity messages over genders/true faith shall be given in a correct way.
Better Look, More Chances! Some Ideas
A good Look, is NOT enough, but HELPS A LOT in a successful marriage, specially for women. Some women have a better look easier than others. Look counts. It's not everything, it's not enough, but it counts. It may even be a decisive factor. Thus, women, please don't let fall aesthetics, specially if you want a stable marriage for life (preferably Catholic conservative marriage for life, of course!)
I've seen cases of young student lady in secondary school which were not that charming, (e.g 16- 17 years old), but some years afterwards, e. g., by 21 year-old, they became somewhat beautiful, with charm! For the same person: it's possible! Of course, some favorable circumstances help also...
Some ideas, which may help to increase success in society + more chances in true love (it's up to you to look in a mirror in a 48 hour test period):
Avoid regular consumption of sweet food/sugars, specially the (industrial) sweets, white sugar based. Some sugars may be necessary: it's better then to choose the natural ones (fruit, honey, 100% juice). If you can, please not too much, neither!
Adapted but regular practice of sports
Healthy food (salads, etc)
Temperance (to avoid most of that delicious tasteful (strong) sugared/sweet/salty (and eventually also some fried) food): THIS MAKES ALSO A LOT OF DIFFERENCE! ONE CAN NOTICE IT...
Anti age Measures (please refer to sections 'Protections Against Evil')
Diet, when possible/necessary
Some aesthetical measures: to color in (platinum) blond (there are already natural colorations for hair), thin eyebrows... etc
trick for thin eyebrows to win time: shave completely the eyebrows + use a pencil to draw artificial thin eyebrows (visible)
still blond hair coloration/aestethics: Because black hair roots return quickly back the less aesthetic "lute effect", a well conceived (not noticeable) platinum blond peruke is better than hair in "lute" (for ladies, I mean)... eventually, a decorative tennis head band or a bandolette or a head cover (beret...) wold suffice to correctly attach a peruke to (ladies) head... and it gives a lot less work than to color regularly black hair roots... speccially for younger ladies it could be an alternative...
changing eye's color to blue may help a lot (in women), but it may trigger health problems also... to be careful here... there are already laser operation's or lenses... it helps a lot aesthetically, but methods/technologies still have to be improved... there are real risks, it seems... the best is to inform yourself good over the (health) risks with eye's professionals before taking such initiative... because of the health risks, to pray daily motivated attentively rosaries to diminish evil could be considered, even in cases of using lenses + to follow advice of specialists/professionals... in order to test sensibility to jealousies + eye's health, you could try secretly (after approval of specialist, I TAKE NO RESPONSIBILITY!), e.g., color lenses, with your own color(e.g., start with brown, in most cases). If the test of technology/lenses succeeds, you could try changing secretly the color to blue, e.g., in wc, 1st in a place nobody knows you (or completely alone), during some days (holidays?) and, afterwards, normally, during a party time etc (for the fun...), if there's NEGATIVE reaction to new color (blue), please watch out jealousies also!!!
Ladies already with glasses/lenses could consider to combine health and aesthetical measures, using corrective lenses colored in blue... after consulting an eye's specialist, of course...
biological roles of men women are different and priorities should also be different. Please don't forget true faith neither. For men, 1st priorities should be rather muscled body (fitness) with adequated food, avoiding white sugared stuff + alcohol, + comfortable finances... Color of eyes + hair + age etc cold play also a role but may be more complex and less important than to ladies...
Those ideas increase the chances...it doesn't mean women/men shall have 100% chances, it means it normally increases chances of free true love...
Ill persons may have troubles to implement some of these measures... but hope shall remain (better: accompained with some God's protections; ask then help to God, in order to be able to avoid to eat regularly bad food etc)...
Appearance is vanity? Ecclesiastes says it...
It's true, but look helps also love... it's up to you to choose the version you want... why?
Because God created men/women free... freedom is vanity... yes, but it may help happiness! You self choose the version you want!
In several cases in the Bible, men were attracted for charming woman look... E.g.
Abraham and Sarah: Sarah was beautiful... From Sarah we have now Israel... From the slave Agar we have now Arabs... I have nothing against those nations! But there are noticeable differences...
Please don't exaggerate neither: please don't destroy catholic marriages etc! David searched to kill Mr Uriah, in order to get his beautiful woman...
Virgin Mary of Medjugorje is beautiful. With Veil and Charming...
The King was attracted by the beauty of his loved one... says the Psalms...
We shall Not forget that God shall be at 1st place... Thus, Money and/or beautiful Women: Not at All costs!
... But to keep Faith and Hope is a virtue also... to try to improve and be patient in order to reach personal goals it's not evil... while keeping God at 1st place, of course!...
...and... there are several cases of rich men and beautiful women in the Bible... and some things may help beauty... it's up to each one to do the mirror 48 hour tests to see if there are changes in the look...
Nice Appearance/Body + some Money are NOT ENOUGH for a everlasting catholic marriage... But it helps! For those who deny it, please check statistics or couples around you... of course, this doesn't match 100%... of course, there's some vanity... but freedom/efforts should be respected and it may help true love, even stability of some marriages...
THERE ARE TWO ALLIANCES.
THE ALLIANCE WITH ABRAHAM AND HER BEAUTIFUL SPOUSE, SARA FOR THE FREE WOMAN (ISRAEL/CHRISTIAN WORLD), THROUGH FREE TRUE LOVE/SPIRIT.
THE ALLIANCE FOR THE SLAVE WOMAN, AGAR AND HER SON, ISMAEL (Islamic sect with a lot of truth mixed/ARABS). THESE MARRIAGES OF REASON ARE LESS FREE...
Please Watch out! There are traps in both alliances! Compare marriages, civilizations, demographics, to have a better idea... FOR PERFECTION, PLEASE LOOK AN IMAGE OF OUR LADY OF MEDJUGORJE... (+ details also in section below...)
A GOOD LOOK IS MAYBE VANITY, BUT IT HELPS... NO BURKA's PLEASE... A CORRECT VEIL IS ENOUGH... GOD MADE PEOPLE FREE, EVEN IF SOME FREEDOM IS VANITY... it may help also perfection...
In USA, it is said:"MEN PREFER BLOND WOMEN"
Is it false? Really? Please stop prejudices such as "dark hair makes serious" or "(platinum) blond women don't think or play prostitutes": statistics show the risks of divorce/broken couple remain with women with dark hair... worse: dark hair generally give less charm to women (dark hair in women is maybe good to increase discretion) and makes more difficult true love... there are of course (many) exceptions! It's not that difficult to color hair in (platinum) blond now (natural coloring is better, of course, but is probably more expensive...)
A few examples where a cared appearance may increase charm (platinum blond hair, care with meals, eye's color...)
Case 1. Hispanic Style Lady with a Platinum Blond cared look:
example 1.1 (origin: Sweden* )

example 1.2, in a day the Lady didn't eat those delicious, but terrible white sugared desserts, coffie, cookies... (origin: Portugal**)
* - lady is now dead => good daily protections against evil + take cross needed, to be able to resist lobbies brunette to frustrate couples/husbands.


** - DISCREET CENSORSHIP POSSIBLE: related LINK MAY DISAPPEAR AGAIN... IT COULD BE A DISCREET PUB CAMPAIGN TO IMPOSE AGAIN THAT TERRIBLE PORTUGUESE MYTH saying that:


"THE TERRIBLE REPULSIVE BLACK/DARK LUTE HAIR OF PORTUGUESE LADIES WITH those TERRIBLE THICK MALE EYEBROWS AND DAILY EATING SWEET WHITE SUGARED STUFF IS A SIGN OF 'WISDOM'"


in order to KEEP SEVERAL/MANY MARRIAGES UNHAPPY... instead, a beauty female look helps spontaneously true love in couples, even if God looks to hearts rather than to external looks... God is God, humans are humans...
Of course, ladies (sometimes everybody) with a typical Mediterranean profile shall watch out more for their look, e.g., for what they eat: daily white sugar based desserts (cakes etc) have normally a negative influence in the look... (each one can do the mirror test to check if I'm right or not...)
Platinum Blond Hair don't make a Woman Prostitute neither Idiot!!! Each person/case is a different one! It has nothing to do with! It seems that Our Lady, Empress Virgin Mary, Mother of God, was Blond... thus, it has nothing to do with... these prejudices over (platinum) Blonde Women should stop...
Case 2. Color of the Eyes may make a Huge difference:
the Empress Mary, here in a Typical Portuguese Lady Look (Our Lady of Fatima)

Empress Mary, Queen of Heaven, here, as Our Lady of Medjugorje of Medjugorje (Bosnia), is not platinum Blond but has already Blue (Diamond) Eyes
I'm not concerned here with the authenticity of the apparitions... but instead over: a cared look increases charm...

Empress Mary, Queen of Heaven, here, With Blond Hair/ blue eyes and Veil (perfection). 2000 years ago, she was a blond lady, but hair was NOT platinum blond (charming blond platinum hair is hard to find in a natural way)...

Please note that Virgin Mary doesn't appear anymore as blond holy Lady... I think we still have to wait the reign of Jesus and the Saints in Jerusalem to see everybody with hair shining like the sun... blond hair and holiness is not yet in mode...
Empress Mary (Our Lady) is Perfect, thus, she takes care of her Look, also... e. g., thin eyebrows, temperance in meals, ... watch out: to change the color of the eye's may cause health problems... even if it increases charm... Please don't forget neither that a cared look is NOT essential for holiness... but it increases chances of success in life (evil forces may use it also...)
Case 3. The Food a Person eat may make a Huge Difference, e. g. Sugared food:
Saint Therese of Lisieux when she eat sweet food or similar... (even fruits, when someone eat too much (healthy) fruits, may experiment such negative effects in look!)

Queen Saint Therese of Lisieux when she eat more healthy food (less sweet food, more temperance). Same person, different looks...
Some ill persons may have more difficulties to avoid sweet food... because sweet food calms nervousness / anxieties... but there's a price to pay... The worse sugar is, naturally, the satanic but cheap white sugar present almost everywhere in bakery and candies industry, e. g. cakes, chocolates, candies etc. But, the other sugars, even (healthy) fruits, when eaten in too much quantity cause also negative effects in look...
In people with Mediterranean profile, this kind of (bad habits, voluntary or not/)effects in look are specially noticeable, but people are not always aware of it...
Germanic Models/Lands perform it better in some points. Ladies have better look there...
Anglo-Saxon cultural machine may, however, promote the "modern woman ideology", triggering tendencies for feminisms... Pop/Rock world is controlled by evil forces (please refer to messages from heaven, www.tldm.org ...)
To correct both problems, alternatives should be considered, and they exist!:
Example 1. Empress, Our Lady of Medjugorje, is, thus, the example for perfection: no risks of promotion of 'Modern Woman Ideology'...

Example 2. Still another example for a (catholic conservative true faith) perfect look, maybe one of the causes of the previous conversion of Russians/Ukranians to Catholicism Conservative, in 988 (maybe with a Viking contribution, at Hagia Sophia)... More details over Russia, which is not Catholic anymore, in related chapter... More details over Veil further below...
To see how look (some money, time, know how helps also, of course) increases chances of success, one could refer to the table below:
THE QUEEN OF FATIMA DESERVES A BETTER LOOK AND A CROWN OF 12 STARS (REV 12)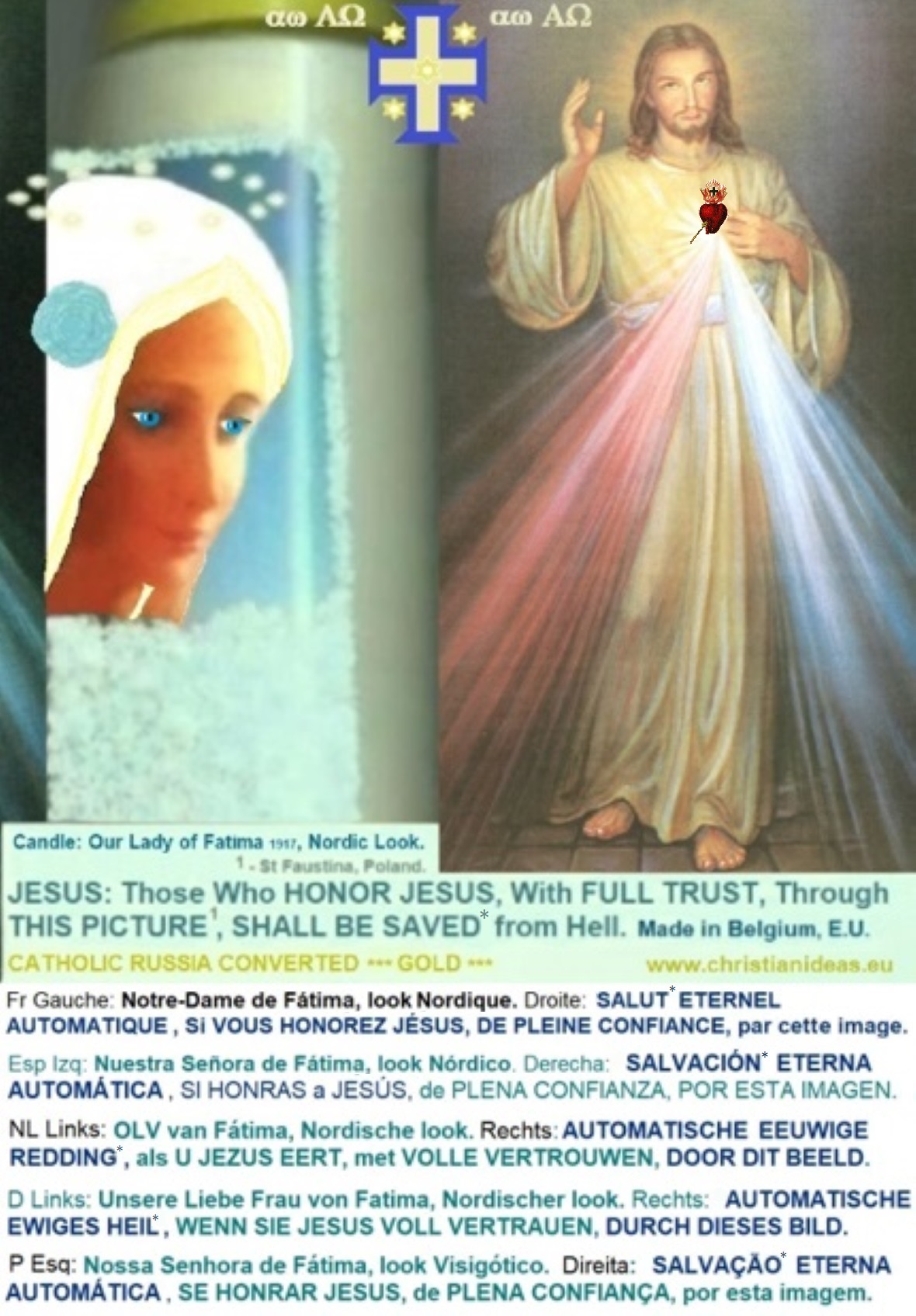 Please check it yourself, specially with less famous women (where pressures from evil forces to make wrong pubs are less important), and take your conclusions... of course, it's better with holiness + weapons from God (daily motivated rosary, correct veil in Cath Church...)
I think, thus, some Scandinavian influence is necessary, But: combined with (true faith) Conservative Catholicism + correct veil in Cath church + modest clothes + protections against evil...
Beauty is not everything, but is a good weapon for women and it may even achieve better results, when combined with holiness, than competing with men... female university studies possible but are not that important for holiness, for a happy marriage...
Only 40% Success in Eye Color Change Operations possibly Because of Lack of Know How...
I read some contradictory information about these Laser Technology: "Only 40% success... Serious Dangers for Health/Eyes" or "With Adequate Technology and Know How High Chances of Success in certain Enterprises"...
... We could compare with similar operations, e.g., normal success rates of 98% success for cataract laser operations... So different Opinions/Rates? And: Some specialists contradict others...
Indeed, the the color of Eyes, blue or (even green) increase charm enormously! Some 45 millions Americans use regularly less risky color lenses, because look it's not everything, but it matters! Specially for Ladies... and it helps to increase chances of success in life, e.g., it contributes to happier couples/marriages, it may help in enterprises/work...
We may expect some companies to perform successfull change eye color cirurgies...
...but other news are really frightening; average success rates seem NOT greater than 40%
News over change Eye Color Cirurgy are thus quite contradictory. A possible cause of health problems with Laser Eye Color Technologyis stated here: it depends on know how and technolofy used... it could be... with poor technology/know how, risks could be a lot greater (?)
I think thus it's possible to change permanently Eye Color successfully into Blue/Green despite risks. I CAN GIVE SOME IDEAS BUT I TAKE NO RESPONSIBILITY. It's at your own risk...
... for (young) men, priority should rather first be muscles, studies/diploma/work, money, God/True Faith, avoid junk (too much (white) sugared) food... only (eventually) after should come color of eyes and/or hair color...
BECAUSE GOD PROMISES TO PROTECT AGAINST EVIL FOR THOSE WHO PRAY DAILY (attentively) THE ROSARY, I WOULD SUGGEST TO PERFORM THE EYE COLOR OPERATION FOR THOSE MOTIVATED AND RELY ON GOD's PROTECTIONS, I MEAN TO PRAY CORRECTLY THE DAILY ROSARY ON THE DAY OF THE OPERATION (before the surgery begins) PLUS THE 5 YEARS WHICH FOLLOW, EVERYDAY (at least): you need beautiful eyes and planet needs good prayers.
RISKS OF COMPLICATIONS WOULD BE SMALLER AND RISK OF BLINDNESS SHOULD BE SMALL IF ROSARY IS PRAYED AS RECOMMENDED, at least during and after(recovery period) the which follows eye color surgery.
RICH AND GENEROUS ARE IN ADVANTAGE, e.g., material Solidarity, to PAY EXPENSIVE IN SHOPS... shops are happy with generous clients. INFORM GOOD ABOUT CLINICS FOR EYE COLOR OPERATION. AN EYE INSURANCE COULD BE CONSIDERED to try to have extra psychological support for success eye color surgery (big companies may help, because of group effect => bigger groups; they want 'easy' money, not eye complications, reimbursements or conflicts).
MEN SHOULD FAVOR 1st masculinity (sports e. g. fitness; eventually beard...) and financial wealth + stability, before thinking in changing eye color (artificially, I mean!) to blue or blond hair aesthethics... PRO GOD attitude could be nice also, but then recommended daily protections against evil + take cross... here's not paradise, some problems may appear...
IF CONCERNED HAS NOT ENOUGH PSYCHOLOGICAL SUPPORT, there are risks of negative energies in, e. g., Michael Jackson style ... A STRATEGY SHOULD BE CONSIDERED thus...
It should be considered:
TO CHOOSE A GOOD CLINIC, with few risks of unsuccess...
DO AN EYE INSURANCE with better: strong company , to try to have a group support.
RICH ARE again IN ADVANTAGE, sorry! TO PAY EXPENSIVE (=>SHOPS...) could help for psychological support. Poors* have it harder for that...
DO THINGS POSITIVE TO OTHERS, in order to have psychological support, better comprehension... or discretion...
TO INFORM GOOD YOURSELF BEFORE ADVANCE IN SUCH (RISK) OPERATION...
TEST RISKS: for a 1st idea you could TRY FIRST BLUE eye LENSES TO SEE RESULTS, AFTER ASKING ADVICE TO SPECIALIST ALSO FOR EYE LENSES
TO PRAY DAILY attentively THE ROSARY or at least the "7 SORROWS OF MARY" PRAYER
eventually DISCRETION over day of operation and period which follows (e. g. take holidays, some isolation, temporarily change address...)
...
WATCH OUT: I TAKE NO RESPONSIBILITIES... (I should already be in cemetery since several years and I'm still here, (thanks God + God's protections), but I don't take no responsibility over other's decisions...)
* - IN THESE TIMES OF BLUE EYE LENSES + CHANGE INTO BLUE EYE COLOR OPERATIONS, RICH ARE AGAIN IN ADVANTAGE BUT GOD COULD HELP believers Pro God also, e. g. miraculous eye change color brown to green to blue, if believers (catholic true faith) work a lot pro God, helping their brothers in a true faith way, e. g. helping many to get automatic eternal salvation (in a serious + easy way) etc.
NATURALLY EYE COLOR CAN CHANGE FROM BLACK TO LIGHT GREEN but not into BLUE (=> genetics/biology).
But IF GOD WANTS, IT MAY HAPPEN (supernatural/miracle)!
BUT YOU SHOULD HELP GOD ALSO... AND GOD IS NOT OBLIGED NEITHER...
A Natural change of eye color may sometimes happens and gives less complications... in any case daily protections of God recommended + take cross (yes, I know, upset, + complicated, but better pro God results) ...
*- my eyes have already changed naturally from black to dark brown to strange brown now, sometimes light brown (very close to the mirror, traces of green are already noticeable, up to half green, but it keeps changing everyday and brown eye color remains dominant... we can help it, but we can not impose it.... in a natural way, I mean...)
Our Lady of Medjugorje with Diamond charming Blue Eyes have a greater charm...

... the Imposed (empathic, but not beautiful) Typical Image of Our Lady of Fatima doesn't have...
Normally, Our Lady is even more charming with Brilliant Blond Platinum Veiled Hair... please refer to descriptions of little Shepherds of Fatima over the enormous beauty of Our Lady... We can still find some images of Our Lady, when young, together with the parents, with a (non platinum) gold blond hair... however, presently she seems to appear otherwise... context is not adequate... we shall thus probably wait for better times...
East Asiatic (Chinese, Japanese etc), with Nordic look (platinum blond hair + blue eyes), true faith, should be quite charming, exotic, I think... (?)
Ideas TO Change EYE COLOR NATURALLY From BROWN To GREEN (24/9/2021)
(please refer also previous section...) IT IS WELL KNOWN from GENETICS. BROWN EYES ARE DOMINANT over GREEN (blue gene). NATURAL GREEN EYE COLOR is got WHEN PERSON RECEIVES one eye color gene BROWN but the other eye color gene is BLUE (genetically inheritance from parents: 1 eye color gene from father and 1 eye color gene from mother => from Biology, secondary school).
This natural GENETIC EYE color MIX (1 blue + 1 brown eye genes) GIVES in most cases BROWN EYE COLOR, but in some cases an ALREADY BEAUTIFUL GREEN EYE COLOR APPEARS...
GENERALLY, GREEN EYE COLOR IS STABLE. BUT A NATURAL EYE COLOR CHANGE (no lenses, no operation...) MAY APPEAR with persons having eye color genes blue + brown... BROWN MAY BECOME GREEN but ... the opposite may happen also... observing people around you discreetly during some 30 years you can get this conclusion, specially in societies where some blue eyes are present: Europe, Americas, Middle East, Central Asia, Australia...
And WHAT SHALL I DO IN ORDER TO CHANGE NATURALLY EYE COLOR* from BROWN into GREEN?
NOT ALL BROWN EYES MAY BECOME NATURALLY GREEN, because of genetics (if 2 eye color genes inherited from parents are brown + brown, natural eye color remains brown...) Aesthetic eye color effect still possible through use of eye lenses or still dangerous operation... (daily protections ag evil from God maybe good idea...)
But in regions where some blue green eyes are present, it is possible that many green eyes (genetic eye color mix blue + brown) are hidden by dominant brown eye color, more repulsive to stable happier marriages/husbands. Making this green appear may help marriages and aesthetics are more important to ladies; men should focus 1st in getting enough money (wealth), but (better: natural) aesthetics help also men, e. g. more chances of success at work... watch out not to exaggerate: money and or aesthetics shall not become an idolatry neither...
After observing discreetly around me, and now, that my eye color is changing again spontaneously naturally from black to brown to green (no lenses, operation), the conclusion i have is that some sociability, success, wealth, mothers with blue eyes may help to have children with green eyes... eye color may still change later in time... the support from others could help... but person can NOT impose that to the people... it shall happen spontaneously... but some strategies could may defined... it could help a lot marriages in Southern Europe, Latin America, even USA, where some 60% of eye color is naturally brown but could also hide many (~30% naturally hidden) green eyes...
One strategy would be to do genetic check. If concerned (with brown eyed person) has (only one) parent (father) with blue eyes*, for sure, his/her brown eyes hide green (from Genetics)... exceptions possible, but not probable: baby was exchanged in hospital or adultery from mother...
Also: a genetic test at health services e.g. at time of blood analysis could reveal if person has genetic eye color mix blue + brown... in that case, concerned person (more important to ladies!) could discreetly set mix eye lenses green + brown and say that genetically she (he) is green but with brown dominant... do things positive to the others in other to get comprehension from others + daily protections ag evil from God could help also... those genetic eye color certificates are more important when none of the parents have blue eyes...
Even without genetic control, concerned could try to force green 'eyes'... changing of address, new contacts, use green eye lenses everyday, where few people know concerned had brown eyes before... to remain discreet ambiguous over the subject + daily protections against evil... eventually change immediately to beautiful blue, but that's impossible in a natural way for people with brown eyes... brown eyes can only change spontaneously into green, but not into blue... from Biology, genetics...
Or either concerned simply sets eye color lenses green mixed to brown and plays with ambiguity "my eye color are changing into green" (with the help of daily use of lenses, but playing with ambiguity...) it could be possible also for people with brown eyes with two genes eye color brown (and the rest doesn't need to be mentioned... people needs support to give force to green eye color if present...) when many people would accept that, that green eye color could appear also, without the lenses, afterwards, if concerned has eye color genes blue + brown...
ALMOND LIGHT BROWN EYES ARE GENERALLY A SYMPTOM SOME GREEN IS ALREADY PRESENT! Those eyes have good probability to evolve, in a favorable environment, into GREEN EYES!
GREEN + BLUE EYE COLOR HELPS MARRIAGES, AND IT IS MORE IMPORTANT TO LADIES! LET US HELP Catholic Marriages for Life...
THE REMAINING people (better: ladies) with BROWN EYES, specially ladies, could simply also use lenses (more charm with blue or more discretion with green or mix brown/green) or risky eye color operation + daily protections against evil. Before it was impossible, but now it's possible and helps a lot marriages, husbands happier, it makes social, but some dangers remain: Michael Jackson evolutions => daily protections against evil could be good idea... that's why men should give priority 1st to (diploma/universidade) wealth/job, fitness, masculinity (better: with God!) before thinking in setting (artificial techniques as) blue eye color lenses or eye color operations...
...instead, a natural change of eye color has less negative secondary effects=> brown may change into green and it may happen naturally... it helps marriages and success at work (presentation/look helps!)...
* - note: this section above concerns people/ladies with brown eyes and possibility to change into green => aesthetics help a bit in couples. But the blue eyes are some times ignored in this analysis, in order to try to simply explanation: e. g. omission of the case: if only one parent has bue eyes, children may have also blue eyes, but for this analysis it is less relevant and complicates explanations which concerns people with brown eyes... this analysis concerns brown eyes, either dominant over green or pure 100% brown eyes impossible to change naturally in green...
Taking Spirulina CHANGEs EYE COLOR also NATURALLY FROM BROWN TO GREEN (11/6/2023)
I have a friend which drinks water drink with Spirulina and his eyes changed from dark brown to green. We can confirm this through the internet, e.g. this hyperlink. Spirulina is an alg and a full coffee spoon powder Spirulina is enough to prepare 2 liters drink (mixing the powder good with cold water). One has to drink regularly water with spirulina to trigger the eye color change...
It is possible! And without risky eye color operations...
but please use only cold water and not hot water.
"Single Wise Brunette" + "Natural" is Better? Naked is also "Natural"...
If you do a discreet check around you about happy couples/marriages, not to judge individually but to check statistics/tendencies of stable couples (e. g. last 30 years up to today), men are more happy with beautiful ladies, while beautiful ladies have more chances of success in life and enjoy comfort (some money is needed for that...). Please check it yourself (discreetly) with statistics/facts... there's always exceptions, it goes rather over a tendency for stability in couples rather than to individual judgments... the subject is subtle / polemic; thus, some discretion may be required...
Maybe some (single) Brunettes are not aware of the importance of look to make marriages (husbands) happy... some advice would be nice to help them... pubs are generally poor, and to take care of look claims some time and money... but it may compensate afterwards to help ladies to have some more success in life (less chances of problems in marriages because of infidelities, alcoholism etc)...
Good heart counts for a well succeeded marriage, but it is NOT the only factor... if it misses money or look of Lady is not well cared, chances of unstable marriage/couple may increase... some ladies are maybe not aware of it... others may think... "I'm born Brunette with brown hair"... "I'm like that, let me be spontaneous"... "what counts is the heart"...
Yes, heart counts. In some domains, look doesn't really matters. St Therese from Lisieux is a Saint Lady of God. BUT SHE WAS NOT MARRIED AND SHE WAS NOT WORRIED ABOUT THAT.
St Helene is also Holy. SHE WAS MOTHER OF EMPEROR CONSTANTINE. DIFFERENCE? SHE WAS CHARMING AND HER BEAUTY ATTRACTED the Roman EMPEROR.
"NATURAL" IS BETTER?
GENERALLY, YES: ECOLOGY BIO FOOD etc BUT:
WE WERE BORN NAKED. IT IS "MORE NATURAL". THERE's EVEN THE WORD "NATURISM"...
BUT SUCH "NATURISM" IS GENERALLY INSANE AND ANTICHRISTIAN... WE HAVE HERE THUS A PROBLEM...
YES SOME DECORATION, CLOTHES (in summer time or in warm climates they're rather decorative/moral) IS MAYBE WELCOME IN SOME CASES. ONE SITUATION IS NOT ANOTHER ONE. THE SAME FOR LOOK/BEAUTY FOR LADIES WHO WANT TO MARRY.
YES, MOST LADIES HAVE DARK HAIR AND BROWN EYES.
BUT LIKE CORRECT CLOTHES ARE RECOMMENDED ...
SOME BEAUTY ACCESSORIES MAY HELP LADIES TO INCREASE CHANCES OF SUCCESS IN MARRIAGE/LIFE (for holiness, however, beauty shall NOT be the 1st priority... it may be also considered, but only after other priorities)
THUS:
CARE OF EYEBROWS
WITH DARK HAIR, THIN EYEBROWS ARE MORE AESTHETIC IN LADIES.
IT IS BETTER TO RASE THEM COMPLETELY AND TO DRAW IT (correctly) WITH A PENCIL, THAN NOT AESTHETIC EYEBROWS...
CARE OF FOOD (healthy and when possible poor in (white) sugars)
CARE OF COLOR OF HAIR (PERMANENT PLATIN BLOND IS BETTER).
BETTER A PERMANENT PERUKE DISCREETLY HOLD BY A HEAD BAND (or BERET or Head cover...) THAN HAIR IN "LUTE"
(when possible; or to color regularly etc)
WHEN POSSIBLE, (a bit) LONG (eventually straight) HAIR (or blond hair well conceived/fixed peruke). IT IS BETTER THAN SHORT CURLY HAIR, AFRICAN STYLE...
CARE OF COLOR OF EYES: CHARMING DIAMOND BLUE ATTRACTS MORE THAN BROWN EYES.
BETTER PERMANENT BLUE COLOR LENSES THAN (not cared) BROWN EYES*
* HERE SOME PRUDENCE: INFORM YOUR SELF GOOD OF BEST MARKS AND ASK ADVICE TO SPECIALISTS. Some other details in sections above...
WHEN A NORMAL LADY LOOKS LIKE A NORDIC/FINNISH LADY, PLATIN BLOND WITH BLUE EYES AND TAKING CARE ALSO WITH FOOD, LOOK IMPROVES, AND MEN ARE SPONTANEOUSLY ATTRACTED...
ALL HAPPENS NATURALLY. SHE MAY EVEN CHOOSE THE BEST CANDIDATES... IF MANY LADIES DO THAT, MEN HAVE ALSO SOME MORE (SPONTANEOUS) CHOICE...
PLEASE CHECK (DISCREETLY) BY YOURSELF IF BLOND (Nordic look) LADIES ATTRACT (spontaneously) MORE MEN OR NOT...
HOWEVER SOME PROTECTIONS FROM GOD MAY BE NEEDED, BECAUSE EVIL DOESN'T REALLY LIKE OF EVERLASTING HAPPY MARRIAGES... some other important details (for holiness etc) in remaining sections of this chapter...
PS: this doesn't happen with all Brunettes. Some have already some charm (they watch out food etc), and further aesthetic measures are not needed... but those (single) Brunnetes who want to marry ( and/or be in stable couple), could consider (to have a good heart/character) + further aesthetic improvements...
THE QUEEN, OUR LADY OF FATIMA, DESERVES A BETTER LOOK. PLEASE COMPARE.
LET US MAKE FROM LEGITIMATE OUR LADY OF FATIMA A QUEEN!!!


REV 12:
THE WOMAN TRUE FAITH CHURCH & VIRGIN MARY RECEIVE A CROWN OF 12 STARS LIKE THAT OF EU
POOR VIRGIN MARY HAS TO APPEAR WITH LESS CHARM IN FATIMA IN ORDER NOT TO MAKE ANGRY* THE POWERFUL "IBERIAN LOBBY WISE BRUNETTE LUTE HAIR FOR UNHAPPY HUSBANDS/MARRIAGES"
* IT COULD APPEAR "SNOB" TO APPEAR AS A CHARMING BLOND QUEEN (VIRGIN MARY was a BLOND GIRL...)
INDEED LOOK IS NOT VERY IMPORTANT FOR HOLINESS...
BUT IT HELPS IN SEVERAL DOMAINS!!!
LET US GIVE CHARM TO THE QUEEN!!!
MEDJUGORJE: IT IS ALREADY A LOT BETTER!!!
... BUT OUR LADY LOOK CAN STILL IMPROVE!
...LET US GIVE CHARM TO THE QUEEN
...EN SHE HAS VEIL (SOUTHERN INFLUENCE OK), BUT NOT an UGLY VEIL.
IT MISSES some INFLUENCE FROM NORTH TO SETTLE HER IN CENTER:
JERUSALEM!!!
BEAUTIFUL LADIES, BETTER LOOK MORE CHANCES
...But some errors to avoid! IT IS NOT ENOUGH OR SYNONYM OF HOLINESS! MORE IS REQUIRED!
REV 12: THE QUEEN IS VEILED...
PLEASE DON't MAKE OF OUR LADY OF FATIMA A PORTUGUESE SCHEHERAZADE!!!!
… EVEN IF GOD LOOKS RATHER HEARTS THAN OUTSIDE APPEARANCE
(LOOK IS NOT IMPORTANT FOR HOLINESS. INSTEAD IT HELPS IN SOME DOMAINS: HAPPY MARRIAGES(at least for husbands...)
IBERIAN MODEL WAS ~OK in the Past OVER TRUE FAITH CATHOLIC CONSERVATIVE ~ 36% JEWISH BLOOD IN SOUTH PORTUGAL BUT CATHOLIC (NOT JEWISH FAITH...)
before... now it maybe changes, with those "modern" apocalyptic temptations + decadence... (?)
... BUT SOME CONSTRUCTIVE NORDIC COMPLEMENTS PRO GOD (SLAV GERMANIC) WELCOME...
... BECAUSE OUR LADY OF FATIMA DESERVES A BETTER LOOK...
...THAN A "SCHEHERAZADE CATHOLIC PORTUGUESE LOOK FOR UNHAPPY MARRIAGES (HUSBANDS)".
LET US GIVE CHARM AND A BETTER LOOK TO THE QUEEN OUR LADY OF FATIMA!!!
BETTER LOOK MORE CHANCES
IT GIVES SOME WORK, BUT IT IS POSSIBLE, EVEN FOR NON BLOND LADIES...
BETTER LOOK MORE CHANCES, EVEN IF IT IS NOT SYNONYM OF HOLINESS...
from "Our Lady Prototype" Images immediately below("Portuguese lobby wise brunette for unhappy husbands")...

To Image of Our Lady of Fatima as Queen,

a bit further Below

(beauty know how for: coloration of hair, eye's color, eyebrows, watch out food (few/no white sugars...)...)
WHICH ONE DO YOU PREFER?
PLEASE VERIFY YOUR SELF...
THE QUEEN OF FATIMA DESERVES A BETTER LOOK AND A CROWN OF 12 STARS (REV 12)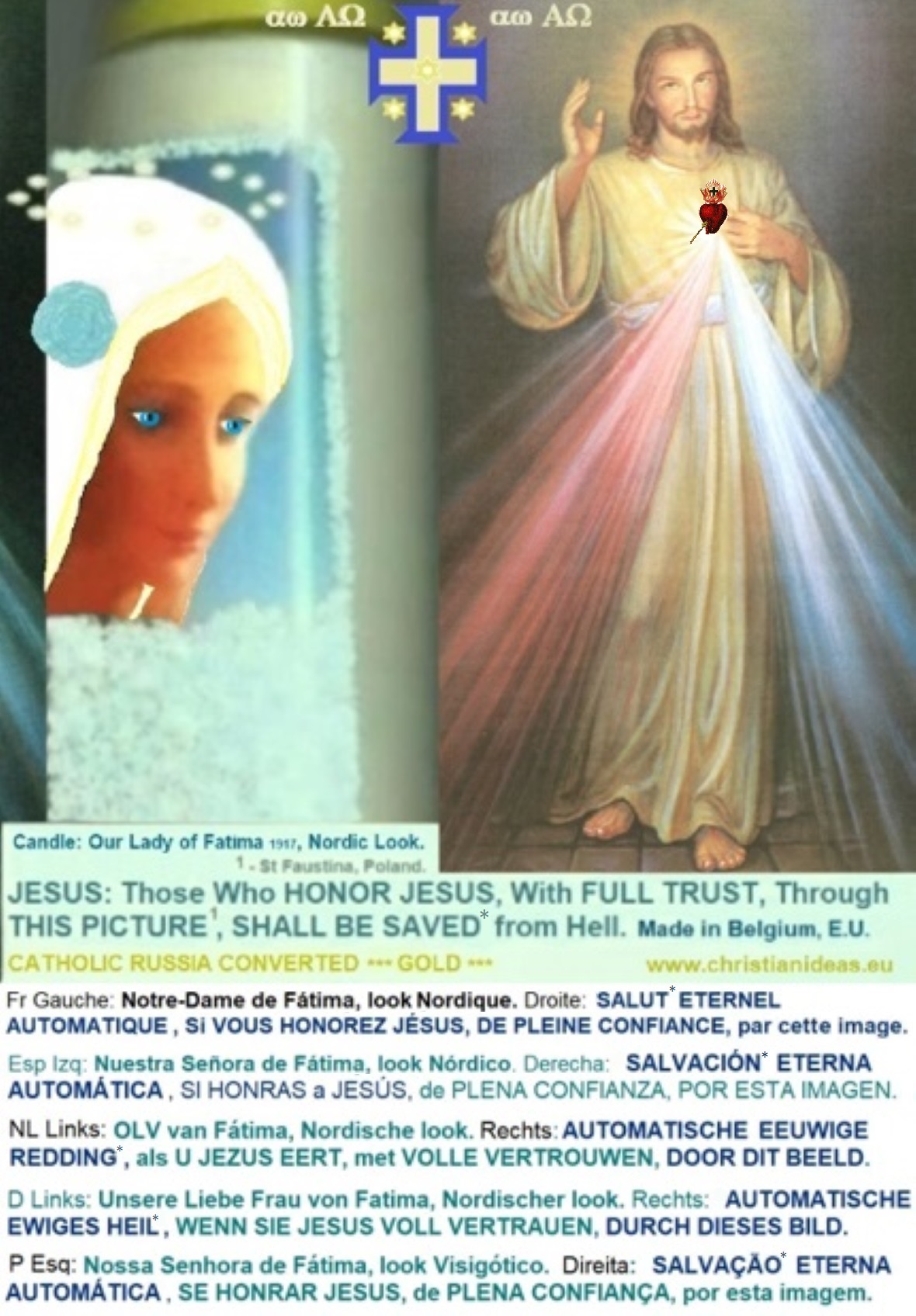 ST THERESE from LISIEUX IS HOLY
WITH HER CHARM, SHE ATTRACTED THE EMPEROR!
ST THERESE WAS NOT WORRIED WITH MARRIAGES (she was instead a religious sister...)
BETTER LOOK MORE CHANCES...
THE SAME LADY IN MANY CASES CAN IMPROVE HER LOOK... (please refer to 'better Look' sections for a better idea)
OUR LADY OF FATIMA DESERVES A BETTER LOOK!
LET US GIVE TO OUR LADY OF FATIMA, THE QUEEN, A BETTER LOOK!
AESTHETHICS, the FORMULA for Pro God LADIES: synthesis (8/11/2020)
AESTHETHICS (+ GOD), THE FORMULA FOR LADIES
BLOND PLATINE WIG + discreet wig (seniors with white hair: a bit of coloration, each 3 months, is enough... )


AVOID FOOD WITH WHITE SUGAR, because it attacks look... if sweet food needed, sweet fruits or honey are a bit better... you may compare lady stars (e. g. pop singers) face photos via Google to see the differences (same person, different looks, to eat food with white sugar makes a difference, more noticeable in brunette looks...)


Daily Protections against Evil (e. g. attentive Rosary) in order to resist lobbies brunette unhappy couple, some suffering=cross needed.


modest clothes to try counter a bit the charm + beauty of lady's face => refer to Our Lady typical clothes to have an idea + www.tldm.org, concerned directives from heaven... For Queens etc may be a bit hard to dress with modesty (?)...


adequate head cover, (at least) in church, not too chic not too ugly => it shall cover 85%+ of the hair, only small rest visible => points 3. 4. 5. in order to try to stop negative energies (e.g. harassment, lady's superiority feelings, other bad energies =>1Cor 11)... beautiful blond lady is indeed not idiot, but preventive counter measures are maybe interesting... more details in other sections of this chapter: e.g. veil sections + Our Lady deserve better look images...


blue eye lenses + adequate care + info...


(Very) Thin (better: dark) eyebrows. Trick: shave + pencil makes win time... This can be easily tested in mirror...


Women with Brunette Look Must Also Take Cross (12/8/2023)
True Faith Catholic Ladies who decide to have a blond nordic beautiful look may have a price to pay: they risk to take cross (overweight troubles etc) and maybe to use protections against evil, like the daily attentive Rosary.
What happens is that the women who decide to keep brunette look (permanently) risk also to take cross... and that cross is not necessarily the true faith christian cross anymore... because men prefer generally beautiful ladies, namely those with nordic look, for life in couple, namely inside the holy catholic marriage for life...
Women with brunette look and who don't worry about aesthethic care, risk to have troubles to find a male lover and also troubles afterwards, namely risk of broken couple, greater risk of physical aggression but also difficulties to marry through the catholic church... and that is also take cross, but not the holy christian cross anymore...
Because the woman with brunette look can now change the look to blond nordic look also. But concerned women must be helped in this domain also.
This chapter tries to help concerned ladies in this domain, namely in the sections 'OUR LADY OF FATIMA DESERVES A BETTER LOOK. PLEASE COMPARE.', AESTHETHICS, the FORMULA for Pro God LADIES: synthesis and Ideas to Try to Fight Trend to Eat Food with White Sugars.
On the other hand, blond beautiful ladies are not idiot neither. They're generally not perfect, but brunette ladies, with less cared look, are not perfect neither and generally are considered, by their male partners, as less adequated for the holy catholic marriage for life, with true love, I mean...
And there are even persons, with blond look, with a 100% perfect holy behaviour, like Jesus and Mary before, and other less perfect, in the begining, but who became holy also afterwards, and with blond look also, like St Maria Magdalena and St John. More details about that, in the old web site apparitionsmariales.org...
I think that brunette women, after 50 years lifetime, have already permission from the brunette lobby, to have a nordic look, in order to increase their chances of finding a husband... concerned should inform themselves towards the lobby brunette...
Ideas to Try to Fight Trend to Eat Food with White Sugars (29/7/2023)
Some people may have overweight trends or trend to eat candies, e.g. to eat portions of chocolate everyday...
It's hard to fight those trends sometimes, and concerned persons may suffer from overweight and also risk to have a less beautiful look, speccially if they eat candies regularly (biscuits, chocolates...)
Food with white sugars is adequated to be eaten, yes; the Bible says we can eaten everything, food with white sugars also, yes...
But if concerned ladies eat regularly food with white sugars or similar (food with sugar can or with sweeteners) risk eventually to have teeth caries, to be attacked by discreet diabetes witchcraft, to have a less beautiful look etc. For concerned men and or children, if it happens, the effects may be similar...
This may thus be a problem and may attack a bit the harmony of the concerned lady, e.g., inside the couple. A good heart helps, but aesthethic care helps also, and a lady who worries with aesthethics, has also heart for her husband...
If the concerned lady needs to eat regularly sweet food, I think that food with white sugars, cane sugar or some sweeteners are not the most adequated.
Eventually one or some sweeteners could be adequated, but a specific pro God analysis should be done for that, and I don't possess yet that information... some are inadequated, I think, like aspartam... of course, you may eat from time to time food with sweeteners...
The other problem with the food with white sugar and related sweeteners / sugars, is that those who eat those food regularly and with big quantities, commit the deadly sin of glutony... thus, if the concerned lady / person acquires a less charming look because of that, there are some reasons for that also...
That's why regular consumption of food with white sugars or related (cane sugar...) should be avoided, speccially by adult people...
Good alternatives to the food with white sugars do exist, and are known since long time: fruits and honey...
Concerned ladies / persons could use honey in place of white sugar or sweeteners, e.g., in the coffee...
Concerned could avoid regular consumption of cakes, chocolates, candies and / or eventually produce own chocolate etc., e.g., mixing cacao with some honey and a little bit of water (or milk)...
Honey and fruits are products from the nature, conceived via God expertize. White sugar, cane sugar and one, eventually several sweeteners, in opposition, are man made expertize, and normally less adequated for the human body, with more negative secondary effects and more adequated to cause the sin of glutonny...
Watch out: if the concerned eat too much food sweetened with honey and / or too many fruits per day, the concerned may suffer also a bit from the negative secondary effects mentioned above for the foods containing white sugar and related sweeteners...
But for a moderated consumption each day of fruits and / or honey, those negative effects are less visible, when compared with eating everyday the same quantity of food containing white sugars...
To test that, it suffices to watch yourself in a mirror, during periods of 24 h, e.g., eating and not eating the concerned food...
The grain, to produce fruit, must first die, says the Bible. I think this concerns also the food that a person eat. That food should be preferrably not tasty, or a bit tasty only. I think this means also that very salty food and very seetened food are thus to avoid, if concerned person / lady wants to have an attractive look (even with brunette look)...
Concerned lady / person may do a test of 24 h in the mirror to test this... I think, thus, that food with white sugars are generally to avoid (by adult persons) because of that... food light sweetened, e.g. adding honey, or fruit consumption, 1 or 2 (portions of) fruits per day, I mean, should have less negative effects, I think...
A second problem hard to fight, concerned with an eventual trend to eat regularly, sweetened food or other, is that, the concerned person may risk to have overweight... those trends are hard to fight against... eventually, the concerned could try to follow an adequate diet and the concerned could also maybe consult 'ideas against witchcraft'...
HOLY MARRIAGE should be OPEN TO CHILD BIRTH. WHY did OUR LADY have ONLY 1 CHILD THEN?
HOLY CATHOLIC MARRIAGE SHALL BE OPEN TO LIFE: "Multiply your self", says the Bible... However, a good child education needs a stable traditional family, money, love and time. It gives much work, and in difficult conditions, anticonceptionals, abortion etc may be seen as alternatives... a bit complex, thus...
WHAT ABOUT VIRGIN MARY? SHE WAS PERFECT AND MARRIED WITH ST JOSEPH. WHY ONLY ONE CHILD?
Although Protestant heresies may interprete passages of the 'brothers of Jesus' as a possibility, St Mary had many children (literally from St Joseph, thus 'no eternal virginity'), traditional Catholic teachings, which seem more close to the truth, teach something else: Virgin Mary was always Virgin, thus, she had never sexual contact with men, thus, no sex with St Joseph neither... despite that, love and marriage among both remained.
The good explanation (+ other details related, e. g. over the "brothers of Jesus") seems mentioned in Wikipedia:St Joseph, a widow man aged of ~92, marries young Virgin Mary and dies at age of 111.
THUS THE CASES OF St MARY and St Helen (the Empress) seems ***NOT*** to be the case OF MODERN LADIES (e.g. universitary rich HARD WORKERS) which USE (too efficient, even with murder effects) ARTIFICIAL CONTRACEPTIVES OR ABORTION TO CUT CHILD BIRTH...
IT IS NOT PROBABLE THAT A YOUNG ST JOSEPH WOULD MARRY A BEAUTIFUL BLOND ST MARY NOT TO HAVE sex + CHILDREN... but IF INDEED ST JOSEPH WAS AGED 92 AND A HOLY MAN OF GOD, THE STORY OF EVERLASTING VIRGINITY OF St MARY + only 1 child BECOMES SPONTANEOUS. THE DREAM OF A VERY YOUNG LADY is not really to have sex with a man older than 91... The life of Mary, even if married with St Joseph and or accompanying Jesus disciples, seems more that of a religious sister, than that of a normal married couple, because of the big difference of age...
St Joseph's help was needed for young Jesus & Mary... Life of young Mary was no paradise, e. g. quick flee to Egypt, persecution... St Joseph had an experience, autonomy etc young Mary didn't have...
Also the Catechism of Catholic church remembers catholic marriage should be open to life = child birth. Natural contraceptive methods are possible, but use of artificial contraceptives + abortion should be refused and are considered as sins. In case of Mary and St Joseph, it seems both agreed in living in a marriage with no sex relations, which spontaneously led then to the eternal virginity of St Mary. This is Not normally the will of (most) normal couples. In case of doubts, you may check cathechism, ask a catho priester, I don't know all details neither... I try to give here the idea...
The will of God is also traditional families, catholic marriage, no divorce, + Col 3:18 (ladies should submit to their husbands, according to the will of the Lord...). Eventually hard working (not always needed, namely for princesses or other rich ladies), but submitting to husband, lady's beauty care counts/helps, some attention for children and husband, open to life (in place of using of articial contraceptives and/or abortive methods), no divorce. Modern pubs/ideologies are really poor in what concerns role of the lady in society + family. But problems are often complex also. This chapter tries to help...
One of the causes of the decadence of Christianity (true faith, catholic conservative) presently is the demographic fall caused by artificial contraceptives + abortions, despite illusion of wealth. Although poor ladies or couples could have some difficulties, married rich ladies could have some 9 children like Queen Victory of British empire... for a poor couple / lady is quite hard to face so much child care + education, but for a rich couple, with employees etc this could be possible... of course, nobody's obliged, but Germany is becoming a Liechtenstein, France is becoming a Monaco, this modernism leads us to Europe of the little ones, rich and small... the fall of the West, despite wealth... eventually governments could help with laws pubs advice subsides helping traditional families + true faith, but present trend goes generally otherwise: easy divorces gratis abortions pills...
Important Case Study: the Veil
Concerning the veil:
It may Symbolizes Submission of Women to Men
It is a Muslim religious symbol, so the Muslim Women that wear it may be proud of showing their Religious Identity
Every Woman shall be free to Wear what she Wants to, even if this Freedom means Submission (contradiction?)
In some cases it causes the repulse of the non-Muslims, because it may be considered as not aesthetic.
For Muslims, this problem has no sense in Muslim countries: Women use the Veil and Point (if they Wish to or Either if it's considered adequated).
Because it may be non aesthetic and in some cases it does a very aggressive publicity for Islam, it is causing some troubles to the Europeans. Some try to forbid it in public places. These situations finish sometimes in Court. The confusion and contradictions are generalized: freedom, rivalry of cultures, racism, what to do? The results of the judges reveal this. Sometimes Muslim women win, others not.
In the Bible, in the Letter to the Corinthians I, 11,1:16. it appears the question of the veil! Surprisingly and against everything and everybody, St. Paul not only is not against the veil but it even recommends it to the Christian women, at least at church!
THIS MEANS THAT IN SOME SENSE THE MUSLIM WOMEN ARE RIGHT AND THEY ARE TRYING TO TEACH US SOMETHING WE REFUSE TO UNDERSTAND / ACCEPT.
That is: the veil shall be a religious symbol, not only for the Muslim women, but also for the Christian ones. The only point is: we have to do it more aesthetic. Is there a solution for this? Yes, there is.
The solution comes from the Virgin Mary. You may ask me "How?". Very simple: simple look for a photo of the blessed Virgin Mary: She appears Always with her Head Covered, with an Adequated Head Covering, relatively Beautiful. That means: she always uses a veil, but a charming veil. Take as example this picture of Blessed Virgin Mary: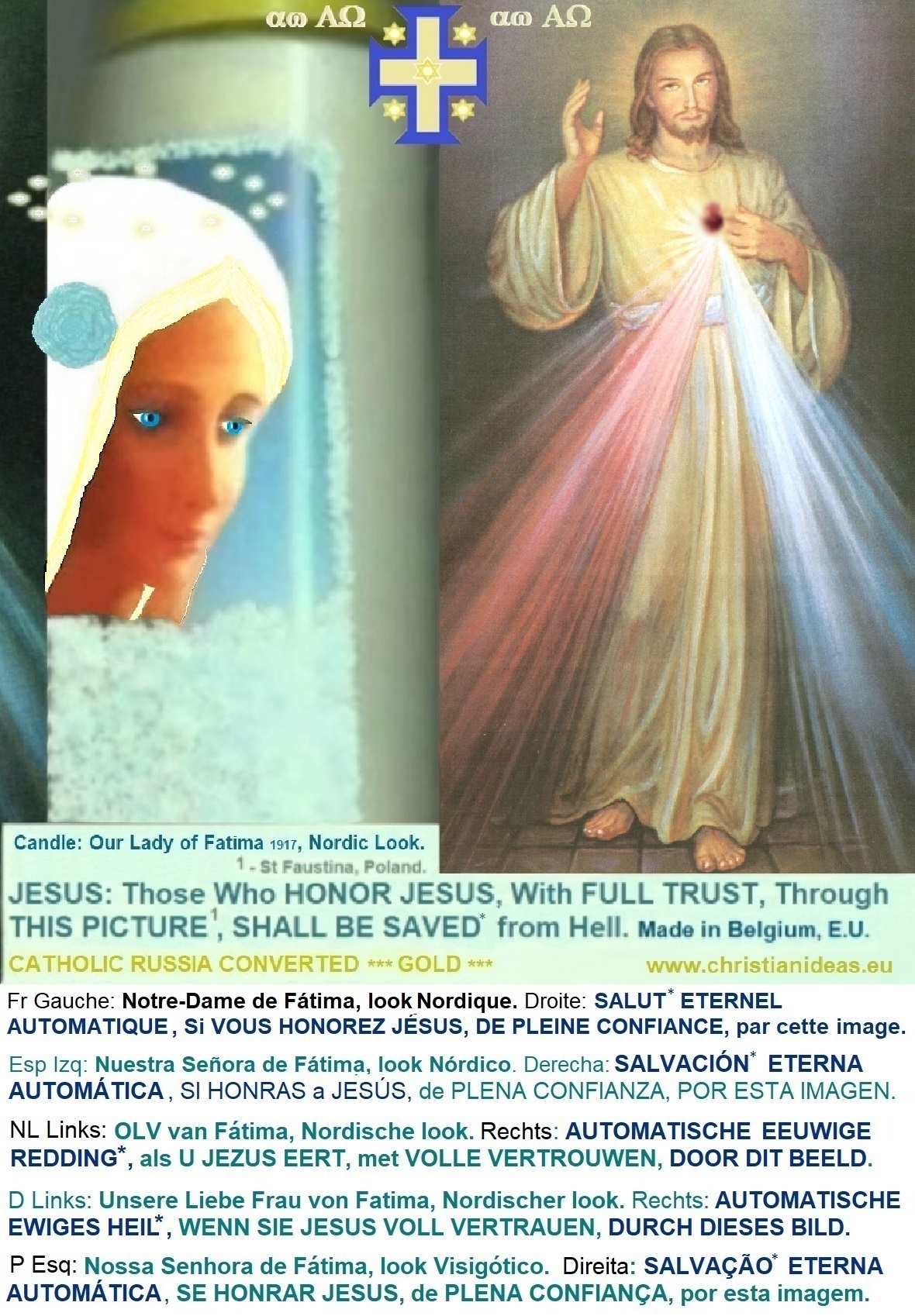 Left: the Charming Queen, in Nordic look, but also Perfect Holy Traditional and Veiled...

Jesus at Right: Those who honor Jesus, with full trust, through this picture , shall be saved from hell, through Divine Mercy



Very well cared, isn't it? Repulsive look? Not at all!

Please note that St. Paul mentions that the women that do not wear the veil may be attacked by the angels (I Cor 11:10) :

"for this reason a woman should have a sign of authority on her head, because of the angels."

The angels are attacking thus the Western women, those who are not wearing the veil, in prayer and/or church. How? Possibly increasing in them the feelings of proud, preparing them to crash the marriages and to be insubordinated to their husbands (and to God also, at the Same Time), behaving against the order of the nature, and the order desired by God. This problem is however complex: the Husband may Have also Behaviours against the Will of God; some conciliation committees with experts should try to help marriages for life... legislation should change... no 100% success guaranteed...

Please note Our Lady words in N. York, http://www.tldm.org/directives/d46.htm :

WOMEN

"My child, tell all to act as good example in My Son's House. Women must wear a head covering in the holy places and in prayer. It is not because of custom; it is because the angels demand proper deportment during the Holy Sacrifice."  - Our Lady, May 29, 1976

A CORRECT CHRISTIAN VEIL (not too charming, neither too ugly) MAY HELP TO CUT GREED MALE REGARDS TOWARDS ALREADY MARRIED WOMEN...

Conclusion:

In order to keep consistent to our democratic values, we, Europeans and Christians shall respect the culture of the others and the freedom of choice. That means: we shall accept that Muslim women wear veils

Not only Muslim women should wear the veils, the Christian women also, at least, at church, or in prayer. If we really clearly read what the Bible says, than we conclude, that the veil is also recommended to Christian women (!)

Only the veil shall change. Religious Christian women are invited to imitate the Virgin Mary, in the question of the veil, when they pray or at church. That is, the less esthetic veils shall be replaced for more esthetic ones.

Hats or other covers may be also valid, when they cover most of the hair. Aesthetic counts, but please don't exaggerate neither, with too charming diamond veils/ hats/ clothes, because it's preferable that women dress with modesty... and no need to cover the neck, for the Christian women.

If a woman wants to use a traditional veil in church, it's perfect, but, please, watch out!!! The Evil forces are performing a war against true faith and tradition. Protections against evil highly recommended, thus, and/or a discrete veil/cover (hat/beret etc.).



The Real Superior Women, the Holy Queens for Lord: Examples
With Empress Virgin Mary at the top of perfection, there are many other Queens for the Lord, the Holy Veiled Women for the Lord, from all nations, up to the 4 extremities of the Earth.
They don't go in fake ideologies, like "Modern woman ideology" and its deceptions (divorces, marital cohabitation, feminisms etc). Some examples (Queens, veiled, preferably with charm, but dressed with modesty, when possible):
Holy Queens & Veil: From Extreme North up to the 4 corners of the world:
CHARM AND HOLINESS FROM SCANDINAVIA: St Brigit from SWEDEN WITH MODEST VEIL
REAL SUPERIOR WOMEN FROM NORTH EUROPE: St. Catherine of Sweden (Veiled, of course!)
St Gertudes, the GREAT, WITH VEIL (of course)! (Germany/DEUTSCHLAND)
VEIL CHARM, SUPERIORITY AND HOLINESS FROM ST HILDEGARD (Germany/DEUTSCHLAND)
CHARM FROM Queen for the Lord, St Faustine, Poland, (Veiled, ~90 years ago, not only in Middle Ages!!!) + AUTOMATIC SALVATION ICON OF JESUS ( please refer to home page)
St Margret, Queen for the Lord, Veiled (Hungary/Scotland UK))
ST HELEN SEEMED TO HELP DECISIVELY TRUE FAITH, Conservative CATHOLICISM TO TRIUMPH IN ROMAN EMPIRE. ROMAN EMPRESS, Queen for the Lord, MOTHER of EMPEROR COSTANTIN, the Great, SUPERIORITY, CHARM AND VEIL, GLORY for HELLAS (GREECE) DIDN'T GO IN TALES, such as ORTHODOX SCHISMS or MODERN WOMAN IDEOLOGY (Roman Empire/Greece/Turkey))
PERFECTION: Our LADY (here: Medjugorje/Bosnia), MARY, QUEEN OF HEAVEN, EMPRESS, MOTHER OF GOD (origin: centrum of the Earth's surface/Jerusalem/Israel/Roman Empire, TRUE FAITH WITH JEWISH BLOOD (Israel))
Holy (veiled) Queen Isabel (Portugal/ Aragon (Spain)). Here the Lady had maybe that day ate some sweet stuff (cake?) maybe with evil white sugar, which attacks esthetics/appearance (a bad habit from the region...)
Mother Teresa of Calcuta (India/Albania/Romania) doesn't go in tales neither and keeps the Veil, 1994
According to Apoc 20, if I interpreted good, after the change of age, The True Superior Woman, the Holy and Martyr Queens for the Lord, together with the male saints/martyrs shall rule the world with Jesus for 1000 years...
(25/7/2023) Idea to make Ladies let Grow Spontaneously Her Breasts
Ladies may have big breasts, without having to perform the sinful not recommended Silicon plastic operations...
If a lady, in couple, preferrably inside the holy heterosexual catholic marriage, has traditional sex more than 3 times a week, with each sex relation, with intense female pleasure, during more than 1.30h each time, then her breasts may grow a bit...
Women with big breasts appear spontaneously in the nature, but several of them have overweight (trend for a fat female body)...
That is the problem: intense sex in couple increases femininity of the concerned lady, increases spontaneously the quantity of female hormons in her body and her breasts, but the concerned lady has trend to eat more and gain overweight also...
Exceptions do exist, but concerned ladies have to do adequated diet, and have difficulties with that...
I think an adequated diet for concerned ladies is to eat the daily recommended quantity of proteins (50g a day), and cut with most of the food containing mainly glucides and fat...
The problem is that concerned ladies tend to eat this kind of food, e.g. chocolate, I think... that problem should not normally appear in a normal situation, I think... possibly the concerned lady has a group of oponents who may perform discreet withcraft, in order to try to trigger obesitas behaviour, in the concerned lady... ideas against that in the chapter 'Freemasonry', article 'witchcraft'
The concerned male sex partner shall also be able to perform intense and regular sex, in heterosexual couple... ideas for that at Mirrors section from 'GLBT and Modern Sex kills'...
Why there is so many People with Brunette look now if Adam and Eve had Nordic Look?(15/7/2023)
It seems Adam was blond and Eve had also nordic look. According to Jesus, before the great Flood, first humans mixed with some hominid species, namely the man and woman of Neandertal. Through this hibridization, the children received some features of the Neandertal man and woman: eyes less blue and more green and brown, hair less blond and less red nordic, and the skin a bit more brown...
At the times of Jesus, several blond nordic look existed still in Israel: Maria Magdalena, St John, Jesus, Virgin Mary (source old web site apparitionsmariales.org)... in the Mediterranean area, the Greek Roman and the Iberian community were also a bit blond with nordic look also, I think, as now in present day Sweden and Finland...
But presently, most of the people in the Mediterranean regions have that nordic look anymore, but the so called brunette look, white skinned but dark and black hair and brown eyes...
What I think it happens: in the mediterranean area, but also, in most of the rest of the world, black Africa and China also, many children are still born with green and blue eyes and not dark hair at birth time, but most of them receive the brunette witchcraft, and half hour later, some of these babies have their eye color turned into green (blue to green, I mean) and many into brown or dark brown color (blue and green into brown, I mean)... and through this discreet brunette witchcraft, the hair color change gradually from blond into dark brown... a 10 year old child born with blond hair has then dark brown hair... exception: if the hair of the recently born baby is brown, the hair color, in some cases, may change quicker in the first 5 to 30 minutes into black...
I can't proof this: but people in the birth room of the hospitals could observe this relative quick eye color change and eventual quick hair color change... but people who may observe it (e.g. mothers and concerned medical staff) may lie, deny (eventually with ruse) or avoid to speak also about this possible phenomena, e.g., in order to avoid conflicts with the powerful lobby brunette... what may happen also is that the mother, in many cases, isn't able to see the eye color of her baby, but only the hair color, at birth time... being the baby quickly removed from the mother by the medical personal, in order to be washed and to hide the original eye color of the baby... the eyes of the baby may be also initially closed, at birth time, until the bath... that's also one of the reasons why the hair color of the concerned baby may change slower (than the eye color), in some cases, I think... the brunette discreet witchcraft is hard to proof because of that, I think...
In lands with many people with slit eyes, like China, the mother could eventually observe at birth time, if her baby has less slit eyes in the beginning and more slit eyes after the bath/shower... that's easier to be observed by the mothers in those lands... the possible slit eyes (but also discreet brunette) witchcraft...
If this brunette withcraft indeed exists, its goal is not holy: people with brunette look are in disadvantage for success in life, money and marriage for life...
In paradise, everybody has glorious bodies and there are reasons for that... in first place, a perfect holy heart, yes, but afterwards a glorious body, also...
Annex: IDEAS TO TRY TO HELP MEN WHO WANT HOLY MARRIAGE FOR LIFE(28/04/2021). ORIENTAL PEOPLE CAN ALSO PERFORM +- GOOD.
WHAT ABOUT MEN PRO GOD WHO WANT HOLY MARRIAGE FOR LIFE?
THE FORMULA IS ***NOT*** THE SAME! Not at all...
SPORT + WEALTH (+ GOD), THE FORMULA FOR MEN
(Healthy) PRACTICE OF SPORTS, develop body muscles, e. g. FITNESS. To ask advice to professionals over how to practice it, over food practices... some Ideas: e. g. to avoid food with white sugars + alcohol at days of training maybe good idea + some sport + food care...


STRATEGY TO HAVE CORRECT INCOME => e. g. to go to University, study hard (+ do pause strategy of having some extra 3 years in order to study all course stuff good, e. g., 5 year period working as teacher for lower study levels, do master slowly in order to assimilate good things...) or choose job which could give enough monthly income... money => WEALTH HELPS STABILITY HAPPINESS INSIDE MARRIAGE... (BEAUTIFUL) LADIES generally DO NOT LIKE POVERTY. LACK OF COMFORT COULD GIVE CONTRACEPTION divorce IDEAS... MONEY SHOULD NOT BECOME AN IDOLATRY NEITHER... sometimes life is hard and punishes with poverty... St Onofre (page 'links') protects against misery, but not against poverty...


SOMETIMES TO BUY EXPENSIVE HELPS TO TRIGGER VIRTUOUS CYCLE.
IDEA: DO TO THE OTHERS WHAT YOU WANT THEY DO TO YOURSELF. For a poor person is a lot harder, in the beginning.
Strategy: buy (cheap) things more expensive and do the test, (in order to give profit to the other), during some 3 months to see trend: does it goes trend bankrupt? Or does it trigger positive energies + money coming back?(having a saint Onofre with required conditions + not go completely bankrupt maybe good idea...)

there are some risks:
prodigal son's troubles (mentioned in the gospels...)
or ...
go bankrupt...

In some cases to buy expensive works in order to get rich, but in others not... christian true faith behaviour may help sometimes... ???
6 months after beginning of 3 month test, one should already have an idea... (if it helps, then proceed buying expensive, of course, it's better to buy expensive + money charity...)


TO BECOME MEMBER OPUS DEI is GOOD IDEA (for rich men)... watch out: 1. discretion protects person a lot, but weak points of discretion appear now (after Benedict XVI, increased risk of Apocalypse => silence complicities...) 2. Poor men should a bit watch out: (e. g. group strategy may defend other interests... but this has nothing to do with religion, neither with Opus Dei self...)...


IF MAN ACCEPT TO MARRY UGLY LADY (=>BRUNETTE or Scheherazade look) WITH LOVE (=> without protests/revenges), THE REST BECOMES (generally) EASIER... BUT FOR SOME MEN IT IS HARD TO MARRY for life, catholic marriage, with LADY DOES NOT care about AESTHETHICS... many marriages couples finish prematurely also because of aesthethics of lady (=> to impose brunette + threats over speaking over this subject, the hope to marry catholic with beautiful blond lady)... heart counts a lot of course, but it is reciprocal (aesthethics program of lady => to have heart to husband...)


DAILY PROTECTIONS AGAINST EVIL FROM GOD. To speak openly about dream lady is beautiful blond may trigger bad energies. Evil remains strong and wants to destroy holy marriages for life. Thus someone who speaks openly about it could risk revenge from evil, in order to scare the others, etc. (like to speak about danger of apocalypse, immortality suggestion, or automatic eternal salvation icon of St Faustina ( available at home page, summary of this at section 'about'...)


HARD WORK (when needed, goal: to have enough money for couple/family needs). SOME TIME ALSO FOR FAMILY GOD also interesting...


AESTHETHIC CARE helps ALSO, but LESS IMPORTANT THAN FOR LADIES. BEFORE THINKING COLORING HAIR IN BLOND ( + blue eyes lenses care + aesthethics), a MAN SHOULD BE MUSCLED, he SHOULD HAVE ENOUGH MONEY. A BLOND HAIR ARTIFICIAL BY MAN SHOULD GO TOGETHER WITH MASCULINITY => MUSCLED BODY + BEARD (blond also... => black hair beard (or hair roots) appearing is aesthethically aberrant...). MEN SHOULD MAYBE PREFER WHITE HAIR TO BLOND (in seniors, this appears in a natural way...)

MEN WITH BETTER APPEARANCE TEND TO EARN MORE, also...


WHITE SUGARED FOOD HAS ALSO SAME (positive and) NEGATIVE EFFECTS BY MEN... INCREASES AGING, GIVES Scheherazade look etc etc. if sweet food needed, when possible, prefer fruits honey more natural traditional sweet food. From time to time, not dramatic, e.g. birthday, party...


IDEAS AGAINST AGING at home page (=> sections 'ideas against grippe & aging' )...


It's good idea to half-CUT EYE LASHES 2x/ week in front of mirror with adequate scissors=> SPECIAL attention/ CARE RECOMMENDED first 2 times... TO SET A BEARD COULD maybe BE GOOD IDEA, to try to reinforce masculinity, but not always possible (job's pressures etc).


RELIGIOUS PREPARATION, in order to MARRY BY THE ROMAN CATHOLIC CHURCH FOR LIFE (=> MAN SHOULD LOVE HIS WIFE... but IF SHE IS BEAUTIFUL it's a lot EASIER...).


SOME YOUNG MEN COLOR HAIR IN BLOND, BUT THEY SHOULD WATCH OUT... IF NAIVELY COLORED, IT MAY HAVE NEGATIVE SIDE EFFECTS... IT MAY HELP, YES, BUT IT SHOULD BE DONE IN PROFESSIONAL WAY, BY MEN (and ladies also)... Better appearance helps also by men at work, marriage... That's why I try to help a bit here also... Of course, blond cared look aesthethic program is much more important by ladies to help stability in couples (catholic marriages for life) ... better cared (blond or Nordic) look helps also by men, but other points shall also be considered... the situation is not exactly the same...
WHEN ALL the REST IS IN ORDER => WEALTH + anti AGING measures+ EYELASHES half cut + food + Muscles + God (e. g. confession + Sunday catholic mass...) + know how (job etc.) => TO COLOR CORRECTLY HAIR IN BLOND (better: WHITE hair means wisdom, maybe better than coloring in blond for men...). WHITE ADEQUATE WIG? WHAT ABOUT TERRIBLE BLACK BEARD HAIR (roots)? MASCULINITY SHOULD REMAIN: e. g. beard and / or SPORTS (muscled), IN CASE OF SUCH ARTIFICIAL COLORATIONS... for men, to color in blond(=>white is better) is less important and sometimes complicated to do it correctly. Good tests in mirror(also clothes=>conservative style is better for men of God..., hair style conservative, e.g to comb/fight undesired wirlpools/curls...). Remaining aesthethics: Eye color care, teeth, anti aging, sports + body care, have some (relative) impact, of course... some money + time needed...

Messi did coloration look sometimes +- correctly in 2016...

but: too much work, and positive impacts are smaller by men than by ladies...

eventually DEMAND (=>DAILY) SERVICES TO PROFESSIONALS 'e.g. barber'... because not so easy to care such look correctly permanently...

IF BLOND LOOK NOT PERFORMED CORRECTLY, BETTER NOT TO DO IT => risk to fall in ridiculous SPECCIALLY FOR (non blond) MEN...

IN WEST it's improving a bit... TIME FOR ASIATICS EVOLVE POSITIVE ALSO? IF YOU COLOR HAIR IN BLOND BETTER TO DO IT PROFESSIONALLY=> HOMOGENEOUS + REINFORCE MASCULINITY (for men) !!!

Not only hair care but also eyelashes and often beard eyebrows care... short hair white hair wig, also eyebrow eyelashes care + often adequate beard care => white beard adequate 'Father christmas beard' peruke... good test in mirror (=> here the (lack of homogeneity) of eyelashes + eyebrows (with the hair+ beard) as weak points, without to speak that by men, wealth, muscles, true faith are more important for stable catho conservative marriage for life, of course) ... blond look correctly done, better that man be muscled also and rich => to pay generously in shops... blue eyes lenses give esthethic impact and maybe less work => cross check comparative afro ladies table... but better to be rich and muscled first also... to be serious pro God (+ take cross) is also sympathetic because external look helps at work at marriages but is not everything neither => nordic lands had their beautiful but dead acid lakes to remember them about that...
ORIENTAL PEOPLE MAY ALSO PERFORM +- GOOD. SOME EXAMPLES, Ideas & Suggestions.
Ideas to help Asian people for happier marriages for life is the same as mentioned in sections above... MANY ASIATIC (& non asiatic) EXAMPLES REMAIN POOR, but there are some interesting examples analyzed here below...

HERE the ASIATIC BLOND COUPLE performs RELATIVELY GOOD (here non white sugared food diet is +- OK), and we can find other asiatic look examples near PERFECT. Several previous LADIES COULD IMPROVE a bit their HAIR ROOTS (for a near perfect look... yes, coloration problems...). BLUE/green EYES LENSES GIVE STRONGER esthethic IMPACT BY LADIES (care + prot ag evil + true faith also recommended. Afterwards(when too beautiful): dress with modesty, adequate head cover... ). Blue eye (natural or lenses...) helps a bit also by men, but MEN SHOULD preferably 1st give PRIORITY TO OTHER POINTS: Muscles, Diploma, Food, Wealth True Faith compatible, Daily Protections Against Evil, anti aging*, (sometimes) Beard, Half Cut Eye Lashes, ..., Adequate Food (suppress white sugar...)..., Muscles, half cut eyelashes are more important (+ God, true faith, money, daily prot ag evil...) and an HOMOGEN BEARD COULD (also black... blond? than better homogen also, like natural=> a lot harder!) , in some cases, REINFORCE Men's LOOK (here: eye lashes may eventually be a bit cut/shorter...).



WATCH OUT: HERE IS NOT PARADISE. A CORRECT CHRISTIAN MUST TAKE CROSS and something may go wrong... => PR TRUMP HAD IT HARD AND RECEIVED OBESITY's attack... HOLY MARRIAGE CATHOLIC SHOULD BE EVERLASTING.
COUPLE should REMAIN TOGETHER ALSO IN PRESENCE OF DIFFICULTIES...

PERSONS WITH PERFECT LOOK MAY USE ALTERNATIVE FORMULAS => too much discretion or something else which doesn't attack evil, or, worse, does the game of evil.

NOT TO BE SEVERE WITH PEOPLE (unless God says something else), war should more focus evil... but here's not paradise, some weak points may appear here or there... www.christianideas.eu tries to help, but best formula's against evil, one shall take cross/difficulties => something goes wrong/hard... => less easy...



Annex: Idea to Try to Increase the Length of a Penis without an Implant (12/08/2023)
I think that a man can increase the length of his penis, ready for sex, without performing the sinful penis implant, if the length of his penis, ready for sex, is inferior to ~17 cm.
In order to do that, I think that the concerned man should perform more than 1.30h traditional heterosexual sex, non stop, per day, with her wife, inside the holy marriage catholic for life, during 7 consecutive days, non stop, in order to make his penis grow ~1 cm. More details in the section 'Mirrors' of the chapter 'GLBT and Modern Sex kills'...
The procedure may be eventually repeated until the length of the penis of the concerned man achieves the maximum size recommended of ~17 cm, when ready for sex...
A penis a bit bigger than 17 cm is still adequated for the traditional sex in couple, in the catholic marriages for life, but it may kill the concerned sex partner, in case of sinful dangerous addictive sodomy sex and in case of sinful transvaginal sex with transwoman, I think...
Sodomy is considered as a sinful, dangerous and addictive practice, and, as such, it doesn't make increase the length of the penis, ready for sex, of the concerned male sex partner, because of that, I think...
In case of illegitimate sex practice, e.g. oral sex, the concerned commit mortal sin, which is not a recommended true faith practice. In that case, the concerned should go to confession to catholic priest asap, plus perform the concerned penitence, plus pray an attentive Rosary afterwards, asap, in order to be better protected in case of Apocalypse, because there's Danger of Apocalypse, now... more details in the beginning of the chapter 'Danger of Apocalypse'...
I think that the penis of man still could increase to ~19.5 cm, and the width to ~4.8 cm, following the procedure mentioned before, but the man shall be permanently pro God, stabilized pro God pro true Faith, with the formula take cross and not "savoir vivre" (with luciferianism, I mean...), because such penis may kill during sodomite sex and transvaginal sex... but it's adequated for traditional sex, inside the catholic marriage...
---




Jesus of the Divine Mercy: Those who Honor Jesus, with full trust, through this Picture (above), shall be Saved* from Hell.


* - Please refer to home page from www.christianideas.eu for further Details...



Please Scroll further Down to Fully See the Summary...





I try to pray for protection to all pro God of planet until 00:00h, to try to disinfest, but it's better to complement it with 24h protective prayer, e.g. attentive Rosary or (easier/shorter) 7 sorrows (here further below).



Summary over the Web Site
Catholic Russia Converted Ideas...
Made in Belgium, E.U.
www.christianideas.eu:
DISCERNMENT Criteria, e.g.

True Faith catho conservative non naive

:

risk of Sect New Age in Rome=> the Apocalypse...

=>

better to be in state of grace go to confession to catholic priest asap, after Benedict XVI

Risk of Great Famine

=> news from heaven +- serious to e.g. G Lomax, L de Maria, J Leary...



Ideas (pro God) to (try) to resist Great Famine

:
- St Onofre with a Crumb of Bread,
- Blessed grapes L Maria + S Damiano...

MODERN LIES unmasked
(Lies of Darwinism, Fake Dates...)



History + demographics since 2000BC unmask fake dates. Hominids were hybrids which existed before great Flood

, confirms Jesus at from old web site from V De Tarlé apparitionsmariales.org …



Proactive Darwinism: ~mouse evolves=> bat => vampire, thus ancestor man/whale etc goes to=> Batman => Dracula...

within same ~million years…



Y haplogroups DNA migrations tend to proof Atlantis sank => Ice ages before Moses crossed the Red Sea? Science & Bible theory



DANGER OF APOC after Benedict XVI => St Malachy prophecy:





CHIP 666 IN BODY, WW3, risk vaccines Pest Grippe with 666 smart particles /changing DNA RNA , throw virus (by plane) to kill vaccinated, "good" apocalyptic new age sect, THE GLOBAL EMPIRE SOCIALIST COMMUNIST OF ANTICHRIST... => lots of apocalyptic prophecy at www.tldm.org (for scenario Russia not converted)




ICON OF AUTOMATIC Eternal SALVATION
(also here above)
PROTECTIONS against EVIL, but some suffering needed, sorry! (a summary a bit further below)

IMMORTALITY SUGGESTION:


TO PRAY GOD for ETERNAL SALVATION for THOSE WHO NEEED IT MOST, CALMS 'only' DANGERS for LIFE.
(you have nothing to loose, if you feel dying, even if formula is limited …


after: begin discreet fast + daily prayer (as attentive rosary or 2 daily rosaries) until it calms/improves

=> ~30 days for diabetes,


ok not so easy, but it's better than cancer operations

,

(1-3 days should calm grippe…)

)


GLBT + Modern Sex BEHAVIOURS: Unhealthy, even KILL...


It attracts pests…
it's possible to attack underconscious, e.g., via discrete sorcery… => Nero case study...


IDEAS AGAINST AGING & GRIPPE/PEST /Evil

Dangers of Vaccins: e.g. 666 etc.
BETTER ALTERNATIVES + Pro God:

Fast & prayer (good against evil => Medjugorje) until it calms... (discreet fast & prayer or in solidarity group, prayer style (attentive daily) rosary, or daily rosary 2x, or 7 sorrows...

some food may help: avoid white sugars (fruits honey better if sweet food needed), but 1/8 glass whiskey or vodka (=> let it disinfect (few minutes) at the throat…), 1/6 glass vinegar, 2 cloves raw good garlic mixed e.g. in salad to help counter pest... + immortality suggestion in dramatic cases to calm a bit and in place of dying win forces to pray an attentive rosary /7sorrows... + details links above below



VACCINATED RISK TO DIE before time WITHOUT FORMULAS PRO GOD

(see above; formulas from news from heaven maybe work against vaccines… Exorcism water? miraculous medal, faithful see light cross in sky after great warning, Oils?... ?? )



IDEAS FOR A BETTER LOOK (Ladies & Veil)

How FAKE PUBS BRUNETTE & Erotica ARE KILLING CATHOLIC MARRIAGE FOR LIFE: Sarah x Agar…

(because of unhappy husband: too few beautiful ladies to choose… SOS Aesthetics...

correlations 30 years to detect trends:

... lady educating children in micro appart feels so happy as Husband with lady with not cared aesthetics... eats white sugared stuff=> brunette Scheherazade look puts husbands away...)

Aesthethic care is to have heart for husband

. Comparative Tables at section 'Our Lady of Fatima deserves better look'



MODERN WOMAN IDEOLOGY UNMASKED:
Demographic fall in West (+ Russia)…
stats (1950 or) 1970-2019: Germany x India…


Censured on

Twitter: @_ChristianIdeas

Possible:
T shirts Posters "Songs" Christian Ideas and/or Russia Converted Catholic ('made in Belgium')...

School
(e.g. Maths, Computer Science: exercises, complements to Wikipedia…)

Christian Ideas at Linkedin
(https://be.linkedin.com/in/christian-ideas-104ba893)

If You Want to Defend Good,

PROTECTIONS against EVIL + Take Cross Recommended

(IMMORTALITY SUGGESTION at 1st Sign of Danger,

CONTRACT WITH GOD (ICON AUTOMATIC SALVATION THROUGH DIVINE MERCY), (home page or below), + Daily (better, Attentive):

daily Rosary 2x, and / or

7 Sorrows, and / or

Crusade Prayer 33,

Crusade Prayer 140 (to speak without fears),

to be in state or go to confession catholic priest asap ...

+ details at christianideas.eu
I try to pray for protection all pro God of planet until 00:00h, to try to disinfest, but it's better to complement it, with 24h protective prayer, e.g., attentive rosary or daily rosary 2x or (easier/shorter) 7 Sorrows prayer.
Satan demanded to God 75-100 years to destroy Vatican + money + power => www.tldm.org. Satan had that time, that money, that power. 150 years later, despite dangers + evil, Vatican still resists. Let us see evolution... ??? apocalyptic? reversal pro God (again)???
Note: www.christianideas.eu began in ~2009 and keeps improving. IT REMAINS INCOMPLETE + NOT PERFECT.
Because IT IS NOT FINISHED, NO FINAL VERSION (.pdf) EXISTS. IT KEEPS IMPROVING and there's still many changes to do (and few time, resources...). A complete review of the web site should be done, but it's already better than nothing...
If God helps, I'll try to improve and/or correct eventual detected errors, contents + design, little by little. A backup .zip exists (link colomn above). It contains the most important part of this web site.
Please feel free to print it, copy it, behalf, eventually, songs ... (content's license, above left, with some extra explanations, but the general goal is to give some freedom, for the use of the texts + images, in a good intentioned True Faith pro God use...)
Good intentioned Pub pro God True Faith welcome!!!
(protections from God recommended then! Evil doesn't like it...)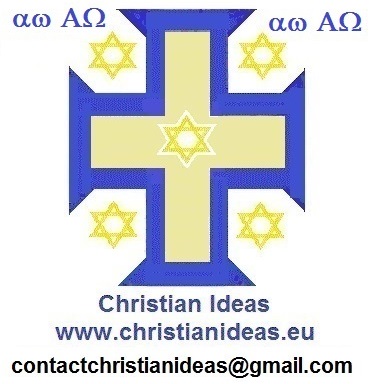 Below: Our Lady of the Roses Honored Exposed and Death doesn't Enter inside.
(source: Jesus at old web site apparitionsmariales )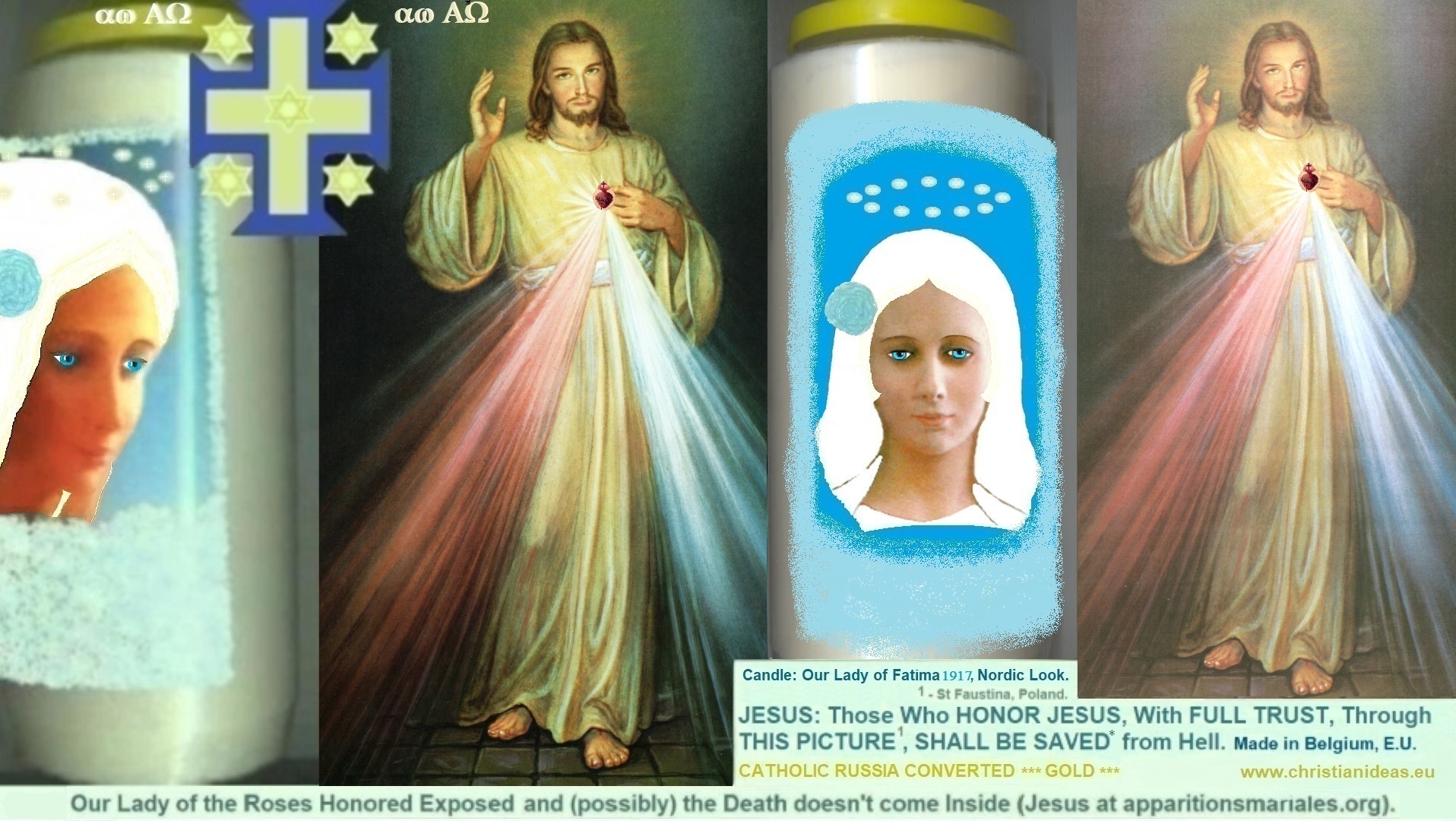 Right Click + save as to download images...