Our Lady, Fátima, 1917:


"Convert Russia

[to Cathol. Conserv. non Naif]

or...

Russia will keep spreading its errors all over the world."

=> USSR errors remain presently spreading...



Apocalyptic Danger From Russia: Summary
Russia Must be Correctly Consecrated to the Immaculate Heart of the Virgin Mary
Our Lady, the Virgin Mary, has asked since 1917, in Fatima (Portugal), to consecrate Russia, by the pope and all bishops of the world, to her immaculate heart. By the time of the pope John Paul II, some consecration of Russia was done. However, the Virgin Mary and Jesus, in New York, link Consecrate Russia, say that this consecration was not correctly done.
Some remarks:
The pope and all the bishops of the world consecrated in the years 80 the whole world to the immaculate heart of Mary. The Virgin asked Russia alone and not the whole world.

A cardinal consecrated Russia to the immaculate heart of Mary. What the Virgin asked was to consecrate Russia to her immaculate heart by the pope and all the bishops of the world, and not only by one cardinal alone.

Sister Lucy was asked about these consecrations and she "answered" they were well done. But according to Our Lady in New York the consecration was invalid. Indeed, through Lucy's writing, we know that the "Sister Lucy's" letter with the "yes" answer had a handwriting that does not match the one of the real Sister Lucy, meaning, thus, that this answer is invalid. Furthermore, the smile of the real young sister Lucy goes up, but the one of the old (impostor?) sister Lucy goes down
The Virgin said, that, in case of correct consecration, Russia would abandon her mistakes (ex. communism) and the world would profit of some extra peaceful period.
Just to mention some discrete signs that show that Russia was not correctly consecrated:
Russia and most of the post soviet block (up to Kazakhstan and Armenia) should be already part of the European Union, which is not the case... Still 2 different Europe? Why?

Russia is not yet a trustful ally of the West and a powerful apocalyptic military alliance with the (temporarily) triumphant China (against NATO) is already in place... and Russia is not always wrong... we know it...

There were still wars after the years 80 in the Russian territory (Chechnya), neighbors(Georgia, Ukraine) and wars or dangerous military influence in others (Middle East, Syria). A well consecrated territory to the immaculate heart of Mary should remain peaceful... or, instead, converted Russia should be a tool of God to set divine order and harmony instead of potential apocalyptic destruction, annihilation of nations and terror...

There's no union yet between the Catholic Church and the Russian Orthodox Church, under the legitimate leadership, which still remains the pope. Russians should convert to Catholicism (Polish/Ukrainian model, Russia of Kiev before 1054) and should help the Vatican to bring back old Christian Catholic tradition and fight modernisms, which is not the case... instead we have rivalry, rejection, disputes, ..., even if Orthodox (non communist) Russia may be right in several/many points...
What is the Problem Now with Russia?
Before, Russia/USSR was Communist. Communism is the Red Dragon, according to a private message from Heaven (please refer to the the Book of Truth), thus, an enemy of God.
Since the "partial consecration" from the popes, Russia is not communist anymore, but Russia was also not correctly consecrated, thus, there are important problems which persist.
The main problem, presently, I think is Orthodoxy, accompanied with an almost complete absence of Catholics in Russia. This is a permanent problem which comes already since the Great Schism of 1054 (more details in page 'Islam', with an analysis over the fall of Constantinople).
While the Orthodox doctrine seems to be more or less correct, they're Schismatic. That is the main problem, I think. Because Jesus chose St. Peter as His Succeeder, and consequently, the Popes, as His legitimate succeeders.
It's true, the Vatican, gives now signs of weakness, it may fall one day, but it still remains the legitimate Church up to today. It should be better to have the Russians with us to try help us to bring back the Old Catholic Tradition, instead of keeping separated and letting us fall into "a New Age style Religion" which does not comes from God anymore... it has not yet happened, but, there are forces in this sense inside the Catholic Church...
Thus, while Russia remains a great military world power, Orthodox expansionism at the expense of Catholicism, seems to be an error.
Furthermore, conversion of (some) Russians to Catholicism seems to be difficult to happen: Why should they convert, if they're right in many points (the Vatican is even becoming more open to some Polluted Modernist Doctrines), their doctrine seems to be more or less correct, and they're a great power with the present model? Not evident...
Just to compare: despite the pollution of Modernisms and Protestantisms, we have more significant percentages of Catholics in the Anglo Saxon lands, Germany, Netherlands, Ukraine... in Russia we have ~0% Catholics...
Unfortunately, also as a "natural" consequence of this rivalry/tensions/rejection, Russia does also strategic alliances with "suspect" nations, like Communist China, and arms "suspect" nations like Iran and/or other Muslim lands... even if Russia becomes in "strong position", it can reinforce military the "enemies of the West/Israel" and trigger more easily the WW3 and the fall of the West... With a converted Russia, we would have another geostrategic balance, I think...
The current choices of Russia are difficult to change: the problem is more complex than it seems. Russia needs money, alliance with China reinforces its military position, Russia is right in many points, even if those points are massively rejected by the West (polluted with modernist ideas). A Russia weak, poor, would make its government weaker/less popular also (inside Russia)... if Russia becomes a "marionette" of the West, when Russia is right in many points and maybe stronger militarily, it is also not really interesting, but otherwise, Russia risks rejection... Conclusion: When Russia is not converted, everything becomes more complex...
Update from 29.5.2022:
What about the pope consecration of 25.3.2022?
Consecration from pope Francis seemed correct this time, but the problems remain. What did go wrong?
According to this article from tldm.org, the latest consecration was still not correct. Pope should mention Russia + Ukraine alone and the Reparation of 1st Saturdays. More details in this article from tldm.org.
I think this consecration was almost ok, but it missed a general presencial convocation from all bishops of the world to be together physically and spiritually consecrating Russia... maybe it's this???
Fatima 1917: " Convert Russia... or Russia/USSR shall Spread its Errors Over the Whole World!"
COMMUNIST RUSE STRATEGY: 2 STEPS FORWARD and 1 STEP BACK, to confuse(!) (from: Heaven +- serious to J. Leary). INDEED IT MATCH! E. g. against USA: defeats after defeats to West, but from time to time a victory to confuse... now socialism is contaminating West, up to the Vatican...
Our Lady of Fatima 1917 asked us to pray daily the rosary and the conversion of Russia.
Vatican could help in correct consecration, but it's very hard: evil is there active... only with many many daily rosaries...
Otherwise, Russia would spread its errors all over the world:
precoce independence of Algeria & others (at least a referendum; time is needed to have catholics there)

communism of genders => demographic fall, abortions, divorces, murders, GLBT ideology, diseases, destruction of traditional family...

orthodoxy => schismatics; communism of religions: new age sect may even triumph at Vatican: the apocalypse religious persecution e. g. Christians in Turkey of Ataturk...

support to communist socialist lands: support to communist China is now dramatic... Vietnam: another defeat for West/ USA... defeat after defeat for good, for pro God, for West... => it spreads temptation and risk Apocalypse...

communism of salaries: causes impoverishment...

Apocalyptic threat...
Better "Cat & Mouse Game" Than Schismatic
I may understand some (east or traditionalist) Christians think with their own heads, and they don't go in "tales". In some sense, traditionalist/orthodox Christianity is better to Protestant & other sects... they're closer to the truth...
It's true, also, in these Apocalyptic times, the forces of Evil gain force inside the Catholic Church hierarchy, and some modernizations of the doctrine are "suspect" (not so holy).
However, the Will of God, since the begin, was a united Church. That Church had Peter as head, and since then, their legitimate followers... the Popes up to today...
It's true, the popes/Vatican can not change everything, they have not the right the set the holy doctrine completely "up side down". It may happen in the future, there are limits to changes, but, despite the attacks of the evil forces, the Vatican remains the legitimate authority up to today. Some discernment may be required in difficult situations and these are confusing times...
Doctrine versus Authority : which is the best choice?
The answer is less evident since the years 60, because, before, the Will of God, the True Doctrine and the Respect of the Legitimate Authority had a match of almost 100%. Now, it is not the case anymore, thus, some prudence is required; one case is not the other... it is however POSSIBLE to profess the True Faith inside the Catholic Church... we shall, thus, NOT separate from the Catholic Church (as long as it remains Legitimate)... the risk of Excommunication is not big (as long as we do not exaggerate)...
In any case, to separate from the Catholic Church/Vatican, before it looses its legitimate authority, is to set us "out of game". It is what happened with Orthodox Churches and Lefebvrists/Traditionalists, even if the doctrine is correct... Submit to legitimate authority is important also; it may show some humility...
But Evil is increasing also inside the Catholic Church; there may be abuses of authority: we shall not be ingenuous neither... the Clergy do good their primary job of providing the Holy Sacraments and Union with Rome (up to the Fall)... however, because of this submission to the Vatican's authority, they can not do everything and the Vatican himself suffers blackmail from the evil forces...
That's why the best strategy for the believers, which are not directly under the authority of the Vatican, is to Support and Pray for our Legitimate (Catholic) Clergy, not judge them and to be somewhat "ruse", when possible (big cities, for ex.).
It is better some "Cat & Mouse game" to try to maximize the Will of God, than to be Separatist (Orthodox), or eventually to be silenced, as the Sister Lucy of Fatima (traps for the Clergy and their religious submition)...
For the members of the Clergy, not to submit to superior authorities may be dangerous also... they risk to be set out of the Catholic hierarchy... but they can always omit some things and try to play with ambiguity/autonomy to try to maximize the will of God...
However, normal believers, are relatively "more free", and are more able to play "cat and mouse" games (speccially in big agglomerations, with more choice of Cult places)... respect for the priests is a good idea, but we can profit from ambiguities to change from Church from time to time, "to speak the Truth", when the control of clergy authority diminishes... ("Chinese style control" from the Clergy autorities (against believers) goes also against the Will of God: believers may profit of some freedom... in that case, recommended "cat & mouse game", but some obeisance also...)
Protections against Evil well come, to avoid Traps!!! Don't be ingenuous!!! Intimidation is Big...
Even members of the Clergy, may take profit from some ambiguity, to favour the Will of God, when possible. It is still possible to profess the True Faith inside the Catholic Church... Dangers are however increasing, and priests may have to do some things "less" holy in order to conform to the Catholic Hierarchy... There's limits to changes, but as long as there's no schism of the Fall, some "less holy changes" are not always so dramatic, if we/the Clergy conform to the Will of the Superiors... some ruse may be also welcome in such cases...
Conclusion
Thus, better some ruse and Cat & Mouse Game, than to divorce from the Legitimate Catholic Church.
Conservative Russians and (orthodox) Clergy, if they would integrate the Catholic Church, in the Polish Ukrainian (Greek Catholic) model and using this strategy could help (a lot) the conservative branch of the Vatican, and could help to restore order. With this divorce, everybody looses. Some "ruse" would be however required, to try to restore/reinforce the Will of God... the Evil One does the same "game", but with the opposite intentions... and He is gaining power, also inside the Vatican...
The Origins of the Problem: the Golden Horn, Constantinople and Orthodoxy
Although it may be a coincidence, there's maybe another interpretation for the symbolism of the Golden Horn, Constantinople (now Istanbul, Turkey), and Orthodoxy, specially after the great schism of 1054 of the eastern churches.
Constantinople was the great Christian city of the time (1054), and had a great charm. It succeeded to seduce Kievan Rus to Christianity, Byzantine version. After the conquest of Constantinople by the Turks, Hagia Sophia became a mosque, for a time, Islam was promoted, but the Russians and other Slavs remained mostly orthodox.
That's why that charm for Constantinople Greek Byzantine Orthodox Faith didn't seem to come from Constantinople/Hagia Sofia only:
previously neither the the german / latin version of Catholicism, neither Islam, neither Jewish Faiths etc., didn't have the same charm to seduce Kievan Rus...
but afterwards Constantinople became Muslim, charming Hagia Sophia cathedral became a Mosque, but Russian Faith remained mostly Orthodox Christianity...
Thus, the cause from the Kievan Rus conversion to Byzantine Faith came maybe from something else... which made the difference...
I think the Swedish Vikings had maybe a role, giving Scandinavian charm to the Byzantine faith at the time of Kievan Rus conversion to Christianity at 988...
Indeed, the (Swedish) Vikings were recruited by the Byzantines and were active there since ~the 8th century... there's a kind of ambiguity from the part of the Vikings at the time... in Scandinavia self they were not yet Christians/Catholic, but further South they converted to true faith; they offered (sometimes) their services to Christian kings...
... maybe the Scandinavians/Vikings at the VIIIth century were somewhat angry / frustrated with christian West Europe, because the Goths and other Scandinavians lost their properties in Spain, Italy and Hungary, while their examples/governments there were relatively good... thus, the situation being more complex than it seems, they maybe played some ambiguity at the time...
At the time of official Kievan Rus conversion, 988, Constantinople did indeed made the difference, and it was still Catholic!
THE KIEVAN RUS OBSERVERS CONFESSED THEY DIDN'T KNOW IF THEY WERE ON EARTH OR ON HEAVEN!!!
YOU CAN THUS IMAGINE THE CHARM...
That's maybe why God is the Α/α (ALPHA), and the Ω/ω (OMEGA), and doesn't forget Greek Byzantine culture and the thirst for perfection...
Unfortunately, things went wrong... like the USA and the West now, it was to be expected the fall of Byzantium one day, sooner or later in time... because people on earth are not perfect... nobody...
At the time of the year ~1000 DC, the Muslims in Sicily were threatening Central Italy... the Muslim Arabs had already colonies near Rome...
At the time, the true faith Normans, from Norwich origin, decided to free Italy from that Muslim domination... but at that time there were troubles between the true faith Germans and the Slavs in the area of present Poland...
Byzantium was trying to seduce the Slavs to true faith in the Greek version... the Normans didn't do the game of Byzantium + Sweden and expelled the Byzantines (and its influence) from Italy... Byzantium, which had already lost a lot of territory to the Arabs, went in paranoia, found pretexts and triggered the great schism of 1054! For solidarity most of the Eastern churches follow Byzantium and they fell also...
Since then the great charm of Constantinople didn't interest anymore... the charm and greatness of Constantinople were used to rivalry against the legitimate authority of Rome and not to promote God's interests... a rivalry like the adultery in a couple, but with greatness and charm... a golden horn!
And since early, the golden horn and a (sickle) crescent Moon were symbols of Byzantium/Constantinople city... if we see the historical evolution of the city, I think it was no hazard... unfortunately, the possible Middle Ages Swedish efforts towards Constantinople fell in the ridicule... sometimes it happens... evil forces are very smart and try to change good work in ridicule...
...some centuries afterwards we have a BarbaRossa (from Viking origin), at the service of the Ottomans, condeming whole North Africa to remain Muslim and attacking Catholic efforts in the area...
Thus, the great Orthodox rivalry didn't stop since 1054, but was solved with the conquest of Constantinople and progressive islamization of the city the Ottoman Turks... not brilliant, but the problem was solved... indeed the Catholics (and crusades) were unable to change the situation in the Middle Ages...
Also European Kievan Rus/Russia was invaded by Turkic peoples and Mongols and was unable to help Byzance and the orthodox Balcans during several centuries...
Orthodox (and communist) Russia became a great power afterwards, but it's unable to contest the superiority of legitimate Christian authority, the pope/Vatican, up to the end of the world (but True Faith/Vatican is already under discreet attack from evil forces!)
Communisme + USSR: 2 STEPS FORWARD 1 STEP BACK*, UP TO the ANTICHRIST. (20/10/2021)
*- heaven +- serious to J Leary... a deeper analysis seem to confirm it... the strongest were the communists...
TURKEY OF ATATURK does PARTNERSHIP WITH USSR: THE GREAT CARNAGE EVER OF CHRISTIANS IN MIDDLE EAST BEGINS...
THE RUSE IN WW2: so "weak" they were, so many millions of "Russians" dead... => USSR dictators could profit to make a "cleaning" of less desirable ethnicities: Muslim Tartars etc to send to battle fields with "weaker" weapons...
1962 Algeria etc. e. g., AFRICAN decolonization: GREAT DEFEATS for good + WEST!(20/10/2021)
1962, Algeria: USA and France have no force against USSR...
WARS OF INDEPENDENCE IN AFRICA WERE *NOT* pure WARS BETWEEN NATIVES african and European colonialists.
Natives simply have no force to defy European authority. Nor the will, in many cases. That is confusing here in West also: they think were the natives... they were not (or: not alone)! It was USSR... afterwards, each one reacts in its way...
THOSE WARS WERE WARS BETWEEN GOOD AND EVIL, wars BETWEEN USSR AND WEST. GREAT VICTORIES FOR USSR + SOCIALISM COMMUNISM, the discretion, the ruse... Now communist China is defying USA as nr1 economy... without Western reaction, the trend is to become largely number 1, even if communist socialist system is less efficient... THAT IS WHY RUSSIA STILL SUFFERS SANCTIONS (also to compensate and confuse, I think...)... BUT EVIL, SOCIALISMS, COMMUNISMS KEEP ADVANCING... sometimes orthodox temptation: it's better to have a window (traditionalist doctrine), but to remain in roman catho faith until the fall of Vatican to the new age socialist communist sect...
Not always evident to notice it, but from wikipedia, we can already deduce it: 2 steps forward, 1 step back (to confuse...), sometimes capitalist lands should play pro USSR, with advantage socialist afterwards... better to help USSR wars in Africa than in own land (Sweden, USA, Brazil)...
Egypt, Algeria, Namibia, Portuguese colonies... others should play the game... independencies from pro God should happen: either peacefully, either through war, and pro God empires lost...
USA against UK??? Really??? Yes it happened: USA with USSR against UK in Egypt... Normal? Not really...
Correction: it seems, in beginning some nations like USA did freely game of USSR, for other reasons: during split of Africa, all colonies went to few European lands, like France and UK, but some lands like USA and USSR were excluded => some revenge... but afterwards the USA realize these independences favor communists... and weaken allies like UK... they play otherwise in Algeria, but West looses...
This analysis may not happen 100%, but a trend, and there's also an effective USSR intervention in this decolonization process... previous european christian empires weaken... Europe to remain strong should unite... even so it weakens with this democratic system, despite wealth, women rights promote a permanent demographic fall... which weakens concerned lands in long term, at least economically, in the world ranking
Eventually some independences could happen, but not naively. True faith or christian empires should have the time to Christianize some communities. In Algeria, India, Somalia and Morocco, that time was *NOT* enough...
It should happen with serious referendum afterwards, without war, and ancient masters should not loose their estate (or at least some negotiation and try to keep maximal property rights of old masters=> not to loose everything neither...) ...
Would that have happened, maybe some colonies could have chosen to remain with old European empires... less problems over immigration now... more christian communities in North Africa, India... USSR could have intervened also discreetly without direct mention in official documentation...
Anyhow, native of ex colonies etc were not masters of the situation. The great masters were USSR and USA, probably advantage for USSR... Now, we can not restore things pro God so easily...
Convert Russia or... Russia would spread its errors all over the world... a deeper analysis: it happened! It still happens, but now it is more complex...
... communist China rising, communisms socialisms spreading abortions spreading, LGBT + modern women ideology is also socialist progressist => communism of genders triggers demographic fall... afterwards weakening of nation even with many people with high education...
... communism of salaries triggers poverty and work demotivation for traditionally well paid and university jobs behalf military (=> helped by hell, to create weapons to destroy the planet)
...social insurance may help against misery, but it triggers also illness + death culture, pension systems included! The logic used, is this one: "If that person dies, government pays less money and worker pays less taxes"... concerned people should be aware: social insurance system is not as good as it seems... it may help in some situations, people may benefit, but should react and develop strategies to counter negative effects... if people can live without those social securities, it's better!
And... Solutions? Not so easy! Idea: read the rest of this chapter, to have other analysis and ideas...
The (Russian and) Chinese Attack: Apocalyptic defeat for the West / USA
Anyhow, Russia can still be very dangerous and play a crucial role in the fall of the world, which could be avoided with a correct consecration of Russia to the Heart of Mary.
Probably we merit it, because of our sins, but anyhow... I really prefer a Russia with us, champion, superstar, than a rejected/rival Russia, siding with China, a tool of Terror and an Apocalyptic Scourge for the West and for the World... we could let that role for China (without Russia) in a time, later in the future, no?
Please refer to the (conditional) prophecies of www.tldm.org, Russia and China, parts I and II...
PS: France could still play a role afterwards : the french great catholic monarch scenario from old catholic apocalyptic prophecies...
Russia Properly Converted Only with Many Rosaries
Our Lady said that Only with Many Rosaries can Russia be converted properly. References: related links in the French Web site Apparitions Mariales. Indeed, because of the strong activity of the forces of the evil inside the Vatican - we're in troubles, we need help -, it is very difficult for the popes to consecrate correctly Russia.
Properly converted Russia, I think, in the style super Poland/super Ukraine, would be the right solution for the world for several/many years...
Russiaphobia/Paranoia: real problem seems to be Orthodoxy. Alliance USA-Russia Could Stop New World Order WW3
Analyzing previous messages from heaven, as long as Russia remains Not Converted (with very low % of Catholics, better: conservative), I may conclude, that God/Heaven is Not very happy with present Russia, neither. That means: the "dirty" game / "paranoia" of the West / Freemasons / Illuminati searching pretexts to attack Russia, may be a bit "needed". Not because of those pretexts, true or false, it doesn't matter, but because, Russia remains not Catholic (conservative); it would show something remains wrong with (present) Russia. Indeed, perfection doesn't exist... nobody, no nation, here on earth...
However, this game, if exaggerated, is dangerous, it could trigger Apocalypse quicker... because, if there are radicalisms from both sides, West and Russia, each one with their weak points and sin increasing... it could lead to a crash... forcing Russia to the expected 'hangman' scenario: Russia, the "scourge of God", punishing the sinful West... nobody really wins with such scenario... a tendency in case of increasing sin / modernisms / communisms, leading to Apocalypse...
Honestly, I prefer, rather, the (not ingenuous) Russia converted solution (the leader, the capital, it doesn't matter, if it is properly implemented), but as this chapter shows, there are permanent blockades, e. g., in the Vatican... it's quite difficult to implement it... many daily rosaries needed, better, accompanied with divine mercy chaplets + Amsterdam prayers to try to calm things...
However, in a message from Our Lady of All Peoples from July 2018, GOD ASKS SERIOUS CONSTRUCTIVE DIALOGS, A UNION RUSSIA-USA TO RESTORE CORRECT ORDER AND CUT PLANS OF NEW WORLD ORDER ELITE TO TRIGGER DESTRUCTIVE WW3, APOCALYPSE... IT COULD BE INTERESTING THAT THE POPE COULD STOP ALLIANCE WITH NEW WORLD ORDER ELITE... PRAYERS/ROSARIES NEEDED... CONVERSION OF RUSSIA TO CATHOLICISM CONSERVATIVE NOT INGENUOUS WELL COME...
(29/7/2021) Mercator 1595: SIBERIA to GO To BELGIUM after WW3/APOC?
Mercator 1595, Belgian Mounts, Gog & Magog, review of Rev 20 Ez 38 post apocalyptic prophecy.
Further research needed. Speculation or not, such idea could eventually have a strong impact in Belgium in the 16th century in full religious wars when the Netherlands wanted to split from Spain and embrace Protestantism. To keep Belgium loyal to true faith catholic Roman + Spanish Habsburg authority, Belgian people like Mercator and other cartographers could have been informed over prophecies for the future and their future benefits if they would remain loyal to the true faith. Via news from heaven +- serious (those of good quality, even if we shall cross check info... like those mentioned in heaven news links ) Mercator Muhammad and several others would have been informed over extra prophecies coming from heaven and not present in the Bible.
When we see a Mercator map, e. g., of 1606, there are mentions to Gog & Magog (pos apocalyptic period) + Belgian Mounts. Siberia to go Belgium after ww3 / Apocalypse?
There are judgments after the Apocalypse and Russia has it difficult even in case of victory with China, because of satanic USSR past. Orthodox temptation or military alliance with China are not excellent neither as examples (because they're spreading temptation again), although constructive alternatives for Russians, without conversion to true faith Catholicism are difficult... ???
Present ideas over Gog & Magog=> it may still evolve...
Further analysis of this question with extra documentation over future, past, belgian Mounts of Siberia, Gog and Magog + several on-line available ancient world maps can give a better idea over the Mercator Map.
Vng translated as Ung/Gog, Mongol as Magog in the Mercator map. While in the map, it seems Mercator interprets Gog as Vng people, alias Huns => Y haplogroup Q (genetics) alias proto Hungarians, the Bible in the Revelations 20 and Ez 38 considers Gog as the leader of the land of Magog to come 1000 years after the Apocalypse.
Jewish analysis consider Magog descendants, the people of Magog as the Scythians and reading these maps, Scythia seems to be synonim of Tartary, Mongol. Scythians spoke indoeuropean language further West, but in the East probably they have to adapt the language becoming thus Turkish Mongol Altaic Ural family, e. g. when trying to rest in the winter in Chinese warmer regions in place of the glacial Siberian regions.
Russia becoming a mix of Slav Gomer R1a Y haplogroup + Swedish Thracian Tiras nordic (genetically I Y haplogroup), I think now on a Germanic profile leader in a land of old great Scythia, alias great Tartary alias great Mongolia alias ex great czarist Russia / USSR, thus leader also of Mongols and Turks of Siberia and central Asia. Van Gogh as a Germanic name to be found in Netherlands, e. g. blond famous Dutchman...
What about Vng Huns Hungarians?
Huns seemed to come to West to flee the horrors of winter Siberian climate after Chinese set the great wall => no scythe / magogian in China anymore... and they came thus to West to the lands of Slavs Gomer/Togormah R1a, Celts Gomer R1b and Germans Tiras Thracians haplogroup Nordic I, setting the pressure against Roman empire and Germans. Afterwards it calmed, Hungarians converted to true faith. Presently and Magogian Y Haplogroups practically disappeared from Hungarian people, intermixed with the local population but keeping the language => internet analysis Y haplogroups of the region.
Some genetic Y haplogroup Q can be found in the neighborhood, in Bosnia Herzegovina. I think immediately in the Ottoman purge period, when Hungarians should decide what they wanted: Protestantism & Islam or true faith Catholicism conservative non naive with Habsburgs of Spain + Austria. Turkish language somewhat related with Hungarian, some could eventually try to profit from the Ottoman empire and beautiful Nordic Thracians ladies still living in Balkan Bosnia, and thus, moving to this region. This region was near the northern European Ottoman border for long time. An eventual islamization and adoption of local language could be a possibility... some others could be also descendants of original Turks also coming from Central Asia (near the Caspian Sea).
With this Hunic mix of populations from Sweden to Paris to balcan + christianization of Hungarians, some Gog names could remain, as the Theo van Gogh and others... a leader like Putin etc but with a (now Germanic) Gog surname, King of region that was before great Scythia, the land of Magog, ~ evolving to great Mongolia, great Tartary & great czarist Russia + satanic USSR.
C + Q haplogroup also to be found in native Americans[North American possibility?]... this war should happen within 1000+ years... that's why this is still complex and confusing...
Gog, being a person, the king of Magog, associating them with Vng Ung Hungarian Hun could be rather to create ambiguity, because in the map, Gog is associated with Vng=Ung, with an associated, but different meaning than that of Rev 20 and Ez 38 and 39. Original Vng should be also Magogians. But eventually, yes, that king, Gog, could be a more European descendant from an intermix of Huns, further West, as the dutch Theo van Gogh, and also a leader of a nation, like czarist 1900 Russia, but still to come, ~1000 years after the end of this age...
Vng alias Ung alias Hun alias proto Hungarian had maybe since beginning better reputation than traditional Magogians. Near Vng Mercator region Bering + north to Korea, according to older maps, there was a second prester John kingdom (after Ethiopia), those christian reigns very far from Europe, located very far, after the islamic world. It could be associated with some Vng=Ung. However not all Huns were christian; in the times of Attila, the Huns were a terror in Europe, threatening the Germans and the Roman empire... Mercator could use Gog as Vng to distinguish proto (h)Ung(arians) from other Magogians???
Mercator/Siberia: "Desertum de belgian are nosum"
Maybe "our belgian Desert"? or "Gog king of Magog is conquering the desert from Belgians?"
I have it hard to translate this correctly. Anyhow some of that desert seems to have disappeared, now being more green. The correlation less Muslims more Christians more green remains valid in Belgian Siberian desert [after Russian conquest] and in vanishing Arabia Felix [less christian less Jews and less rain => the Muslim curse against rainfall seems mostly valid, with the Turkey + Bangladesh exceptions, to confuse (profiting from Christians in neighbor lands?)...]
M Paulus from Mercator map seems to refer to Marco Polo Venetian, but there's some ambiguity with name Polo Paulo Pauli Paulus, while here I try already to help with Catholic Russia converted ideas, made in Belgium. Few references to Belgian mounts of Siberian outside the Belgian Benelux cartographers of Renascence period. We may find references to the Belgian lion, with another ambiguity: Leo Belgicus as Netherlands lion...
... with Russian conquest of Siberia at ~1650 all mentions to Belgian mounts of Siberia and even to biblical names Gog & Magog begin to disappear. Probably not to importune the new owners, christian (but orthodox schismatic) Russians initially germanoslavic people (genetics more I + R1a) while conquered tartar Turk Scythe mongol Asian natives were more Magogians (genetics Y Haplogroups more C Q N)...
Belgica Galia Celtica references to biblical descendants of Noah Riphath Askhenaz via Gomer, some Y haplogroup genetic R1B can be found in central Asia Siberia, but I speculate Mercator knew news from heaven +- serious & future prophecies over post apocalyptic period... other old maps don't refer to original Belgica celtica galia in Asia Siberia regions neither... the Belgian lion that takes some Siberian territory after apocalyptic judgments => one the kings of Tarshish (ex Habsburghs dominions)? Tarshish is happy at Gog Magog post apocalyptic war, but Russia & USA may loose some influence... ??? Gog & Magog is past, but also future... ???
Curiosity: How to explain: ancient Scythes were dirty people cannibals? over Magog evil reputation...
at http://www.hist.msu.ru/Labs/UkrBel/goges.htm + ancient old maps we learn that Alexander the great creates a wall east to Caspian to imprison further north Magogians and other "evil reputed" peoples.
Analysis Y haplogroups show that region, close to Caspian in Asia has genetical Y haplogroup C. C haplogroup is a mix of the three races oriental Chinese, African and European. This C is still dominant in West Kazakhstan near the Caspian... I think immediately in ancient Scythes (Magogians) eating and murdering africans in order to get rid of them, I'm sorry... the truth is pure African native people almost disappeared there (I think), although in Asiatic cultures there's some degree of African mix...
That Magogians are not perfect, sure: nobody is. The truth is also that pushed to Siberian areas those inhabitants could have suffered enormously with the terrible cold winters, and some are even christian orthodox now in Russia Siberia. That reputation Magog could have worsened situation of descendants of Magog and Tartars Mongols Turks from Siberia are not so numerous today neither. All this is complex, each nation its pains...
Still an interesting old map now available online, the Borgia map...
The prophecy Ez 38 + Ap 20 could maybe speak over Gog King of the [ancient ] land of Magog [ => old Scythia ] where now Russians are majority and tartars mongols Siberian Turks are not numerous. Also in central Asia Turkic peoples are not so numerous neither... ex a Russian king named Gog etc, king also in the land of Magog... I think over the possibility an Russian or American king, named Gog, unhappy with the loss of advantage after the Apocalypse for these powerful nations like now USA or Russia and that want to restore previous glory of "ancient times", I mean those of present time or 20th century... a Gog could take back Belgian mounts, Belgian desert region (in 1606: now greener...), in east Siberia before going to Jerusalem to recover back by force his previously paid taxes 'unfairly' to saints and martyrs "profiteers"... => ideas still to evolve... this subject is not stable...
The Crimea Question: Why Russia is Wrong
Present day Russia seems to be correct in many points, while the West, relatively "free", is however polluted with several false doctrines, from Protestantisms to Modernisms and under a discrete but powerful control of evil forces like FreeMasonry and the Illuminati.
In the question of Crimea, I thought Russia was also right, because the majority of population there are ethnic Russians and they should have the right to choose freely their destiny. However, according to messages of God published in the French Web site apparitions mariales, God was not really happy with the Russian annexation of Crimea. Because logic of God is not that of men, I had to spend some time to try to discover the error in my "logic".
I think the reason is the usual one: God has no real interest in Orthodox (or even worse, Communist) expansionism at the expense of Catholicism, while His Legitimate Church/Authority remains the Catholic Church.
Ukraine has some Catholic influence, but inside Russia, Catholicism is insignificant, while remaining the True Church, up to present day (please note that the Vatican is however under strong attack of the Forces of the Evil, and that since already the years 60... it may even fall in the (near) future).
Thus, if Crimea would remain inside Ukraine, the chance of having some "Catholic ethnic Russians" would be a little bit bigger. Inside not converted Russia, that chance is in practice, zero...
An Idea for the resolution of the Ukrainian conflict
The best solution should be, of course, Russia converted. This is very hard to implement: it is not to expect that the Vatican do it in the correct way so easily... we can however always pray for that...

Alternative solutions, may exist, but less good, of course... I would suggest that Ukraine would keep his borders after independence, but also not to humiliate the ethnic Russians (or orthodox). Promotion should be given to the true religion, Catholic, traditional version, Byzantine rite OK, with the legitimate authority (the pope until today: we must pray to avoid the fall/spliting of the legitimate Church), but without humiliating the ethnical Russians inside the Ukranian (official) borders.

Ukraine could turn "West", but without divorcing with Russia: a sort compromise, thus...The origins of present-day Russia is the present region of Kiev, why to divorce with Russia? Russia is too strong, it is not intelligent such a divorce, they're right now in many points (not orthodoxy, of course), it is rather preferable to negociate with his big nothern brother, and to check the different subjects, point per point... the West is not always right neither... things are more complex...

The problem: Russia is not yet properly converted, thus, the different parts in the war, may not accept interesting suggestions etc. With not converted Russia, everything becomes more complicated...

Please don't forget that, while the best solution is to restore Crimea to Ukraine and to maintain the previous Ukranian borders, if the Russian people feels humiliated, then that may be dangerous for its leaders and even for the whole world! Last time a severe Russian revolution occurred, about 100 years ago, the whole world suffered (with these Russian communist mistakes). Russians know they're (very) strong, that they're right in many points, so the things are more complicated than it seems...

Ideally, promoting/suggesting (traditional) Catholicism among ethnic Russians, e. g. in Ukraine or Russia, would be a good idea... because in the USA there are protestant and Catholic American citizens... they don't feel less Americans because of those religious differences...



Freemasons/Illuminati created also the USSR monster?
According to a news from www.tldm.org, the Freemason Illuminati plot, which are conquering intimidating the whole West with their new West New Ottoman Modernist Empire and educating West with their new modernist and communist ideologies since the years 1960, had already a great success in Russia in 1917: the creation of the great powerful communist USSR monster!!! Czarist Russia was already a great empire, and, if we exclude a possible conversion to conservative Catholicism, most (such!) changes were not needed!
Present ex soviet republics and regions under the influence of the USSR monster still suffer a lot from it: general poverty (when compared to lands under US influence) and demographic decadence! Present-day Russia is still very powerful, but it could be twice stronger with twice the number of inhabitants (I mean, for the same borders) if such USSR monster had never existed...
Western sanctions push Russia to alliance with Communists: Bad!
It would be better an Ukrainian Crimea in order to create Catholic conservative Russians (better: non naive, because Vatican also under attack of evil since ~1960s). But those sanctions, paranoia against present Russian leaders is a bit toxic also... Why?
Despite the fact Russia remains non converted, thus non catholic conservative (better: non naive), like in 1053, if Russian citizens are severely punished, then they may become unhappy and promote other kind of governments... toxic Illuminati red dragon communist monster USSR could even return back!
Prophecies of Our Lady in Garabandal warn about the dramatic consequences of the return of the communist monster Red dragon! NY Prophecies at www.tldm.org speak over the decadence pro apocalyptic of the world and a triumphing communist, it could even be through democratic elections...
Thus, it's better that present Russian gov (+ present leaders) remain. But with such toxic Western sanctions, it's hard for Russia to have some wealth without deals with anti West lands, e. g., communist govs... Result: Russia, even if it's not toxic ex-USSR, supports again communist governments: toxic, thus... with a non converted Russia present scenario, it's hard to exit the vicious circle...
Solutions? Not so easy! Blockade in Vatican, evil discreetly strong there... Russians convert not so easily to true faith... Orthodox leaders could join Opus Dei (but in a non naive strategy: better to use protections of God also: daily rosary 7 sorrows etc)
complex: rosaries + divine mercy chaplets welcome to try to calm things...
Russia Could Have Been ~2 Times Stronger Without Soviet Revolution!
I think Russia could have been at least 2 times stronger without that Satanic Freemason Bolsheviki Revolution...
Why?
Simply because, despite schism/orthodoxy, Czarist Russia was christian conservative, and without such interruption in czarist governance, demography would follow its normal path in Russia... Russia would have thus now 2 or 3 times more population... there's enough space for such people in huge Russia...
... Communists came with satanic ideas of control natality, abortion, and, for a period, USSR had one of the biggest abortion's rate of the world... with consequences to Demography...
Not only other ex-soviet lands suffered with communism: Russia also... Russia became a lot less powerful than it should be...
Because USSR was in any case very powerful, at least in military level, these details were not really visible... I think that everybody agrees a present Russia now with 420 million inhabitants would be at least 2 x more powerful than present-day Russia... demography counts...
But because Russia was already schismatic/separatist from True Faith/Vatican at 1917, evil profited from the military power from ex-czarist Russia to spread its ideologies... what a pity for the world... and even now, orthodox Russia + some Asiatic powers, can trigger the fall of the world at any moment... conversion of (orthodox or communist) Russia required to try to change things...
A Possible Russia converted: Kievan Rus back, 1000 years later!
I think, without some (peaceful) concessions, it's not really possible, a stable Russia/Ukraine united in a converted Russia...
In case of a converted catholic conservative Russia, the capital could be Kiev again, a return to the origins, 1000 years ago, but with a much bigger empire... however, the chances that this happens are quite small (please refer to the sections above)... things normally remain like it is, thus...
Which means, in case of an (automatic) present fusion, the present government of Ukraine could take the leadership, but, only, up to the next elections, of course! After elections, the majority of the people would decide, and some changes should maybe be expected... the leaders of the biggest/other parts could collaborate, of course,e. g., as ministers etc, up to the results of the following elections...
DANGER: WITH CATHOLIC CONSERVATIVE CONVERTED RUSSIA INGENUOUS/INTIMIDATED BY THE GREAT OTTOMAN ILLUMINATI COMMUNIST FREEMASON MODERNIST WEST EMPIRE, RISK OF APOCALYPSE INCREASES AND CHINA (or possible substitute candidate superpower in the decades/centuries to come (?)) IS ABLE (AGAIN) TO DESTROY/MASTER A POSSIBLE ALLIANCE WEST (+ RUSSIA)!
I THINK CONVERTED RUSSIA WOULD BE A 100% LEGITIMATE SUPERPOWER, in a Polish style, BUT MUCH STRONGER. THE WORLD COULD STILL RESIST SOME CENTURIES MORE, IF CONVERTED RUSSIA IS WISE ENOUGH TO RESTORE BACK THE ORDER, ACCORDING TO THE WILL OF GOD, and not to go in Western Freemason modernist tales and their "new modernist educating Islam", which is discreetly educating/intimidating the West/world citizens actively since the years 1960...
I think the charm of this new (old) Kievan Russia would be enormous, excuses/errors like orthodoxy/communism would disappear and could even have a big integrative effect (e. g. voluntary union Ukraine+ present Russia+ eventually Kazakhstan+ Belarus + a leadership role in NATO, even with EU etc.)
Danger of Ingenuity from Kiev in a Possible Converted Russia
If there would be a fusion Russia / Ukraine, with capital / leadership in Kiev, a strong collaboration between (present) Moscow leaders and those of Kiev would be required. Why? If Kiev wants to please at all costs to the West, the risks of traps / ingenuity increases! Converted Russia shall be able to say 'NO', when required, to act when required, while having a Polish/Croatian legitimacy.
Because of orthodoxy and other errors, Moscow is regularly excluded from the West Capitalist club, and that with strong Freemason complicity... this exclusion can be interesting, showing to Moscow there's something wrong (Orthodox schism, communism), but can be dangerous also, in case of escalate, while modernist errors advance in the West.
Orthodox Moscow is strong enough to remain outside control of the elites Illuminati/Freemason, and that irritates them: some paranoia is visible, like for Mr Trump, or the popes of the past... Thus, Moscow has more experience with difficult situations... Kiev should thus work positively and not ingenuously with Moscow, and if possible with Vatican, present Poland / Hungary and also with the USA outside Freemason control, e. g. Mr Trump... in practice, it's more complicated, and nothing in the good direction is done... because Freemason style forces control already a lot... rosary prayers needed...
AN UKRAINIAN LEADER OF CATHOLIC CONSERVATIVE CONVERTED RUSSIA IS ONLY A POSSIBILITY AMONG OTHERS. FURTHER NORTH (Moscow, St Petersburg), THEY HAVE THE FORCE AND KNOW HOW KIEV DOESN'T HAVE FOR DIFFICULT SITUATIONS. BUT KIEV HAS A LEGITIMACY MOSCOW OR FURTHER NORTH WOULDN'T EASILY HAVE (in the eyes of the West)... however risks of traps, ingenuity, submission to Illuminati forces... increase, with an Ukrainian leader as leader of a possible (big) converted Russia. Just to remember, Converted Russia means: a Russia with a significant % of Catholics and Conservative (Latin or Byzantine rite).
IF YOU WANT TO DEFEND GOOD, PROTECTIONS OF GOD AGAINST EVIL RECOMMENDED (+ details in homepage). OF COURSE, A 100% CORRECT CONSECRATION OF RUSSIA BY THE POPE WOULD MAKE THINGS A LOT EASIER, AND THE CAPITAL/LEADER WOULDN'T MATTER THAT MUCH (but some discernment / preparation always well come, because traps could still be possible, I think).
Idea for Ukraine / Belarus: Be Catholic and speak Russian!
THIS SOLUTION WORKS PRETTY GOOD IN RICH LANDS, USA CANADA NETHERLANDS GERMANY UK etc, but IN PRESENCE OF POVERTY, e. g., EAST EUROPE, SATAN TAKES ADVANTAGE AND CREATES WARS & DIVORCES to CUT CONVERSIONS TO TRUE FAITH CATHO CONSERVATIVE NON NAIVE. THUS DAILY PROTECTIONS AGAINST EVIL + TAKE CROSS RECOMMENDED.
In West, however, temptation to modernist, thus, in some cases importing ex USSR socialist communist errors remains strong: communism of genders, socialisms, extreme left vote, communism of religions, atheism, legal murders... perfection does not exist and evil advanced also in West, with ruse and discretion... each one its strong and weak points...
THE IDEA FAILED IN EX YUGOSLAVIA AND THE WAR IN CRIMEA CUT AGAIN SUCH POSSIBILITY CREATING instead divorces... DIVORCE AGAINST NOT CONVERTED TOO STRONG ORTHODOX OR COMMUNIST RUSSIA DOES NOT SEEM SMART TO ME.
TO TRY TO INFLUENCE POSITIVELY RUSSIA THE AUSTRIA HABSBURG MODEL FOR GERMANY (up to 1900) SEEMS MUCH SMART TO FIGHT DOCTRINE ERRORS SCHISMATIC ORTHODOX OR LUTHERAN HERESY... IF A UKRAINIAN BELARUSIAN SPEAKS RUSSIAN AND BECOME NON NAIVE CONSERVATIVE CATHOLIC in a catholic Polish Hungarian model, IT COULD BE SIMILAR (even a Polish catholic) TO A CITIZEN USA SPEAKS SPANISH OR speaks ENGLISH + CATHOLIC. THEY REMAIN USA CITIZENS, LANGUAGE OR RELIGION is secondary... TO BEGIN TO BE RUSSIAN COMMUNITIES FROM OUTSIDE, LESS STRONG BUT HOLIER...
UKRAINE: TO BE STRONG I THINK UKRAINIANS SHOULD SPEAK RUSSIAN AND BECOME CATHOLIC CONSERVATIVE NON NAIVE (+ daily attentive PROTECTIONS AGAINST EVIL + take cross) IN A CATHOLIC KIEVAN RUS (before 1054) MODEL. IT HAS NOTHING TO DO WITH CAPITAL OR LEADERS...
I TRY TO GIVE THE EXAMPLE, BECAUSE ONLY 50 % OF THE REAL MESSAGE OF FATIMA 1917 PASSED. RUSSIA IS NOT YET CORRECTLY CONVERTED (better than before but problems remain...)

AND

OUR LADY with typical Portuguese BRUNETTE LOOK TO INSPIRE LADIES WITH BRUNETTE XERAZADE LOOK

in order to CUT CATHOLIC MARRIAGES FOR LIFE (BECAUSE OF FRUSTRATED HUSBANDs with TOO FEW CHOICE FOR BEAUTIFUL NORDIC LOOK LADIES)

are Not GOOD FRUITS. Catholic Russia Converted Ideas, made in Belgium, tries to help with ideas to improve esthetics (blond wig + elastic ...), in order to increase chances of happy husband, and thus, also for Catholic Roman Catholic Holy marriage for Life. The Subject Being a Bit Complex, it would maybe better to read completely the sections 'Better Look More Chances'.
The problem is not the apparitions, but afterwards... But at least 50% of the message passed, better than nothing, evil remains strong and does rusely war against good...
YES. NOT SO EASY. THE WARS IN YUGOSLAVIA AND CRIMEA HAD DIVORCE EFFECT, while a mix of communities/religion could have a N American or German Dutch effect... poverty does Not help. Daily Rosaries and/or Protections against evil + Take Cross Recommended, thus. This web site, www.christianideas.eu, tries to help.
Maybe Russia Escape the Tribulations of the Apocalypse (?)
According to some prophecies from Heaven concerning Russia in the French web site apparitionsmariales.org, Russia maybe the church who escapes the tribulations of the Apocalypse. A scenario among others possible (?). 1/4 seems to survive 3days apocalyptic WW3 + 3 dark days Terrible Comet maybe temporarily pro God with instructions 3 Dark Days to Padre Pio... (?)
Even if not converted (that means: they'd remain schismatic: Orthodox and not Catholic), if they recognize completely Jesus and search good and not evil, maybe they escape the tribulations. It seems that Russia is too strong and the Antichrist can not go inside Russia. I think, that, while the rest of the world falls into sin, the Russophobia and anti Russia paranoia from the modernists, may serve to purify Russia. And because, at the given time, Vatican also falls (loses its legitimacy as the true church, becoming instead, the seat of the Antichrist), then the church of Russia, if loyal to the true christian values, could be saved. To be confirmed with the sources, of course.
The problem: We, the West, we're the big losers, if Russia is not converted!!! It is dramatic, yes, for us, not really for Russia... Of course, with Russia converted, we would have a Russia superstar saving the planet, but that is difficult to happen and there's no real motivation in the West, who wants to see Russia rather as rivals to despise... a sad story, yes, but for us, in the West...
P.S. Prudence is necessary in my reasonings, because the messages from heaven seem to be somewhat contradictory... but we can always pray for the correct consecration of Russia to the immaculate heart of Mary, in order to try to restore the order to the world...
---


Jesus Divine Mercy: Those who honor Jesus, with full trust, through this picture (above), shall be saved





I try to pray for protection to all pro God of planet until 00:00h, to try to disinfest, but it's better to complement it with 24h protective prayer, e.g. attentive rosary or (easier/shorter) 7 sorrows (here further below).

http://www.christianideas.eu/#about tries to help...
Over Web site of Ideas from Catholic Russia Converted,
made in Belgium, E.U.,
www.christianideas.eu:
DISCERNMENT Criteria, e.g.

true faith catho conservative non naive

:

risk of sect new age in Rome=> the Apocalypse...

=>

better to be in state of grace go to confession to catholic priest asap, after Benedict XVI

Risk of Great Famine

=> news from heaven +- serious to e.g. Enoch, G Lomax, L de Maria, J Leary...



Ideas (pro God) to (try) to resist Great Famine

:
- St Onofre with a Crumb of Bread,
- Blessed grapes L Maria + S Damiano...

MODERN LIES unmasked
(Lies of Darwinism, Fake Dates...)



History + demographics since 2000BC unmask fake dates. Hominids were hybrids which existed before great Flood

, confirms Jesus at from old web site from V De Tarlé apparitionsmariales.org …



Proactive Darwinism: ~mouse evolves=> bat => vampire, thus ancestor man/whale etc goes to=> Batman => Dracula...

within same ~million years…



Y haplogroups DNA migrations tend to proof Atlantis sank => Ice ages before Moses crossed the Red Sea? Science & Bible theory



DANGER OF APOC after Benedict XVI => St Malachy prophecy:





CHIP 666 IN BODY, WW3, risk vaccines Pest Grippe with 666 smart particles /changing DNA RNA , throw virus (by plane) to kill vaccinated, "good" apocalyptic new age sect, THE GLOBAL EMPIRE SOCIALIST COMMUNIST OF ANTICHRIST... => lots of apocalyptic prophecy at www.tldm.org (for scenario Russia not converted)




ICON OF AUTOMATIC Eternal SALVATION
(also here above)
PROTECTIONS against EVIL, but some suffering needed, sorry! (a summary a bit further below)

IMMORTALITY SUGGESTION:


TO PRAY GOD for ETERNAL SALVATION for THOSE WHO NEEED IT MOST, CALMS 'only' DANGERS for LIFE.
(you have nothing to loose, if you feel dying, even if formula is limited …


after: begin discreet fast + attentive daily prayer(as rosary) until it calms/improves

=> ~30 days for diabetes,


ok not so easy, but it's better than cancer operations

,

(1-3 days should calm grippe…)

)


GLBT + Modern Sex BEHAVIOURS: Unhealthy, even KILL...


It attracts pests…
it's possible to attack underconscious, e.g., via discrete sorcery… => Nero case study...


IDEAS AGAINST AGING & GRIPPE/PEST /Evil

Dangers of Vaccins: e.g. 666 etc.
BETTER ALTERNATIVES + Pro God:

Fast & prayer (good against evil => Medjugorje) until it calms... (discreet fast & prayer or in solidarity group, prayer style (attentive daily) rosary or 7 sorrows...

some food may help: avoid white sugars (fruits honey better if sweet food needed), but 1/8 glass whiskey or vodka (=> let it disinfect (few minutes) at the throat…), 1/6 glass vinegar, 2 cloves raw good garlic mixed e.g. in salad to help counter pest... + immortality suggestion in dramatic cases to calm a bit and in place of dying win forces to pray a rosary /7sorrows... + details links above below



VACCINATED RISK TO DIE before time WITHOUT FORMULAS PRO GOD

(see above; formulas from news from heaven maybe work against vaccines… Exorcism water? miraculous medal, faithful see light cross in sky after great warning, Oils?... ?? )



IDEAS FOR A BETTER LOOK (Ladies & Veil)

How FAKE PUBS BRUNETTE & Erotica ARE KILLING CATHOLIC MARRIAGE FOR LIFE: Sarah x Agar…

(because of unhappy husband: too few beautiful ladies to choose… SOS Aesthetics...

correlations 30 years to detect trends:

... lady educating children in micro appart feels so happy as Husband with lady with not cared aesthetics... eats white sugared stuff=> brunette Scheherazade look puts husbands away...)

Aesthethic care is to have heart for husband

. Comparative Tables at section 'Our Lady of Fatima deserves better look'



MODERN WOMAN IDEOLOGY UNMASKED:
Demographic fall in West (+ Russia)…
stats (1950 or) 1970-2019: Germany x India…


Censured on

Twitter: @_ChristianIdeas

Possible:
T shirts Posters "Songs" Christian Ideas and/or Russia Converted Catholic ('made in Belgium')...

School
(e.g. Maths, Computer Science: exercises, complements to Wikipedia…)

Christian Ideas at Linkedin
(https://be.linkedin.com/in/christian-ideas-104ba893)

If You Want to Defend Good,

PROTECTIONS against EVIL + Take Cross Recommended

(IMMORTALITY SUGGESTION at 1st Sign of Danger,

CONTRACT WITH GOD (ICON AUTOMATIC SALVATION THROUGH DIVINE MERCY), (home page or below), + Daily (better, Attentive):

Rosary, and / or

7 Sorrows, and / or

Crusade Prayer 33,

Crusade Prayer 140 (to speak without fears),

to be in state or go to confession catholic priest asap ...

+ details at christianideas.eu
I try to pray for protection all pro God of planet until 00:00h, to try to disinfest, but it's better to complement it, with 24h protective prayer, e.g., attentive rosary or (easier/shorter) 7 Sorrows prayer.
Satan demanded to God 75-100 years to destroy Vatican + money + power => www.tldm.org. Satan had that time, that money, that power. 150 years later, despite dangers + evil, Vatican still resists. Let us see evolution... ??? apocalyptic? reversal pro God (again)???
Note: www.christianideas.eu began in ~2009 and keeps growing. IT REMAINS INCOMPLETE + NOT PERFECT.
Because IT IS NOT FINISHED, NO FINAL VERSION (.pdf) EXISTS. IT KEEPS GROWING/IMPROVING and there's still many changes to do (and few time, resources...). A complete review of the web site should be done, but it's already better than nothing...
If God helps, I'll try to improve and/or correct eventual detected errors, contents + design, little by little. A backup .zip exists (link colomn above). It contains most of the site, behalf the heavy assets.
Please feel free to print it, copy it, behalf, eventually, songs ... (contents license above left with some extra explanations, but the general goal is absolute freedom for use of text + images, in a good intentioned True Faith pro God use...)
Good intentioned Pub pro God True Faith welcome!!!
(protections from God recommended then! Evil doesn't like it...)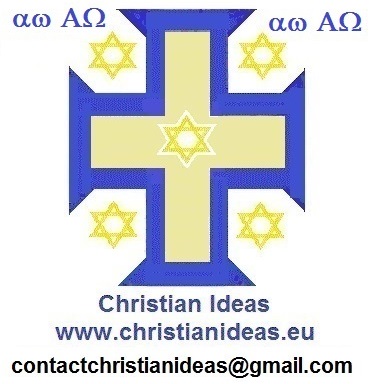 Below: Our Lady of the Roses Honored Exposed and Death doesn't Enter inside.
(source: Jesus at old web site apparitionsmariales )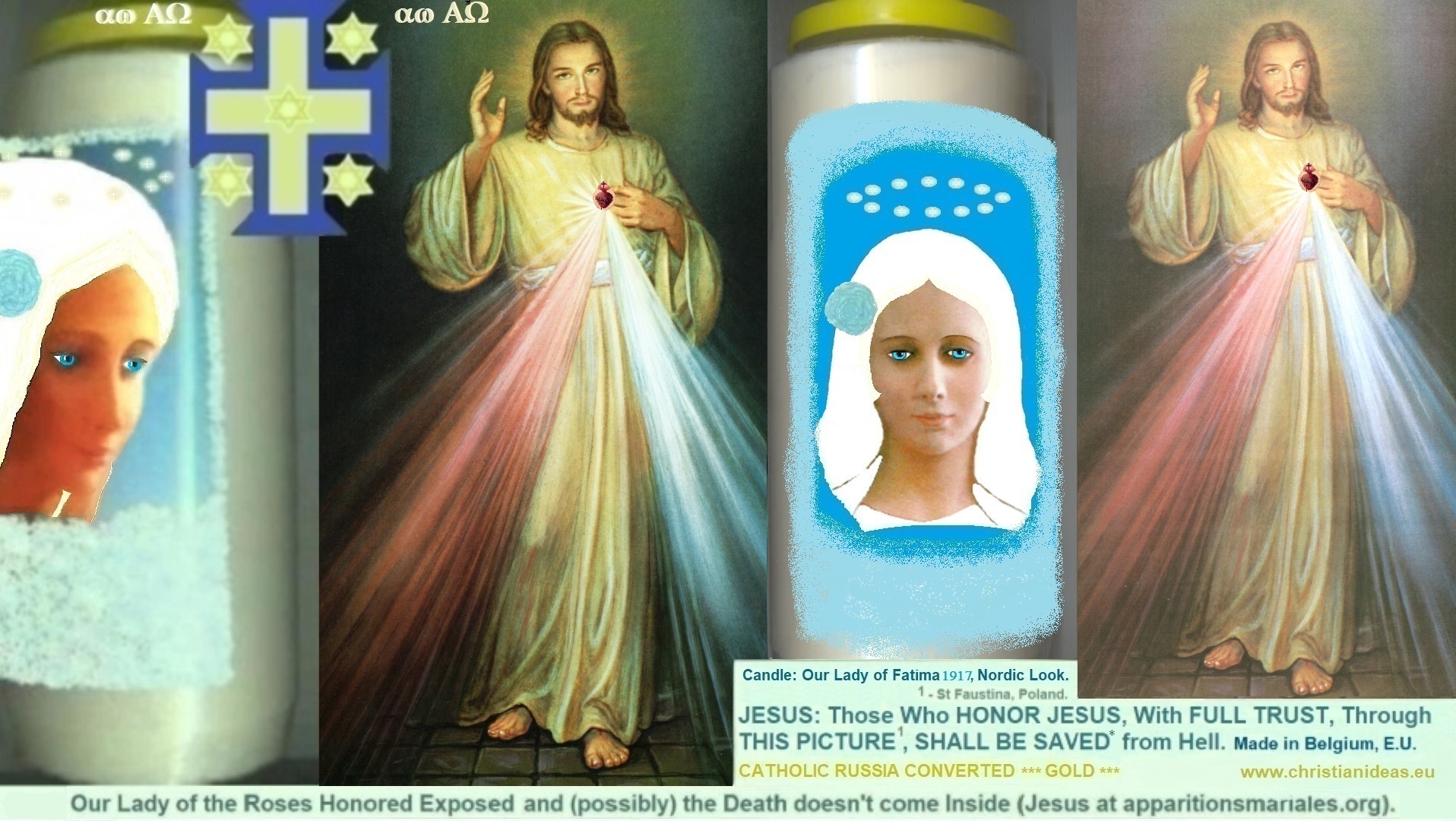 Right Click + save as to download images...