Abortions - A Calamity: Summary
Note: the goal here is not to judge or to condemn people who did or were accomplices with abortion, but to alert that abortion is grave sin, murder. Those persons can always return to God, after repentance (preferably through holy confession of the sins). Jesus and Mary spoke about Abortion in NY and their authority is, of course, superior to my argumentations over this subject.
DESTROYED
"ALL WHO BECOME PART OF OR CONDONE ABORTION, THE MURDER OF THE YOUNG, SHALL BE DESTROYED!"
- JESUS, JUNE 2, 1979 (www.tldm.org)
I: The Sad Statistics: an Apocalyptic Calamity!
There's in the whole World about ~45.000.000 Murders of Innocent People Every Year, mostly Through Abortions.
SINCE 1980 WE HAD MORE THAN 1.5 BILLION MURDERS, ONLY THROUGH ABORTION!!!
This is a LOT MORE THAN ALL DEATHS from WW2 !!! ...
A CARNAGE OF INNOCENTS in ALL DISCRETION (formula "everything Ok" "praises", "paradise style"). Paradise, is not here; evil is great now... such formulas are a bit accomplices with evil...
THUS, SINCE 1960, WE HAD ~2 BILLION MURDERS worldwide, ONLY THROUGH ABORTION!!! and... "EVERYTHING OK"???
Apocalyptic!!! And everything seems normal... that's why these are (or: seem) apocalyptic times...
Although these kind of data before 1980 is not completely reliable and the problem is complex, it seemed that the total number of abortions in the world increased a lot and reached a peak during the years 80 and 90, and afterwards the situation seems to stabilize with more than 40 millions abortions per year. Even now, from each potential 100 babies, about 40 die through abortion... dramatic as an world war each year, since the years 80...
We shall not judge the parents related to such butchery, but such a drama shall not be acceptable neither... a reasonable solution should be found to promote dignity to everybody...
Why Abortion is Murder?
In the West, some people seem not to have conscience that abortion is murder. We hear comments like, "the fetus is not yet a formed person", "the fetus doesn't have conscience like a person", "in the beginning it is only a cell, like a spermatozoon" etc.
The position of the Vatican(please scroll down in the target link page) and of Jesus and Mary are very clear concerning abortion: once there's a conception, i. e., the fertilization of a human egg by a human spermatozoon, there's a new human being and the God's commandment "You Shall Not Kill", shall also be here applied. Thus, if we cut ourselves and bleed, we're killing only blood cells, but not a human being. But with the day after abortion pill we're killing a fetus, an embryo, a human being! Just to make a difference between a fertilized egg and a normal egg, compare it with the chicken: a fertilized egg is a living being and normally originates a chick, while a normal chicken egg doesn't originate any chick...
Just to give a better idea why abortion is really a "murder", with an "original" argument, please imagine a fictive Freemason / Illuminati which will become a chief (the 33rd degree), and in order to perform his legal murder, uses the witchcraft used in Ancient Egypt to make an adult pro abortion successively younger, until that pro choice person returns to the womb of his/her mother and with an (biological body) age of less the 3 months after the conception. This "fictive" mason can thus kill that person, in all legality, it is a legal and socially accepted abortion and he/she can get descontractedly his/her degree 33 in order to become a chief inside the powerful Masonry of our times...
Please note that the Pill of the Day After or Abortive Pill kill also through Abortion!!!
"The Embryo doesn't have Conscience like a Person"
Just to be coherent, people don't remember anything from the times they were younger than 3 years old. Taking that argument literally, we would give permission to kill all demented people and all children younger than 3 years old, because "they don't have conscience". I assume you don't remember from the day you were born, neither the days after... We all agree that killing young children and demented people is serious murder... In the same way, also abortion is serious murder...
"The Fetus is not yet a formed Person"
When do a living being becomes a perfect formed person? That's an ambiguous question. If that is the criteria to commit abortion, then I would say, a full formed person, with some maturity, shall begin at age of ... 18... or better... of 21... not really a criteria, isn't it? We should then exclude all humans younger than 21... To be coherent, again, a fertilized egg is already a new living being and the "You Shall Not Kill" commandment shall thus be applied for human beings since the time of fertilization...
Fetuses don't Want to be Killed. The Proof.
It is easy to show/proof that the fetuses don't want to be killed. It suffices to compare it with born babies: you can check statistics about the suicide rates among children under 4 years old or even among children younger than 12 years old. And because under the 2 years old, no baby commits suicide and the baby even cries if somebody wants to kill him/her, we may conclude that for the unborn happens the same (the big difference being only at the level that fetuses are not able to cry or defend themselves against such an aggression) . There's no difference at this level (will to be killed or not) between the born and unborn babies. Did you want to be killed before your age of 4? Thus...

These links show that suicide is rare before age of 10 years old and still really not frequent under the age of 14 (~1.2 suicides per 100.000 children between 10 and 14 years old). Compare that with present day abortion rates (about 30 babies in 130 total potential (born + unborn) babies are being currently killed).

This gives a present rate of ~30/130= ~23% babies aborted per total potencial babies or 30 babies aborted per 100 new living born babies, in the world...

Some simple calculus gives us, assuming the suicide rate of children between 10 and 14 years old, applied to the 30 aborted unborn, thus, 0.000012 x 30 = 0.00036 fetus which want to be killed (among the sample of 30 aborted fetus), which means that 29,99964 the remaining aborted babies didn't want to be murdered... please note that this rate should even approach more the 100% (of fetuses who don't want to be killed), because almost no child under 6 years old wants to be killed or to perform a suicide...

Even if we consider the rate of suicide attempts in children in school age, which could be about 2% (this rate normally increases with age up to adult age time), applying the same rates to the sample of 30 aborted unborn, we would have a rate of 0.02 x30 = 0,6 aborted fetuses in the sample of 30, who indeed wanted to be killed (this rate, is of course a lot lower). This would mean however, that the remaining 30 - 0,6 = 29.4 aborted fetussen didn't really wanted to be killed...

If you still doubt that babies and young children don't really want to be killed, you may make a (serious) survey on children younger than 6 years old, over what they think about this subject, if they really know what death really is... Which means that normally, young children are not really interested in this subject... if they're not interested, they don't want to be killed neither... they're alive and they're busy with something else...

Thus... the unborn don't want to be killed at a rate greater than 98% or 29.4 fetussen / 30 aborted fetuses. Point.



Is Abortion really a Right/Freedom of the Concerned Parents?
It can be said that the potential parents, namely the mother, in this case, can do what she/they will with her/their body... it is her/their right and freedom... they have conscience and can decide to abort or not...
The problem is that, it is her/their freedom to kill against the freedom of the fetus to survive... the fetus can not speak (like people in coma), but it is the right of one/two against the right of the other. Freedom for the potential mother/parents? Maybe, but against the life of somebody else...
Unilateral solutions in case of conflicts like abortions and a part of the divorces are not really freedom, because they do not respect the freedom and the dignity of all concerned human beings in the conflict...
That's why Old Catholicism, under the authority of the pope (while the traditional Credos, e.g. Nicea Constantinople, and the Holy Sacraments are not profaned/removed), is the doctrine which better respects the freedoms of the maximum possible of concerned persons.
What if a Woman/Couple did an Abortion?
Committing an Abortion Has Negative Psychic and Health Consequences
(Not Censured) Studies and Life experience's reveal that committing Abortion may cause Traumatic Psychic Troubles and may be dangerous for the Health of the Woman, even in Legal Clinics specialized in this kind of murder: e.g., Increasing the Risk of Cancer... Thus, committing an Abortion is not Innofensif...
1.5 billion Lives/Murders (of Fetuses) not Important?
Just to remember: Abortion is not murder??? If your mother had aborted from you, you shall not be living right now... you'd be in cemetery (or maybe in the rubbish containers...). Thus, abortion is murder: it's different from killing standard cells, e.g., bleeding...
Don't be ingenuous: there's blackmail done by the Evil forces against the (world) leaders and mass media etc. (we shall not judge them, but it is better to be protected against evil, otherwise we're more vulnerable/marionettes of these forces...).
But the essential: 1.5 Billion lives are not important??? The lives of the 1.5 babies/fetuses killed since 1979 are not important??? We don't care?
Possible common usual answers: "It's the lives of others, I don't care"; "they're not murders, they're only cells"; "they're not human beings..." for those evil "pretexts" please see further argumentation in this page. They're indeed murders. It's dramatic and God is really not happy with this situation. God is all forgiving when we repent, but it's not happy at all with this butchery...
And then I answer: " DO YOU REALLY THINK THAT 1.5 BILLION LIVES ARE NOT IMPORTANT, OUR LIVES AND ALL THE LIVES OF THOSE WHO VOTE/IMPLEMENT THESE KILL STRATEGIES INCLUDED??? YOU SELF DECIDE YOUR SELF IF THESE CONCERNED LIVES ARE IMPORTANT OR NOT, if they deserve to live or, no, it's not important, the concerned persons/babies may be killed...
THE POINT: WE DON'T HAVE THE RIGHT TO PLAY WITH THE RIGHT OF LIFE. We shall not have that right. Only serious people of God shall have that right... otherwise we have situations like "YOUR LIFE IS IMPORTANT BUT THAT OF some/MANY OTHERS (fetussen etc) NOT"... REALLY???
LIFE IS PRECIOUS AND HAS NO COST. THERE's now EVEN AN IMMORTALITY FORMULA (refer to the page "against death"). THE PRIORITY OF THE GOVERNMENTS SHOULD BE THE RIGHT TO LIVE. IT'S DRAMATIC. 50 MILLIONS PEOPLE KILLED (Murders), mainly through abortion, every year. HOMICIDES DIDN'T DIMINISHED. THESE TIMES ARE NOT BETTER THAN IN THE PAST. EVIL INCREASES BUT IT IS HIDDEN AND RUSE. Don't be ingenuous...
...And, because the present formula succeeds "quite good", including strong promotion of campains (New World Order) pro abortion and (discretely) hiding the pro life campaigns (Satan controls now, most of the media, in a "discrete", but very "professional" way), this formula may be applied to persecute/kill many other people (the opponents of the New World Illuminati/Freemason Order), in a similar (discrete) way (style, nobody cares... censuring and silencing the opposer "voices"...). IT IS NOT ONLY IN CHINA.
THIS KIND OF SITUATIONS IS INCREASING IN THE WEST, presently, unfortunately, sometimes with the conscious complicity of many citizens... and hiding the "inconvenient protests", but strongly promoting the "interesting" manifestations...
democracy is reaching it's limits... the law of the "strongest" and the more "ruse" ... it is not anymore as before... the right to democracy may be questioned also, when we arrive to this point, because democracy shall not be used to implement this kind of situations...
Protections against evil are thus well come. Don't be ingenuous. Further details in related sections of this web site.
~36 years of Life Expectancy, NOT ~72 Years World Wide!!!

We shall not ignore the Impact of Abortion in the Life Expectancy World Wide. Statistics shall thus be corrected/framed, to reflect the Truth as it should be.

Life expectancy is not that high, because because in the last 60 years some 3 billion (or more) People were Killed through Abortion (there were ~1.5 billion Murders since 1980, only via official abortion stats, thus...).

Please watch out! Once again, the data of ~72 years old of Life Expectancy World Wide are, normally, CORRECT! Indeed, they take into account people after birth time, and the Fetuses killed (before birth time) are NOT taken into account... Subtle... as usual...

The problem: ONCE AGAIN, THESE DATA CONFUSE, ARE MANIPULATED AND DON'T REFLECT REALITY:

IT DOESN'T TAKE INTO ACCOUNT the ~3 BILLION + DEATHS THROUGH ABORTION IN THE LAST ~60 years...

These statistics shall, thus, be corrected to reflect the truth. I'm not going to give rigorous numbers, only to make a very easy calculus, which give already a good idea of the truth (an error of 5 years life expectancy is not that "dramatic", only the Real Life Expectancy shall be more Close to Reality). You may Refine this simple Calculus, if you want...

The principe is very simple: We estimate the nr of abortions + child birth per year. The nr of births in the world per year is easily got using a search machine, e.g. Google. We get 130 millions new living babies/year. The nr of abortions per year in the last years, pills included, can be grossly estimated in some 130 millions/year (please refer to sections over abortion stats, above).

We have thus some ~50% = 130/(130+130) aborted babies per 100 babies. THAT MEANS THAT WE HAVE AGAIN AN LIFE EXPECTANCY VERY CLOSE OF THAT OF THE 'dark? middle ages'... here we back again! But we only get such numbers with (more) correct stats!

The calculus is, thus, very simple: We calculate the Weighted Average for the Life expectancy for those World Wide babies sample, giving ~72 years of Life Expectancy, L. E., for the born babies and 0 years of Life Expectancy for the aborted babies (More rigor here, it is OK, but it doesn't change significantly the results... results can be even worse, if data from USA eventually shows a world tendency/reality: 1 living baby per 6 conceived ...).

We compute, thus:

~50 born babies x ~72 years L. E. + ~50 Killed Babies x 0 Years L. E. / 100 Total Babies (from the sample)

This ("grosso modo") Estimated Life Expectancy World Wide, is, thus:

3600 - 0 Years Baby/ 100 Babies,

which equals, thus:

~36 Years of Life Expectancy Instead of official ~72 Years of Life Expectancy World Wide!!!

THE SAD REALITY: ~36 Years of Life Expectancy/person in 2019. MIDDLE AGES DECEIVING NUMBERS!!!

CORRECTIONS AND MORE RIGOR ARE WELCOME, BUT THE TRUTH IS ALREADY THERE: ABORTION KILLS AND REDUCES LIFE EXPECTANCY TO LEVELS SOMEWHAT CLOSER OF THOSE OF THE MIDDLE AGES (even worse?).

IT IS ***NOT*** AS IT "SEEMS". THOSE OFFICIAL "HAPPY" STATS ARE MANIPULATED and show something else.

Please note: Abortion, normally has always existed, but before the 70s, or, better, before 1950, it was much dangerous to women to commit it, many times it was illegal, and, it seems, that, excluding the now modern and rich countries with their "new Planned Parenthood methods", the Rates of Abortion World Wide/West should be much Lower, otherwise Women could die (I mean all abortions, chemical mixes included, not only official stats). Also population was a lot Lower before 1950s... abortion + contraceptive style pills didn't exist before, I think...

Thus, the highest numbers of Abortions ever shall take place after the 1970s, I think... There's lack of "interesting pro God data" in the internet, but this USA (clinical non pill) Abortion Sheet 1973 - 2014 seems to confirm indeed this theory, when comparing the number of abortions before 1975 with those after 1980...

With the numbers of 1973 reflecting more the number of abortions that should be committed before 1973... in the rest of the West, the differences should not be so huge in these kind of tendencies... because the modernist ideas over abortion became a lot more popular in the West/World speccially since 1973... In some other regions, e.g., ex-Soviet Union/Russia, it may have happened the opposite (after the 1990s)... take also in consideration abortions through theoretical non abortive chemical methods not included normally in those official stats...



But: God is All Forgiving, even for the Sin of Murder, if there is Repentance!
If the Person who did the Murder Repents, God forgives him/her, through the Sacrament of Confession. God is Always ready to Forgive the Person who repents (and do penance), through Confession. Indeed, God loves everybody and wishes the best for everybody, even if that person committed a murder. But Repentance, Confession (and normally, Penance) is required. Never loose hope, because God is All Forgiving.
Moses and David committed Murders, but they Finished to be Great Heroes of God! Repent and don't loose Hope!
How To Make a Serious Pro Choice / Pro Life Referendum
I find that there some limits to democracy and that PEOPLE HAS NOT THE RIGHT TO DECIDE that THE OTHERS SHALL DIE.
If adult people vote and think, however, that they have such right (to kill other persons), then such voters have a serious problem. It is better than that they loose the right to actively participate in democratic elections.
That's why I propose a Real/Serious Referendum Pro Life / Pro Choice:
The Voters have two possibilities of vote:
Pro Choice: the Person is master of his/her Body and has the right to kill the others (thus, everybody, and, thus foetus also). That person votes for the right of choice. He/She chooses what to do with their body and with the life of the others. Thus, Abortion and Other Murders are allowed. Why Not?
Pro Life: The Elector votes for the Right of Life for Everybody, Inclusive Fetuses. Thus, No Abortion or other Murders allowed.
Once the results of the referendum are known, we can test the Mental Health of the electors. If Pro Choice wins, there's no need of Democracy anymore: if the results of the ("pro choice" majority) referendum are set in practice... Democracy becomes a Hell... The best is to identify those "pro choice" electors and remove their right to vote in democratic elections (e.g. during 15 years and doing 2 psycho tests in the 5 years before restoration of right of vote if the citizen proofs their mental sanity is restored in moral questions), because we don't need such decisions...
Do People have "Democratic Legitimacy" to Kill??
We must be clear over this sensible subject:
THERE ARE LIMITS TO DEMOCRACY AND THE PEOPLE (the majority of the electors) IS ***NOT*** ALWAYS RIGHT.
We are currently committing ABOMINATIONS in name of the "Democratic Legitimacy": because the people chooses, and the electors, the majority, "are always right". It is not always like that: just to remember, Hitler was chosen through democratic elections, and was also popular...
THE PEOPLE (the majority of the electors) DO NOT HAVE THE RIGHT TO DECIDE TO KILL OTHER CITIZENS, with or without Demo(n)cracy.
I agree, however, that, an important part of the government subjects can be decided through democracy, because the best is to give the maximal freedom possible, without forgeting that there are also limits for these freedoms, which should be respected.
THROUGH THE PRESENT APPROVED (pro) ABORTION REFERENDUM, THE (majority of the concerned) PEOPLEs HAVE SHOWN THAT ***THEY'RE NOT COMPETENT*** IN THE MATTER OF MURDERS... and, worse, those electors became accomplices with millions of murders...
BUT THAT SHALL NOT BE AN EXCUSE TO THE CONCERNED LEADERS TO GIVE "LICENSE TO KILL", neither... The concerned leaders and their followers are responsible and they should be aware of it... Because they should stop/change a.s.a.p. those killer laws and they don't do it...
Other Suggestions to Solve the Abortion's Problem
The western nations are supposed to defend the human rights, including the right to life: with abortion permissiveness we're not protecting the right to life, at least the right to life of the non born. It is very easy to give license to kill through different national referenda: if the majority of the population in a country accepts abortion, the license to kill is thus granted. Democracy should not have the right to decide everything: Hitler came to power through democracy, just to remember...
Because abortion is a big sin, an homicide, but because also of the complexity of the problem, I propose that the national governments react in a different way, pro life, but without punishing those who are pregnant and under a difficult situation. The governments, should accept its social responsibilities and promote measures to educate those undesired baby's, grating financial help to promote dignity to the concerned women/couples in a difficult economic or social situation. This could include:
promoting the union of the parents, with, e. g., a money supplement...

helping the concerned parents to finish their studies, or proceed working, whenever applied.

giving them subsides for creches whenever necessary

in difficult cases, proposing that the child go to boarding schools, or similar institutions, and, in more difficult cases, the adoption
There's good alternatives to abortion, but they cost money. Western governments should thus eventually intervene financially. And because demography in the "called christian world" is not strong, we would make God happy and we would be helping our demography.
Note: too much abortions, together with other big sins, like the destruction of the traditional families and some dangerous sexual practices that are becoming common, may lead us quicker to the conditions of the apocalypse: big sin and immoralities... please refer to the home page, and links Women and Veil and Apocalypse...
Annex: what about Euthanasia?
Euthanasia is a very bad thing, although it may look otherwise. The problem: the evil consequences of euthanasia are difficult to proof.
Through Euthanasia the victim risks big sufferings in Purgatory or to go to Hell
Since there's no way to proof it, no facts, this argument is not strong as it should be... Unfortunately, cutting their sufferings here, the euthanasia candidates risk sufferings a lot bigger after their death... because there's no way to proof it, those victims have the "illusion" their problems will be solved with assisted death...
the Medical Personal who help Abortion/Euthanasia become Accomplices of Murder
NO NEED TO HELP PEOPLE TO DIE: MOTIVATED PEOPLE PERFORM SUICIDE, e.g., they could stop breathing etc. We can not avoid suicides, although that is not the Will of God: the commandment "You shall not Kill" should preferably be respected, and in all circumstances. In practice, it is not like that; for political leaders, that it is not always possible, but we should do what we can to try to minimize murders, deaths and complicity with precoce deaths...
Approval of Euthanasia opens doors to Practices of Death Penalty!!!
Although officially Euthanasia and Executions are different things, in practice, euthanasia may be distorted to kill "undesirable" people.
Possible Examples:
falsification of the euthanasia document
signature of the document against the will of the person: it may happen, in case of torture, blackmail, harassment, trap. E.g. one could invite recluses to sign their "euthanasia"... a sick person who shall sign a document, where in "small letters" there's an euthanasia declaration... etc.
signature of the document without realizing what it is indeed about: e.g. euthanasia for kids in order to buy the video game...
etc.
The possibilities mentioned above are everything but "reassuring"... death penalty returning back, masked with a "pious will" to stop people's suffering...
IN SUCH CASES, PLEASE USE the IMMORTALITY FORMULA
---




Jesus of the Divine Mercy: Those who Honor Jesus, with full trust, through this Picture (above), shall be Saved* from Hell.


* - Please refer to home page from www.christianideas.eu for further Details...



Please Scroll further Down to Fully See the Summary...





I try to pray for protection to all pro God of planet until 00:00h, to try to disinfest, but it's better to complement it with 24h protective prayer, e.g. attentive Rosary or (easier/shorter) 7 sorrows (here further below).



Summary over the Web Site
Catholic Russia Converted Ideas...
Made in Belgium, E.U.
www.christianideas.eu:
DISCERNMENT Criteria, e.g.

True Faith catho conservative non naive

:

risk of Sect New Age in Rome=> the Apocalypse...

=>

better to be in state of grace go to confession to catholic priest asap, after Benedict XVI

Risk of Great Famine

=> news from heaven +- serious to e.g. G Lomax, L de Maria, J Leary...



Ideas (pro God) to (try) to resist Great Famine

:
- St Onofre with a Crumb of Bread,
- Blessed grapes L Maria + S Damiano...

MODERN LIES unmasked
(Lies of Darwinism, Fake Dates...)



History + demographics since 2000BC unmask fake dates. Hominids were hybrids which existed before great Flood

, confirms Jesus at from old web site from V De Tarlé apparitionsmariales.org …



Proactive Darwinism: ~mouse evolves=> bat => vampire, thus ancestor man/whale etc goes to=> Batman => Dracula...

within same ~million years…



Y haplogroups DNA migrations tend to proof Atlantis sank => Ice ages before Moses crossed the Red Sea? Science & Bible theory



DANGER OF APOC after Benedict XVI => St Malachy prophecy:





CHIP 666 IN BODY, WW3, risk vaccines Pest Grippe with 666 smart particles /changing DNA RNA , throw virus (by plane) to kill vaccinated, "good" apocalyptic new age sect, THE GLOBAL EMPIRE SOCIALIST COMMUNIST OF ANTICHRIST... => lots of apocalyptic prophecy at www.tldm.org (for scenario Russia not converted)




ICON OF AUTOMATIC Eternal SALVATION
(also here above)
PROTECTIONS against EVIL, but some suffering needed, sorry! (a summary a bit further below)

IMMORTALITY SUGGESTION:


TO PRAY GOD for ETERNAL SALVATION for THOSE WHO NEEED IT MOST, CALMS 'only' DANGERS for LIFE.
(you have nothing to loose, if you feel dying, even if formula is limited …


after: begin discreet fast + daily prayer (as attentive rosary or 2 daily rosaries) until it calms/improves

=> ~30 days for diabetes,


ok not so easy, but it's better than cancer operations

,

(1-3 days should calm grippe…)

)


GLBT + Modern Sex BEHAVIOURS: Unhealthy, even KILL...


It attracts pests…
it's possible to attack underconscious, e.g., via discrete sorcery… => Nero case study...


IDEAS AGAINST AGING & GRIPPE/PEST /Evil

Dangers of Vaccins: e.g. 666 etc.
BETTER ALTERNATIVES + Pro God:

Fast & prayer (good against evil => Medjugorje) until it calms... (discreet fast & prayer or in solidarity group, prayer style (attentive daily) rosary, or daily rosary 2x, or 7 sorrows...

some food may help: avoid white sugars (fruits honey better if sweet food needed), but 1/8 glass whiskey or vodka (=> let it disinfect (few minutes) at the throat…), 1/6 glass vinegar, 2 cloves raw good garlic mixed e.g. in salad to help counter pest... + immortality suggestion in dramatic cases to calm a bit and in place of dying win forces to pray an attentive rosary /7sorrows... + details links above below



VACCINATED RISK TO DIE before time WITHOUT FORMULAS PRO GOD

(see above; formulas from news from heaven maybe work against vaccines… Exorcism water? miraculous medal, faithful see light cross in sky after great warning, Oils?... ?? )



IDEAS FOR A BETTER LOOK (Ladies & Veil)

How FAKE PUBS BRUNETTE & Erotica ARE KILLING CATHOLIC MARRIAGE FOR LIFE: Sarah x Agar…

(because of unhappy husband: too few beautiful ladies to choose… SOS Aesthetics...

correlations 30 years to detect trends:

... lady educating children in micro appart feels so happy as Husband with lady with not cared aesthetics... eats white sugared stuff=> brunette Scheherazade look puts husbands away...)

Aesthethic care is to have heart for husband

. Comparative Tables at section 'Our Lady of Fatima deserves better look'



MODERN WOMAN IDEOLOGY UNMASKED:
Demographic fall in West (+ Russia)…
stats (1950 or) 1970-2019: Germany x India…


Censured on

Twitter: @_ChristianIdeas

Possible:
T shirts Posters "Songs" Christian Ideas and/or Russia Converted Catholic ('made in Belgium')...

School
(e.g. Maths, Computer Science: exercises, complements to Wikipedia…)

Christian Ideas at Linkedin
(https://be.linkedin.com/in/christian-ideas-104ba893)

If You Want to Defend Good,

PROTECTIONS against EVIL + Take Cross Recommended

(IMMORTALITY SUGGESTION at 1st Sign of Danger,

CONTRACT WITH GOD (ICON AUTOMATIC SALVATION THROUGH DIVINE MERCY), (home page or below), + Daily (better, Attentive):

daily Rosary 2x, and / or

7 Sorrows, and / or

Crusade Prayer 33,

Crusade Prayer 140 (to speak without fears),

to be in state or go to confession catholic priest asap ...

+ details at christianideas.eu
I try to pray for protection all pro God of planet until 00:00h, to try to disinfest, but it's better to complement it, with 24h protective prayer, e.g., attentive rosary or daily rosary 2x or (easier/shorter) 7 Sorrows prayer.
Satan demanded to God 75-100 years to destroy Vatican + money + power => www.tldm.org. Satan had that time, that money, that power. 150 years later, despite dangers + evil, Vatican still resists. Let us see evolution... ??? apocalyptic? reversal pro God (again)???
Note: www.christianideas.eu began in ~2009 and keeps improving. IT REMAINS INCOMPLETE + NOT PERFECT.
Because IT IS NOT FINISHED, NO FINAL VERSION (.pdf) EXISTS. IT KEEPS IMPROVING and there's still many changes to do (and few time, resources...). A complete review of the web site should be done, but it's already better than nothing...
If God helps, I'll try to improve and/or correct eventual detected errors, contents + design, little by little. A backup .zip exists (link colomn above). It contains the most important part of this web site.
Please feel free to print it, copy it, behalf, eventually, songs ... (content's license, above left, with some extra explanations, but the general goal is to give some freedom, for the use of the texts + images, in a good intentioned True Faith pro God use...)
Good intentioned Pub pro God True Faith welcome!!!
(protections from God recommended then! Evil doesn't like it...)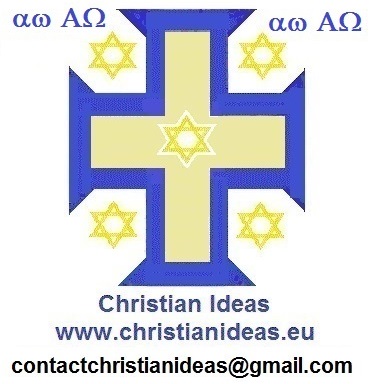 Below: Our Lady of the Roses Honored Exposed and Death doesn't Enter inside.
(source: Jesus at old web site apparitionsmariales )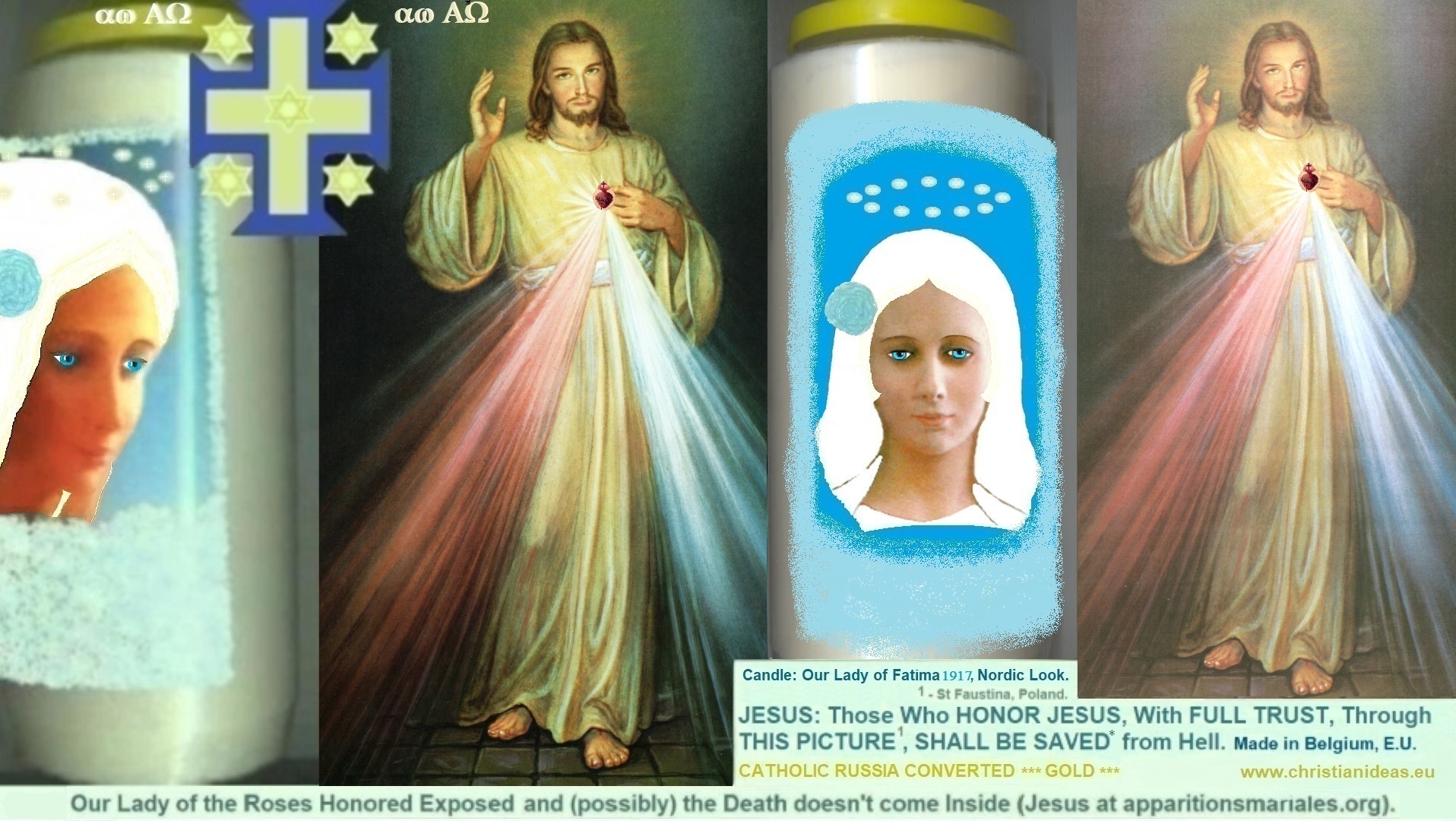 Right Click + save as to download images...